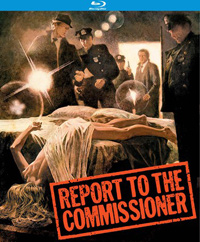 Another forgotten gem from the mid-1970s receiving a new Blu-ray treatment is 1975's Report to the Commissioner, a textured police procedural examining changing social mores and the generalized internal corruptions we're used to in these scenarios, resulting in tragic circumstances thanks to the sincere ignorance of its protagonist. Yaphet Kotto, a regular supporting player in a number of Blaxploitation features from the decade, is a standout as a weary, sympathetic detective numbed by the machinations of law enforcement. It's a greatly overlooked title of the era, featuring a variety of recognizable names in early roles as street hoods, and based on a novel by James Mills (The Panic in Needle Park, 1971), adapted for the screen by Abby Mann (Judgment at Nuremberg, 1961) and Ernest Tidyman (Shaft; The French Connection, both 1971). Though its narrative is, at times, a bit rough around the edges, this deliberately paced thriller features rich characterizations and excellent chase sequences.
Bo Lockley (Michael Moriarty) is a rookie undercover cop assigned to work with hardboiled and cynical Richard "Crunch" Blackstone (Kotto). Lockley isn't exactly an ideal candidate, sporting a dangerous idealism making him more of a target than an asset to law enforcement. The partners become inadvertently involved with a concurrent investigation involving undercover cop Patty Butler (Susan Blakely), shot and killed in a shoot-out at the home of prime peddler Stick Henderson (Tony King), a man she had been living with as a girlfriend. There are elements of the killing certain members of the police force do not want publicized, and so Lockley faces the responsibility of his colleague's death.
The film is the third of director Milton Katselas' four theatrical releases, all notable titles, though rather haggardly remembered since their initial release. Katselas, who was a noted acting coach, scored his most memorable title with his 1972 directorial debut, Butterflies Are Free, an adaptation of the Leonard Gershe play, which starred Goldie Hawn and netted Eileen Heckart a Best Supporting Actress Academy Award. His subsequent titles have experienced a more obscure legacy, including the Liv Ullmann headlined 40 Carats (1973), and the cult oddity When You Comin' Back Red Ryder? (1979), which starred disgraced evangelist Marjoe Gortner. So it's with great pleasure to see Report to the Commissioner made available again.
Yaphet Kotto was the most seasoned cast member at the time of the film's release, and his performance as Crunch Blackstone ranks as one of his finest. He exudes a real empathy for his wayward, naive partner, played effectively by a young Michael Moriarty, and there are harsh truths in his dialogue concerning how non-traditional recruits must handle themselves. "I had to be hardest on my own people," he observes, "just so the guys would think I was okay." Susan Blakely, Hector Elizondo, William Devane, and Vic Tayback round out supporting law enforcement characters, but what's of more interest are the criminals, particularly a striking Tony King (Shaft), who steals one of the film's best late-staged sequences while trapped in an elevator with Moriarty. Richard Gere and Bob Balaban (as a legless hoodlum, who gets a stellar chase sequence himself) also make notable impressions.
Disc Review:
Kino Lorber presents the title in the usual format, 1.85:1 aspect ratio, but it manages to clearly capture the beauty of DoP Mario Tosi's bustling, apathetic streets of New York. Tosi, who served as cinematographer on De Palma's Carrie as well as a handful of stunning items now relegated to cult followings (Curtis Harrington's The Killing Kind; Richard Rush's The Stunt Man; Daniel Petrie's Resurrection), is in top form here with this bit of gritty trepidation, enhanced splendidly with a score by Elmer Bernstein. Unfortunately, Kino Lorber doesn't include any extra features.
Final Thoughts:
A rough edged police thriller from the glory days of American motion pictures, Report to the Commissioner is a cynical, world-weary examination of covers-ups and cruelty, its depiction of soulless law enforcement an inescapable sign of the times.
Film Review: ★★★½/☆☆☆☆☆
Disc Review: ★★★/☆☆☆☆☆