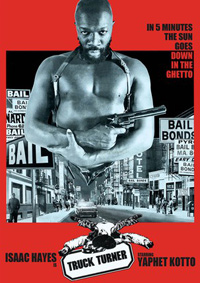 Kino Lorber resurrects the obscure and fascinating 1974 Blaxploitation gem Truck Turner this month for the first time on Blu-ray. One of Isaac Hayes' most notable acting performances, it's a head above the general trend of similar genre titles of the period, even though the film features a familiar narrative already well re-tread by the time of its release. Hayes fashions his own soundtrack for this retro classic, an oddity begging to be rediscovered.
Truck Turner (Hayes) is a football star turned bounty hunter, in the midst of hunting down a vicious, sadistic pimp named Gator (Paul Harris) with the help of his sidekick, Jerry (Alan Weeks). But Gator proves a hard target to pin down, leading up to a dramatic showdown where Truck is forced to kill the pimp in self-defense. His death causes a ripple in the criminal community of Los Angeles and forces the aggressively violent Madame Dorinda (Nichelle Nichols) to call for a bounty on Truck's head. The only one brazen enough to take the job is the villainous Harvard Blue (Yaphet Kotto), who begins to stalk Truck and his girlfriend, Annie (Annazette Chase).
Directed by Jonathan Kaplan, the director who would be known for classic 80s titles like Project X (1987), as well as the Oscar winning The Accused (1988), the film was originally intended for star Robert Mitchum. After James Coburn passed on the project, it was re-fashioned for a black star, with Dick Anthony Williams initially attached before Isaac Hayes landed the gig, still fresh off his Oscar win for Best Original Song in Shaft (1971).
Hayes made his acting debut alongside Fred Williamson in 1974's Tough Guys, directed by Duccio Tessari, released only a month prior to the premiere of his starring role here. The film played as a double bill with Jack Hill's Foxy Brown, which probably explains why decades later, rapper Foxy Brown would sample a bit of Nichelle Nichols' delicious dialogue for an intro on her debut album III Na Na. Written by Michael Allin, Oscar Williams (who penned titles starring Billy Dee Williams and Jim Kelly), with an uncredited Leigh Chapman thrown in there, Truck Turner may feel very familiar considering the flavor of the period, but conveys an effort and quality lacking in similar genre knock-offs.
As striking as it is to see Hayes center stage, the real reason to wade into Truck Turner is for the kooky performance from Nichols, who exudes a bizarre appeal as a rapacious madam who doles out street justice as fiercely as she peddles her cadre of abused hookers. Though credited as a villain, Nichols' Dorinda is the sort of no sass, self-possessed ball-breaker that should've been reserved for the protagonists played by Pam Grier. Unfortunately, Nichols would focus almost exclusively as the iconic Lt. Uhura from the Star Trek series and films following her performance here. Her male counterparts, including the ludicrously named Harvard Blue played by Yaphet Kotto, and an aged pimp played by Scatman Crothers, pale in comparison to her venomous tirades.
Disc Review:
Presented in 1.85:1 aspect ratio, the grungy aura of 70s era downtown Los Angeles comes alive in a host of cool car chases and rooftop getaways. DoP Charles F. Wheeler, who worked on a variety of television films but was also was responsible for some vintage titles from the period (Freaky Friday; Silent Running), captures the haze and sprawl of the metropolis. Kino Lorber includes several extra features, each worth a look considering the notable fan following the title has (and there's an audio commentary option from Jonathan Kaplan).
New Beverly Cinema Q+A:
At Quentin Tarantino's New Beverly Cinema in Los Angeles, a post-screening Q+A with Jonathan Kaplan and Stunt Man Bob Minor was hosted by Joe Dante on April 11, 2008. It's a brief, seven minute excerpt of the interview, but well worth checking out.
Trailer From Hell w/Ernest Dickerson:
Director and super-fan Ernest Dickerson introduces this three minute segment of the film's original trailer.
Final Thoughts:
Truck Turner is an interesting specimen in the Blaxploitation genre, mostly because it's not easily classifiable in these terms. Written originally for a white cast, Kaplan instead got the opportunity to helm a more diverse universe, one that's silly, vicious and ultimately, a lot of fun. Can you dig it?
Film Review: ★★★½/☆☆☆☆☆
Disc Review: ★★★½/☆☆☆☆☆