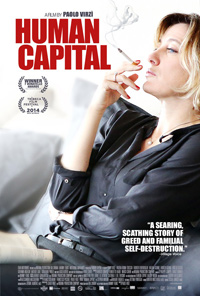 Receiving its North American premiere last spring at the 2014 Tribeca Film Festival, where it snagged a Best Actress award for Valeria Bruni-Tedeschi, Paolo Virzi's Human Capital was Italy's submission for this year's Best Foreign Language contender. Ultimately it wasn't selected for a nomination, even though its considerable critical acclaim made it a wise choice (in 2014, Paolo Sorrentino's sublime The Great Beauty took home the award, but Virzi beat out Sorrentino for Best Film on home turf), as Virzi's familial drama is an expertly paced dramatic thriller crafted around what could easily been a generic narrative. Meanwhile, the momentum behind the film has instigated a reunion of Virzi with Bruni-Tedeschi for his next feature, even if its box office success wasn't replicated after it reached US theaters. A well-paced and engaging thriller, Virzi's film is a triptych of perspective-based characterizations coalescing into an arresting finale engendering Verzi's foreboding title.
Cleaning up after what appears to have been a large banquet, a member of the serving staff takes off into the cold Italian evening on his bicycle, shortly run off the road and into a ditch. Backing up to a period of time six months earlier, the film begins its first of three segments devoted to three particular characters somehow involved, the first being Dino (Fabrizio Bentivoglio), dropping off daughter Serena (Matilde Gioli) at her boyfriend Massimiliano's (Guglielmo Pinelli) rich parents' house (Fabrizio Gifuni and Valeria Bruni-Tedeschi). A cloying businessman, Dino immediately ingratiates himself upon the hedge-fund bigwig Giovanni in a slick tennis match, which leads to expressing interest in buying into the fund. Back at home, Dino's second wife (Valeria Golina) has just discovered she's pregnant with twins, so it's no time to tell her that he will be taking out a sizeable loan to buy into Giovanni's fund. Chapter two shows us the predicament that Tedeschi's bored house-wife has found herself in, a trophy wife attempting to renovate a dilapidated theater as a new project meant to imbue her life with meaning. But Giovanni is experiencing financial troubles, which forces her plans to be put on hold. Meanwhile, all clues point to Massimiliano as the hit and run culprit, but in the third chapter, devoted to Serena, a relationship with a new boy at school that she happens to run into complicates matters.
So named for the economic term which means to assess the worth of a human's actions translated into monetary sums (such as health, creativity, age, wisdom, intelligence, etc., all elements that would weigh in on one's capability), you know from its first frames that Human Capital will be a dire tale for someone. Virzi retools the American novel by Stephen Amidon to fit the Italian political arena, what with the Bernaschi's literally betting against the downfall of the system. But these references are conveniently attenuated dressing for a tale that's really about how wrapped up people become in their own little private universes of longing, hopes, and dreams distilled (its unsympathetic portrait of greedy capitalistic tendencies aren't married to one particular locale). Its use of interconnected characters linked by the tragedy of a hit and run is nothing new (21 Grams comes to mind), but the richness of Virzi's screenplay, co-written by Francesco Bruni and Francesco Piccolo, is empathetic as well as astute in its navigation of types of people and their differing material related goals based on economic income, age, and gender. Fabrizio Bentivoglio is uncomfortably smarmy in his sycophantic worship of Fabrizio Gifuni's suave but crooked investor. Their physical appearance couldn't be more different, clearly conveying the separate social and economic spheres they run in.
The other two chapters are devoted to female characters, including Dino's adolescent daughter Serena, played by an indelible newcomer Matilde Gioli, haunting in her emotional commitment. But the clear standout is a great performance from Valeria Bruni-Tedeschi, well deserving of the accolades as a middle aged scion of privilege just discovering what it is exactly that she wants for herself, too long cocooned in the safety of her husband's wealth.
As each of their tales overlap at key moments in time, culminating in the fateful night that claimed the life of an unknown biker, his worth as a human being factors differently in each of their orbits, but never with an empathetic twinge. An inconvenient death causes blackmail, a romantically biased cover-up, and an exchange of funds that means giving up future dreams. And in the end, the man becomes a monetary sum to his own relations. Human Capital plays like an icily precise neo-noir, but it's really an acidic black comedy as concerns the overriding selfish nature of humans.
Disc Review:
Film Movement gives the title their standard treatment, releasing it strictly on DVD in 2.35:1 widescreen, with stereo and 5.1 surround sound. A trio of extra features is available, as well as the studio's continued practice of placing a bonus short film on the disc.
Making-Of Featurette:
A twenty-two minute behind the scenes feature is a montage of cast and crew remarking on the production.
Deleted Scene:
A heated dinner sequence between Serena and her father is about three minutes in length.
Music Video:
A video for the track "I'm Sorry" from Jackie O's Farm is included, a four minute tune set to snippets of the band juxtaposed with sequences from the film.
Bonus Short Film – Job Interview:
German director Julia Walter's nine minute short film "Job Interview" features a pretty blonde woman showing up for the promised function, only to become quickly unnerved at some increasingly strange questions.
Final Thoughts:
Paolo Virzi has been steadily making features for the past two decades, so we can look forward to greater international renown following the success of Human Capital. Gripping, and well-performed, it's an arresting portrait of the continual ripple effect of contemporary economic crises.
Film: ★★★½/☆☆☆☆☆
Disc: ★★★/☆☆☆☆☆