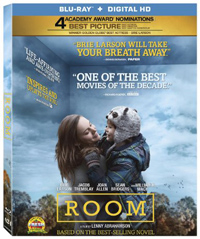 Directly following its premiere at the 2015 Telluride Film Festival, Lenny Abrahamson's Room won the People's Choice Award at the Toronto International Film Festival, generally an indication of Oscar glory in the coming months. Of course, the film went on to rack up dozens of nominations at a variety of platforms, netting Brie Larson a Golden Globe and a Best Actress Academy Award, while it was also nominated for Best Picture, Director, and Adapted Screenplay. To be sure, this is a crowd-pleasing, emotionally considerate version of an incredibly perverse scenario, and though some resulting overblown critical praise may have been a bit unwarranted, it wasn't an unprecedented (but distributor A24 managed a decent box office take, more than half of it coming from a fifteen million domestic take).
An adaptation of the bestselling 2010 novel from Emma Donoghue (here adapting her own source text for the screen). Though once again exploring dark psychological undercurrents with characters forced to undergo drastically juxtaposing realities, his latest is a tonally cohesive character study of a ripped-from-the-headlines scenario. Though eventually this cinematic treatment of survivor guilt and parental treatment isn't quite as audacious as it sets out to be, as more or less related from a child's perspective, it's an emotionally resonant piece of work undoubtedly poised for awards glory at the end of the season thanks to its gratifying performances.
Jack (Jacob Tremblay) has just turned five years old and his mother Joy (Brie Larson) decides to bake him a cake. As they engage in their daily routines, we learn they are captives in a 10×10 shed, and little Jack was born into this stunted environment. Seven years ago, Joy was kidnapped by the man they refer to as Old Nick (Sean Bridgers), who visits every night to force Joy into having sex while Jack sleeps in the wardrobe inside the shed. Soundproof and with one skylight with which they are teased with the possibility of a world outside, Joy has done her best to teach her son about the outside world, including on more abstract concepts and notions. And as her son turns five, she decides it's time to make a plan of escape.
For its first hour, Room's cramped quarters provide ample space for incredibly attenuated performances from Larson and newcomer Jacob Tremblay as mother and son. Logical frustrations and unique stressors to their circumstances rule their hours and days and author Emma Donoghue has been to transfer the success of her written universe into an equally persuasive visual context (though the perspective of Jack is slightly hampered by the eventual necessity of expanding the frame).
This is the type of vehicle for an actress that usually equates to awards glory and it will most likely be a jumping off point for the talented Larson (seen earlier this year as Amy Schumer's sister in Trainwreck), though it's her interplay with Tremblay's sensitive presence inspiring the film's most indelible moments.
Following a superb and tensely administered escape sequence, Room leaps into more emotionally troubled waters, and Joy's degradation takes a back seat to Jack's first experiences to the outside world. The selfishness of others, including the desires of her parents, now divorced (a callous William H. Macy and a lovely Joan Allen) takes an immediate toll on mother and child. The sensational aspects of their story are mostly kept to the periphery, like the hounding journalists on the lawn, though the inclusion of one interview (it's hinted that this is a necessary evil due to the funds needed for the family to readjust) feels like a not-so-subtle potshot at a young woman who was a merely a teenager sexually abused for the better part of a decade.
Inspired by the 2008 Josef Fritzl case, an Austrian man who kept his daughter locked in a basement for several decades and sired children with her, Donoghue's take looks and sounds more homegrown than its salacious origins (though the US is not at a lack of its own sordid instances just like this). As told from the perspective of the survivor, Room is a unique exploration of hope under extraordinarily dire circumstances, but there's nothing very daring about this material (a surprise considering Abrahmason's ill-fitting but ambitious attempt to meld black comedy with a bleak portrait of mental instability in Frank, 2014).
Several years ago, Austrian casting director Markus Schleinzer made his directorial debut with Michael (2011), told from the perspective of a man who locks up a young boy in his modified basement. Taboo, provocative, and woefully unappealing, it remains an interesting counterpoint to something like Room, which grapples with the wide-reaching effects of such a consuming nightmare. But as a tale of a mother doing her best to protect and educate her son all while maintaining a semblance of innocence, Abrahamson presents a graciously well-made and gratifying film.
Disc Review:
The Blu-ray transfer presents the title in 2.40:1, and the significant visual compositions of what constitutes 'room' remain intact. The 5.1 DTS Master Audio becomes overwhelming at times, especially with significant surges of Stephen Rennick's wistful score. Three extra features, advertised as 'in-depth,' are included on the disc, while Abrahamson and crew provide optional audio commentary.
Making Room:
This twelve minute feature discusses the making of the film, with cast and crew sharing their attraction to bringing the story to life. Emma Donoghue discusses starting the screenplay in advance of the book's publication.
11×11:
This nine minute feature has Larson focusing specifically on the relationship of mother and son in relation to their contained space, while Abrahamson and production designer Ethan Tobman discuss the visual design.
Recreating Room:
This four minute segment discusses how the set was packed up and transported from Toronto a gallery space in Los Angeles as a multi-media exhibit while the film was in theaters. The process of rebuilding it is shared by Tobman.
Final Thoughts:
Brie Larson gives an admirable performance, while co-star Jacob Tremblay seems to have been left out in the cold as far as awards glory (in relation to the attention bestowed on Larson). Though Tremblay is ultimately a tad too old for the role and the emotional manipulation is a bit too heavy-handed, Room is a solid motion picture which ultimately was catapulted by the mob mentality blender of awards season contention.
Film Review: ★★★½/☆☆☆☆☆
Disc Review: ★★★/☆☆☆☆☆