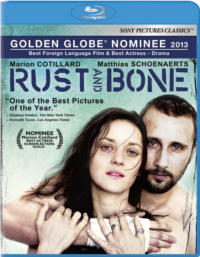 Building upon Canadian author Craig Davidson's short story of the same title, Rust and Bone sees director Jacques Audiard in search of amourous authenticism between lives initially divided by ego, affluence and acumen. He calls the film 'melo-trash', a description somewhere between 'realist' and 'expressionist' that initially seems a harsh critique, but after being baptized in the toiling ground zero world that his characters inhibit, it seems a fitting delineation that explores side dealings and back alleys while shouldering the weight of bracingly exposed emotion. With this in mind, Audiard's, Cannes selected sixth feature film is often hard to watch. It's raw portrayal of physical bereavement centers a densely layered narrative that rests on the question of where trust and friendship bleed into love.
Anchoring the film with a pair of the best performances of last year, Marion Cotillard and Matthias Schoenaerts are shallowly set as opposing attractions. Cotillard's Stéphanie is a successful orca trainer on the tail end of an oppressive relationship. A solo night on the town ends with a bloody nose and a ride home from Alain (Schoenaerts), a fresh faced bouncer and a brawny wreck-loose who just recently found himself caring for his five year old son who he barely knows. Their first interactions are ones of honest affinity and yet there is a slight cultural disconnect in Alain's casually blunt appraisal of Stéphanie's appearance ('dressed like a whore') and the way in which she interprets his clumsy passes. His initial empathy is the key here, but it isn't until she endures horrific physical and emotional pain in the lose of her legs from the knees down that she would even consider Alain someone she could could seriously befriend, say nothing of fall in love with.
Audiard is precarious in his narrative choices, often employing authentic movements of reality catechized by sequences of alluringly opaque expression to explore vast thematic territory in just a small number of shots. His story is, in simple terms, a revelation of an irresponsible young man finding the means to grow up by letting down his guard through caring for a disabled woman without passing judgment, but thematically the film is so much more than that. By letting Alain and his son, Sam (Armand Verdure), naturally interact within the grubby living quarters of his sister's home or with Stéphanie on the sun soaked beach, we begin to see depth and divides within these characters, but in stylistic contrast, there are several sequences of gorgeously photographed slow-motion violence, some implied, some not, that, through their fantastical visual appeal and implicating narrative placement, hint at the double sided nature of physical risk and its potential to yield rewards. Stéphanie at first seems to have lost everything only to find her love life now seems much more fulfilling in the wake of her accident, even finding enjoyment in watching Alain pursue street fighting for nothing more than the adrenaline rush.
Shot with a fondness for close-ups and the warmth of autumn sunlight, Audiard's first foray into digital alongside cinematographer Stéphane Fontaine is nothing short of breathtaking. The sun seems to help Alain awaken a sleeping spirit within Stéphanie after her accident. Together they are photographed blindingly back lit, or beautifully golden, set staring off in sight of the setting sun as if its disappearance will leave them to wither back to their former, lesser selves. Complimenting this sentiment, the hand held instability of the jittering frame seems to shake these beings into vivacious action, even if that means finding folly before accepting amour.
Stéphanie and Alain's journey is often a heart-wrenching intercourse of disregarded flaws. While her's is a physical disfigurement that allows her to see life with new perspective, his is one of selfish indifference that sees him, at first, both failing as a father and a lover. Audiard, through capricious regard to time, astute attention to minute emotional shift and a team of CG magicians that made Cotillard look like a true to life amputee, has molded Rust and Bone into a wildly affecting experience. With each viewing of this gloriously modern romance, more thematic richness seems to be unearthed.
The Disc:
Released by Sony Picture Classics, the Rust and Bone Blu-ray disc is quite a fine little package. The film, which was shot with the ultra crisp visual intake of the EPIC digital camera, looks absolutely stellar in HD. Bodies sport incredible detail, bathed in the ever present sunlight that warms the film throughout. Even the digital effects that made Marion's legs disappear look flawless on screen. Overall, it looks better here than when I caught it in theaters. With a perfectly selected soundtrack that truly compliments the tonality of every scene, the film's big DTS-HD 5.1 master track flows through your speakers and immerses you as if to drown you in emotional sound. Atmospherics come around behind you naturally, while all the dialogue comes cleanly through the center with ease. Packaged in a standard Blu-ray case, the disc and box art are the only things about this release that seem to miss the film's tone.
Commentary with Director Jacques Audiard, Writer Thomas Bidegain and Journalist Arnaud Calistri
While commentaries often become a bit sleepy due to lack of conversation, with Calistri present to ask questions about the feature, the commentary continues with veracity. Speaking on everything from adapting the short story to casting to researching the visual effects necessary to make Cotillard into an amputee, Audiard and Bidegain have plenty to say, all of it fascinating and enlightening.
Making Rust and Bone: A Film by Antonin Peretjatko
Piecing together a fidgety mid-filming interview with Audiard with plenty of on set production footage, this thorough 'making of' doc lets the progression of scenes play out with the tension, anxiety and frustration of the actual filmmaking process occurs. Camera batteries need to be charged as the actors reach their emotional epoch and the crew is constantly racing against the setting sun. Audiard shows his fractured genius here, a mind with definitive opinions on filmmaking and the will to impose them. 60 min
VFX Breakdown by Mikros
Basically forging a compilation of the majority of digitally crafted shots in the film and contrasting them to the original shots taken, this featurette is a fun little look into digital movie magic. 2 min
On the Red Carpet: Toronto International Film Festival
This is a brief bit of clipped red carpet interviews and the on stage film intro from Cotillard translating for Audiard at the Toronto premiere. 3 min
Deleted Scenes
With optional audio commentary from Audiard and Bidegain that explains why these bits were left on the digital cutting room floor, we see an extension of Alain stealing the camera, a scene where Stéphanie speaking with a sketchy guy after the accident, a scene that highlights Alain's sister's tattoo, Stéphanie at the mall, a warm scene of Alain and Sam navigating a boxing chat room and Stéphanie practicing some dance moves on her new legs prior to venturing out for real. 7 min
Theatrical Trailer
Set against the perfectly matched M83 song 'My Tears Are Becoming a Sea', this trailer does what all trailers should do – preview the tone of the film without giving much narrative indication, beautifully. 2 min
Final Thoughts:
While most will contend that A Prophet remains Jacques Audiard's finest work to date, Rust and Bone possess a unique vivacity and hopefulness that just can't be shaken off. Despite Stéphanie's general lack of character, Cotillard lifts her to levels of emotional brilliance amidst the CG magic and sun-bathed cinematography that enwraps the picture, allowing us to fall (un)comfortably in Audiard's assured hands. This Blu-ray release surely looks and sounds as good as it possibly could at home, making for an easily recommended release.