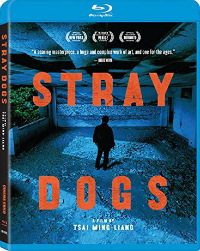 Celebrated Taiwanese director Tsai Ming-Liang announced that Stray Dogs, which took home the Grand Special Jury Prize from Venice after the film's world premiere back in 2013, would be his final full length feature. And what a beguiling work of glacial cinema to go out on. Matched in tone and tenor by his subsequently released just-short-of-feature length film, Journey to the West, which is included in this meditative new set released by The Cinema Guild, Tsai's newest offerings are essential cinematic counterpoints to what could be described as hyperactive work from his peers. Arguably by demanding our attention through stasis, he has developed his own sensory overload modulation.
Unlike, say, his soon to be released stateside 1992 film Rebels of the Neon God, in which he dabbles in the workings of youthful stasis and the subtitle brutality of remorse through a rather playful commercial lens, both Stray Dogs and Journey to the West revel in what many would consider to be excruciatingly long takes that pose questions about the act of watching itself. In the former, a derelict family scavenges the city for sustenance like specters unseen by the vibrant city buzzing around them. In one recurring sequence, the father figure (Tsai's invariable on-screen collaborator Lee Kang-sheng) stands on a busy city corner holding a large advertising board in downpouring rain in a bright colored poncho and still is seemingly unnoticed by the streams of drivers that file past.
Contrariwise, in Journey, the lastest work in Tsai's ongoing Walker project which originated in a theatre monologue he staged for the National Theatre of Taipei and has expanded to multiple screen projects, Lee Kang-sheng dressed in a traditional Buddhist monk robe goes into the busy streets of Marseille and walks as if in hyper/hypno-slow motion, gleaning stares, photos and occasionally complete avoidance. Through a mere 14 shots over the course of 56 minutes, Lee's performance becomes a meditative study of human locomotion, physical concentration, and the occasional unknown boundaries between social etiquette and public performance. Midway through Lee is joined by French arthouse mainstay Denis Lavant, plainly dressed, a few paces behind, and moving in the same glacial manor, yet he goes relatively unnoticed in relation to the scarlet emblazoned monkish counterpart. The unusual goes overlooked in the face of the extraordinary.
But each of these lengthily displayed images are composed without narrative or charactorial context, rather Tsai's cinematic lexicon is of aural ambience, sustained physical expression and picturesque framing that fosters introspection. After staring at a mother silently, statically sitting near her sleeping children for a duration of minutes, one begins to ask what must she be thinking about? Why are they located in this dingy space? And so many others. No less enigmatic is a somewhat horrifying extended take in which the father discovers a cabbage, painted with a face, named "Miss Big Boobs", and left in his bed by his children, and in turns continues to make out with it, rip it to shreds and ingest the thing like a crazed wild beast. There is a supreme sense of delusional, heartbreaking desperation in such moments, but in watching this extreme performance we are again confronted by our own sense of watching, both questioning ourselves about Tsai's intentions and our own curiosity about such discomfort.
There is much debate on the value of slow cinema and its mileage as a medium. In the case of works like these, it comes down to one's own patience and inquisitiveness about the values of prolonged perception and the potential impacts that can be gleaned from such a cinematic experience. There is profound beauty and heartbreaking tragedy found in both Stray Dogs and Journey to the West, but to each his own.
Disc Review:
I often wonder how distributors decide what films get a Blu-ray release and which films remain relegated to the dying format of DVD. Seconds into watching Stray Dogs it become obvious why The Cinema Guild chose the former. Tsai's films often deal with the minute, and thus we benefit from being able to experience the minutiae of sights and sounds fussily captured and transformed. Though the film is brilliantly presented in supremely crisp, well balanced HD, it is the vibrant, overwhelmingly atmospheric soundscape that pervades the 5.1 HD master track that demands the extra room to bloom given by Blu-ray. An absolutely stellar transfer.
Journey to the West
Outlined above, Tsai's latest in the Walker series, presented in gorgeous HD, though interlaced. A monumental work that could stand as its own release, despite its rather short length. 56 min
Tsai Ming-liang Master Class
Hosted at the Cinematheque Francaise in Paris as part of a retrospective of his work presented by the Deauville Asian Film Festival last year, Tsai speaks openly about a variety of topics including his childhood, the influence of French cinema on his own filmmaking, as well as his means of funding such generally unprofitably cinema. 70 min

Theatrical Trailer
Condensed into a lean 2 minutes, the film is folded into a haunting montage of visually ravishing gloom. 2 min
Booklet
Within, Jonathan Rosenbaum pleads his case for the necessity that is Tsai Ming-Liang.
Final Thoughts:
There is little one can say if you aren't already intrigued enough to seek out either of the films included within Cinema Guild's latest release, but let me urge you to be patient. Patience is not only a respected virtue, but with slow cinema such as this, it is also a mandatory implement for emotional and thematic decryption that promises to yield treasures of immense cinematic wealth. And Tsai's films are indeed just that.
Film Review: ★★★★/☆☆☆☆☆
Disc Review: ★★★★½/☆☆☆☆☆