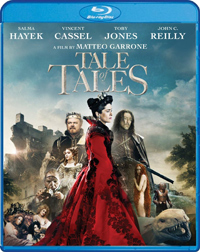 Italian auteur Matteo Garrone makes his English language debut with 2015's Tale of Tales, a droll, visually captivating adaptation of classic fairytales from 17th century folklorist Giambattista Basile. Featuring a renowned international cast, the film premiered at the 2015 Cannes Film Festival, where it unfortunately went home empty-handed. Despite its commendable strengths, US distributor IFC was unable to generate much buzz stateside during a limited theatrical release in April, 2016, where the film netted only a little over one hundred thousand at the box office. An inspired and ambitious retelling of classic fairytale texts, Garrone's accomplishment follows in the footsteps of classic Italian auteurs, a carnivalesque metaphor on a grand scale with superb visual elements we used to see from directors like Federico Fellini and Pier Paolo Pasolini, whose Trilogy of Life, in its deliberations on Canterbury Tales, Arabian Nights, and The Decameron, this project easily resembles in scope.
Across the three loosely related kingdoms and characters is an overarching theme or moral to each trajectory regarding the literal and metaphorical devastation of superficiality. Each ruler and his or her subjects are obsessed or ruined by notions of beauty or social custom operating on a level best described as skin-deep. And those characters daring to meddle with fate are meted with the usual punishment assigned to mythological characters conveying a degree of notable hubris. Hayek's Queen Longtrellis displays a sense of entitlement eventually proving ruinous, going to great lengths to conquer her inability to give birth by calling on the Necromancer (an eerie Franco Pistoni), sacrificing her husband (John C. Reilly) to a sea monster (which resembles an enlarged Mexican salamander), and strong-arming her eventual son away from his identical lookalike (played by twins Christian and Jonah Lees), albino boys borne from the same unnatural process. But due to the other boy's status as a plebian, she has an argument to keep them apart. Of course, this is merely a way to quell her nagging jealousy about her son's closeness to another being, while she can only demand his attention by engaging in childlike games, such as a jolly jaunt through a Shining like maze or occupying his time be forcing him to help her choosing adornments, for this is exactly what he is to her, an object she owns. It's in this segment where Garrone accomplishes the most fantastical visual moments, his rendition of the sea monster recalling the wonder and magic of Fritz Lang's memorable dragon in 1924's Die Nibelungen.
Likewise, Toby Jones as the King of Highhills has a similar emotional predicament with his daughter Violet, a vapid young princess played with kewpie doll finesse by Bebe Cave. The clue is in Jones' use of a pet name/game, playing with his daughter in an introductory carriage ride as a young girl with a ticklish singsong, "scoochie, scoochie, scoochie." But Highhills is clearly bored with Violet as an adult, his attention stolen by the appearance of a flea, which he feeds off his own blood until it becomes an enormous, monstrous behemoth, a perversion of the natural order. However, he plays the same game with the growing flea, conveying this King wants more of a pet than a child, willfully giving his daughter away to a cave ogre in a grotesque contest where suitors must touch the rawhide of the deceased flea and guess what creature it belongs to win her hand in marriage.
Lastly, and perhaps the most profound is the tale of two sisters, an excellent Shirley Henderson and Hayley Carmichael in wizened hag makeup, who inadvertently capture the attention of their King Strongcliff (Vincent Cassel), a lascivious, lecherous ruler who has a weakness for young maidens and courtesans. Hearing one of the sisters singing, he visits their home at night to take what rightfully belongs to him, sending the sisters in a tizzy. Carmichael's Dora seizes the opportunity, gluing her sagging skin into the right shape and stealing away to his bedchamber to grant the king sexual relief. Come morning, he discovers the ruse and has her cruelly thrown from his high tower window, where a passing witch breastfeeds the old woman and grants her youth. Dora, now played by Stacy Martin, becomes a queen, but doesn't rightly predict the effects this will have on her old sister, pining away at home.
All of these characters face their own sets of turmoil, but those challenging the trajectory of fate are the most harshly punished, like Hayek's Longtrellis, Carmichael and Martin's Dora, and the family of gypsies led by Alba Rohrwacher, who make the mistake of intervening with Violet's situation. Each of their trajectories is juxtaposed with finesse atop of DP Peter Suschitzky's (Cronenberg's favored cinematographer) handsome frames and a production design from Dmitri Capuani, utilizing actual Italian castles, and a fitting score from Alexander Desplat.
Disc Review:
IFC and Shout Factory present Tale of Tales in 2.35:1 with Master Audio 5.1, and this is certainly a handsome transfer of the source film. Garrone's use of practical effects (such as the sea monster) as well as superb make-up effects on the old women and the ogre all look fantastic here, while limited instanced of CGI (the flea of Highhills) are rendered less persuasively.
Making-Of Featurette:
This hour long featurette goes into painstaking detail on the looks and designs of production. Cast and crew are also interviewed.
Final Thoughts:
Had Tale of Tales won a major award out of Cannes, the resulting theatrical release might have garnered a bit more critical heft. Unfortunately, fantasy purists and genre enthusiasts perhaps approached Garrone's film with particular expectations, while Garrone stays in the spirit of the original texts and ambience he's breathed new life into. Given time, this is bound to be a title resuscitated and reconsidered a generation or two down the line.
Film Review: ★★★★/☆☆☆☆☆
Disc Review: ★★★½/☆☆☆☆☆