Disc Reviews
That Man From Rio & Up To His Ears | Blu-ray Review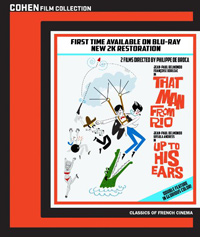 Two of director Philippe de Broca's earliest renowned titles get new restorations and are available for the first time on Blu-ray, That Man From Rio (1964) and Up to His Ears (1965), the first two titles from a loose James Bond spoof trilogy featuring Jean-Paul Belmondo. Certainly ahead of his time, de Broca's amusing adventure films are much more than the kind of lowbrow entertainment that would come to typify the genre known as spoof, and this became a notable inspiration for Steven Spielberg's Indiana Jones films, particularly 1981's Raiders of the Lost Ark.
Inspired by the adventures of Belgian cartoonist Herge's Tintin adventures (which also provided the basis for a 2011 Steven Spielberg adaptation), a prized Amazonian statue is stolen from a Parisian museum. Three such statues left South American on an expedition that involved the late father of Agnes (Francoise Dorleac) and and two colleagues. Professor Catalan (Jean Servais), who had also been on the expedition and owns one of the three statues, is abducted. Agnes' boyfriend Adrien (Jean-Paul Belmondo) arrives on a one week leave from military service to see Agnes abducted right under his nose, and so he's swept up in a conspiracy that sees the action moved to Rio de Janeiro.
Arriving in theaters a year later, Belmondo returns to de Broca's fripperies in Up to His Ears as a bored and bankrupt millionaire, whose only option is to take out an expensive insurance policy and then have himself killed so the money will go to his expectant fiancée and her greedy parents. But when he meets beautiful exotic dancer Alexandrine Pinardel (Ursula Andress) in Hong Kong, he changes his mind about the scheme set in motion by his right hand man Mr. Goh (Valery Inkijinoff), a man set to inherit a portion of the insurance. And so he must flee across China and Tibet to outrun possible assassins until the policy runs out.
That Man From Rio is the better crafted of the two titles here, a parody poking fun at not just James Bond but France's own equivalent secret agent, OSS 117 (who would become directly parodied by Michel Hazanacivius in two films starring Jean Dujardin, one set in Rio, from the 2000s). Surprisingly, the film works quite well on its own terms, starring the bemused New Wave star Belmondo, and it's interesting to note how Spielberg quite heavily plundered several of de Broca's set pieces for eventual re-use.
The film has aged quite well, despite not wowing all of its contemporary critics (Andrew Sarris seemed to especially loathe the film, coining it the 'grand-daddy of all bad action movies,' but then Sarris couldn't foresee that we'd eventually have to wade through decades of low brow derivatives, such as Austin Powers, etc.), and manages to feel quite timeless, especially in comparison to other eventual inspirations, like Romancing the Stone (1984). It also features one of the few onscreen performances from French beauty Francoise Dorleac, sister of Catherine Deneuve, who would die tragically in car accident at the age of 25 only three years after filming. 1964 was a breakout year for her, considering her entertaining turn here and a more serious stint in Francois Truffaut's excellent The Soft Skin. Jean Servais (famously of Jules Dassin's Rififi, 1955) provides support as a professor with a secret agenda.
Up to His Ears, based very loosely on Tribulations of a Chinaman, the 1879 novel by Jules Verne, already conveys the metamorphoses of the spoof film, going for bigger, broader laughs, and chugging along on a less substantive narrative. Featuring Belmondo in a ridiculous plot, donning a mop of a hair-do we'd next see styled on Crispin Glover's version of Willard, the film feels very much like de Broca's move to create a completely innocuous film. As a comedic foil for Belmondo, Jean Rochefort appears in an early supporting role.
In-between these two features, de Broca released the rarely seen Male Companion, which starred Deneuve, so perhaps this was a move to capitalize on the momentum of That Man From Rio, which earned de Broca his only Oscar nod (for Best Screenplay, sharing credit with long time collaborator Jean-Paul Rappeneau, as well as Ariane Mnouchkine and Daniel Boulanger). The only returning screenwriter credited on Up To His Ears is Boulanger, and much of the scenario feels scatterbrained. The chemistry shared between Dorleac and Belmondo is absent here, with the beautiful Ursula Andress as a stripper supposedly rescuing his broke playboy from a complicated suicide plot. Andress, hot off her appearance as Honey Ryder in the Bond film Dr. No (1962) is inspired casting, and her international reputation was enhanced by her work with auteur driven material such as this and Elio Petri's The 10th Victim (1965), although de Broca doesn't quite utilize her beyond her beauty. It appears this type of characterization was something de Broca tried to correct on his third spoof with Belmondo, 1973's The Man from Acapulco, wherein his disagreement over the characterization of the Jacqueline Bisset character caused screenwriter Francis Veber to go uncredited when de Broca called in Rappeneau for rewrites.
Disc Review:
This 2K double feature restoration from The Cohen Media Group is certainly a collector's item, especially for Philippe de Broca's notable That Man From Rio. Edmond Sechan serves as DoP on both features, and particularly with the first title, impressively captures the restless sense of continual, often superfluous energy of the film, including several notable stunt sequences including Belmondo poised above a hungry crocodile. Several extra features are included on each disc.
Silly & Serious – George Delerue and Philippe de Broca:
Film music expert Stephane Lerouge speaks for fourteen minutes on de Broca's long time collaboration with composer George Delerue, who worked regularly with the director from 1960 to 1987.
Brothers of Cinema – Jean-Paul Rappeneau & Philippe de Broca:
Writers Philippe de Broca and Jean-Paul Rappeneau discuss their working relationship with de Broca, with Rappeneau comparing them to 'the odd couple.'
The Adventures of Adrien – The Catalin Affair:
An hour long feature goes into great depth on the origins of That Man From Rio, initially dreamt of us a Tintin adaptation to be directed by Alain Resnais. Screenwriters Rappeneau and Mnouchkine discuss their experiences, along with several historians.
From Cartouche to Cavalier – Jean Rochefort and Philippe de Broca:
Jean Rochefort appears for nearly ten minutes to speak of his participation in Up to His Ears.
That Man From Hong Kong:
A half hour feature discusses de Broca's making of Up to His Ears, which features interview footage of de Broca, who wanted to avoid any kind of seriousness with the title.
Final Thoughts:
Beginning as an assistant director to Claude Chabrol and Francois Truffaut, Philippe de Broca's own directorial career spanned from the early 60s to 2004 (ending with the Catherine Frot headlined Viper in the Fist). Though without the same amount of accolades as several of his peers (he received critical raves and both BAFTA and Cesar nominations for his 1997 film On Guard), he was an innovative filmmaker that dabbled in several genres, his filmography littered with notable titles, like King of Hearts (1966) and L'Africain (1983). Over a career that saw several collaborations with actor Jean-Paul Belmondo and screenwriter Jean-Paul Rappeneau, their 1964 effort That Man From Rio shows them to be at top form.
That Man From Rio: ★★★½/☆☆☆☆☆
Up To His Ears: ★★★½/☆☆☆☆☆
Disc: ★★★½/☆☆☆☆☆