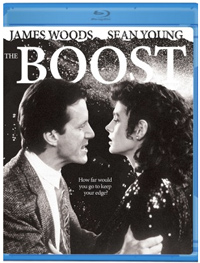 Greed is not so good for the hustling couple at the center of The Boost, Harold Becker's late 80s portrait of excess, addiction and the desperate search for a loophole to the American Dream. Cinema as modern moral fable has the tendency to stay married to the particular values of the era in which it was made and this feels like the less articulate, country bumpkin cousin to Oliver Stone's Wall Street (1987). The film is overshadowed by the infamous allegations launched against Sean Young from co-star James Woods, who sued the actress, accusing her of engaging in a series of Fatal Attraction style activities following a vaguely detailed on-set liaison while Woods was engaged to someone else. But these elements combined give this enjoyable and entertaining B-grade feature a notorious edge.
While struggling to make ends meet in New York City, Lenny Brown (Woods) is headhunted by streetwise Max Sherman (Steven Hill), who knows a hustler when he sees one and convinces Lenny to head to Los Angeles and take advantage of selling leveraged tax shelters. With wife Linda (Sean Young) in tow, they explore flights of fancy in California, and initially, they seem to be on the right track. As Lenny rake in the dough, Linda pursues her dream of becoming a ballerina. But just as the federal government changes the tax laws, they are introduced to a little drug called cocaine and develop an obsessive addiction, the federal government changes the tax laws, halting Lenny's cash flow. But with a new expensive addiction, Lenny and Linda must figure out a way to continue their current way of life.
Had Arthur Miller lived at the height of this cocaine fueled era, his Death of a Salesman might have resembled this distraught melodrama (and Woods' aptly named Lenny seems to share some of Willy Loman's DNA), based on the novel Ludes by Benjamin Stein. But as adapted by Darryl Ponicsan (author of The Last Detail, who would pen a number of social issue screenplays, such as Nuts and School Ties), this transforms into hysterical camp.
James Woods, already a bit over-the-top as a not so suave financial leech, becomes a gnashing demon once the white stuff crawls up his nose. And while the illicit substance, without a doubt, causes notable personality variances, The Boost creates a Mr. Hyde scenario for Woods, and makes the film seem a cautionary tale along the lines of Reefer Madness (1936). Sean Young as his waifish bride gives an equally over-the-top performance, and she's often ludicrously styled (including her character's desire to train as a ballerina in Los Angeles, even though she's in her late twenties). Showing up at a swank party in a summer dress, a guest, trying to be ominous, remarks "dance, ballerina, dance." Like the equally dated Jill Clayburgh addiction drama I'm Dancing as Fast as I Can (1982), Young's Linda gets more than just footloose.
Capturing the sun-dappled mirage of Los Angeles during a particularly excessive period, Becker gets some great sleazy caricature mileage from a couple of toxic enablers played by John Kapelos and Kelle Kerr (whose introduction is horrendously and unintentionally comical), but nothing about The Boost feels particularly in-depth, including some questionable set designs (the Los Angeles office where Woods and Steven Hill conduct business has dirty, smudged lampshades, for instance). Painfully aware of its message at every conceivable turn, The Boost is supposed to play like a horror story for folks who think they can mainline their way to economic bliss, but can't quite convey the tragedy of good people unable to make responsible choices despite knowing better all the while.
Disc Review:
Olive Films presents the title in 1.88:1, though the transfer could use some cleaning up with a new restoration since Howard Atherton's (who had just completed Adrian Lyne's Fatal Attraction prior to this title) juxtaposing portraits of New York and Los Angeles, (as well as a white, privileged definition of squalor vs. the success of excess) seems a bit faded in this print. As usual, Olive doesn't include any extra features.
Final Thoughts:
Though The Boost isn't the most successful pairing of Harold Becker and James Woods (try The Onion Field or The Black Marble), it's a decent portrayal of the slipping down life, which was released just prior to Becker's best feature, Sea of Love (1989).
Film Review: ★★½/☆☆☆☆☆
Disc Review: ★★★/☆☆☆☆☆