Disc Reviews
Confession of a Child of the Century | Blu-Ray Review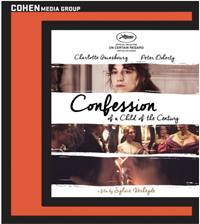 In 2012, French director Sylvie Verheyde mounted an ambitious, English language adaptation of Alfred de Musset's controversial 1836 autobiographical novel Confession of a Child of the Century, which documented the notorious author's love affair with George Sand. Previous depictions of this story include Diane Kurys' 1999 version of events starring Juliette Binoche and Benoit Magimel, and a 1974 French television adaptation of the novel starring Sami Frey and Marie-Christine Barrault. What's most alluring about this latest variation is the casting of infamous English British rocker Peter Doherty in his debut role. Fodder for tabloid sensationalism since coming into prominence in the late 1990s as co-frontman of The Libertines, here he's tasked with dancing on the template of his own vapid shenanigans, and on paper he seems an inspired choice (there's even the pop culture headline about his doomed relationship with supermodel Kate Moss for extra subconscious, if vacuous, juxtaposition). But the end result is an exceptionally tedious examination of what's supposed to be a torrid tryst, with a woefully ineffective male lead, who moons about uncomfortably in his period garb with the woebegone expression of a sallow teenager who's rather be somewhere else.
In Paris, 1830, the weak-willed and clingy Octave (Pete Doherty) learns his wife Elise (Lily Cole) has had an affair. Losing a duel with her lover, he falls into despair and debauchery, a condition referred to as "the disease of the century." But during his joyless gallivanting with friend and cohort Desgenais (August Diehl), Octave's father dies, which takes the lost young man to the countryside where he meets a beautiful widow, Brigitte (Charlotte Gainsbourg), who is ten years his senior. Quickly, he becomes enamored with her, but is it a love both will be able to sustain?
Premiering in the Un Certain Regard sidebar at the 2012 Cannes Film Festival, Confession was picked up by US distributor Cohen Media Group and finally released theatrically in September, 2015. Playing in one theater, it brought in a domestic gross of seventy-four dollars during its one week run. Swallowed in the shadows of the negative criticism trailing the title since its premiere, it's not a failure on a technical level, and there's something to be said about Thomas Grezaud's (collaborator on Celine Sciamma's last two features) production design and Esther Walz's costumes. Up and coming DP Nicolas Gaurin (the favored cinematographer of Marion Vernoux and Thomas Lilti) even manages a particularly felicitous rendering of the period, particularly in the amber lit nighttime exteriors and the lush Parisian opera halls, like a soul-less, passionless Edith Wharton pit.
But the real eye-sore here is Doherty, who looks appropriately disheveled and all aspects of beleaguered, but simply cannot convey anything resembling an investment in what's he's doing on screen at any given moment. Despite Verheyde's questionable choice to film in English (obviously to accommodate her lead), this could have been a salvageable effort, thanks to some solid support from Charlotte Gainsbourg. But seeing as Doherty is such an inanimate lump, it's difficult to believe any of their interactions. Likewise for Octave's partner in crime, the enigmatic enabler Desgenais, played by multi-lingual German actor August Diehl as a resigned lost soul. The late staged appearance of Guillaume Gallienne as Brigitte's belated safeguard promises a bit of dramatic zest, but he's crushed, like everyone else, beneath Doherty's monotony.
Disc Review:
Cohen Media Group's presentation of the title is as customarily agreeable as any property from their significant library, with a commendable visual transfer and DTS-HD Master Audio. The film's theatrical trailer is included, as is a bonus feature of an interview with a French literary scholar.
Confession of a French Literature Fanatic:
Dr. Eric Gans, professor of French Lit at UCLA for forty-five years, specialized in the 19th century and published a novel on Musset in 1974. Gans shares his studied views on the author and why he's an important Romantic and relevant literary figure, particularly as a playwright,
Final Thoughts:
Sylvie Verheyde's Confessions of a Child of the Century will forever carry a certain curiosity with it thanks to its headlining star, but ultimately his performance is the detrimental stone which could plunge this adaptation into eventual obscurity.
Film Review: ★★/☆☆☆☆☆
Disc Review: ★★★½/☆☆☆☆☆