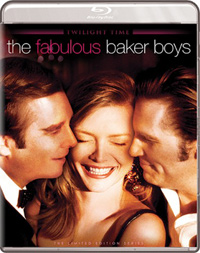 Twilight Time brings the famed musical romance The Fabulous Baker Boys to Blu-ray for the first time, the late 80's classic which snagged a small clutch of Academy Award nominations as it became one of the decade's most iconic titles. Hailed by critics at the time for its disassociated ambience with the age of excess, the film still feels as equally unfettered to any particular period. The first of only two films to be directed by Steve Kloves, a striking casting is lorded over by an unforgettably scintillating Michelle Pfeiffer in one of her most notable early roles. The title's sterling reputation may have outgrown the film's quiet demeanor, a rarity in that it still remains difficult to succinctly classify. It's exactly this resistance to not just two decades worth of cinematic expectation since it first wooed audiences, but also its challenge to our limited means of classifying cinema which still makes Kloves debut such a likeable title.
Two brothers in Seattle, Frank and Jack Baker (Beau and Jeff Bridges) have enjoyed a moderately successful career as sibling lounge pianists. But they're coming to the end of their tether, with certain venues rudely refusing to continue booking them, while others simply pay them through the end of their contract in order to usher in fresh acts. Since Frank runs the business, he decides they need to shake things up and invite a female chanteuse to join the act. After a laborious day of dismal audition offerings, the tough talking, strong headed Susie Diamond (Michelle Pfeiffer) wows the brothers, at least enough for them to give her a chance. Unaccustomed to the environment, Susie takes some adjusting to their rhythm, but finds herself in a reluctant romance with the jaded Jack. When a family situation calls Frank back home while they're on the road, his absence allows for Jack to take over the show. It's an evening that will lead to growing pains in all their lives.
What people probably remember most about The Fabulous Baker Boys is Pfeiffer's signature performance of "Making Whoopee" while she lingers seductively over a piano in a sensual red dress. It's exactly the titillating energy allowing the film rightful comparisons to those famous numbers from the studio age, just like famed bits from Rita Hayworth, Marilyn Monroe, or Marlene Dietrich, all performers remembered best for their sexually charged musical moments. And the titular lounge act is also what aligns the film with the same sense of a more magical, bygone era, when even those supplying the background noise could command our fascination and rapt attention.
DoP Michel Ballhaus (he began working with Fassbinder and he is now regular collaborator with Scorsese), who received an Oscar nod for cinematography here, captures a perpetually slick and wet Seattle, the city a melancholy backdrop for the never-ending apathy of its secretly lovelorn hero, Jack. Pfeiffer may be seared into memory here, in the role netting her a second of three Oscar nominations, but the film's greatest subtext is the casting of the Bridges brothers. Jeff Bridges is given the greater character arc, but they're both fascinating to see together on screen as the slightly miserable, often bickering duo. A very young, very cute Jennifer Tilly, still working her way out of the shadow of older sister Meg during this period, makes a notable appearance as the only other female presence.
Disc Review:
Presented in high definition 1.85:1, Twilight Time grants this modern classic title an admirable transfer. Part of the film's appeal is the jazzy soundtrack, which has an audio presence all its own here. Along with Ballhaus, Editor William Steinkamp received his third (and, to date, last) Oscar nod for his work here as well, and indeed, this is a very handsome, classy affair. However, considering its renown, additional extra features would have been of interest (though optional audio commentary from Steve Kloves with film historians Julie Kirgo and Nick Redman is available, along with an additional optional commentary track from Michel Ballhaus), especially considering a 2014 article in Entertainment Weekly reunited the three leads for an interview. An isolated music and effects track is also available.
Deleted Scenes:
Twenty one minutes of cut footage is included, most are seconds long sequences strung together. Many of these are of the Bridges' interacting with minor supporting characters now completely absent from the film.
Final Thoughts:
Director Steve Kloves would only make one other film, 1993's Flesh and Bone, before focusing strictly on screenwriting, including Wonder Boys (2000) and all of the Harry Potter films. Considering the ingeniousness he displayed on The Fabulous Baker Boys, his absence from the director's chair is surprising to note. Smooth, sultry, and tinged with an inescapable sadness, this is a film worth revisiting.
Film Review: ★★★½/☆☆☆☆☆
Disc Review: ★★★/☆☆☆☆☆