Reviews
Nelly & Monsieur Arnaud (1995) | Review
Lonely Hearts: Sautet's Elegant Final Film on Passionate Restraint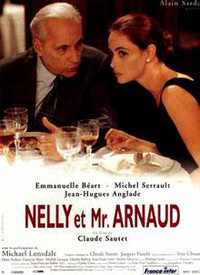 Winning Best Director as well as Best Actor for Michel Serrault at the 1995 Cesars, Nelly & Monsieur Arnaud would stand as the final film of director Claude Sautet. The achingly rendered central relationship makes for a curious case study in the deep emotional undercurrents exchanged between two people unable to properly communicate their actual feelings, and as is typical of many Sautet films, it's a master class of finely attenuated performances. It was the second collaboration of Sautet and the beautiful Emmanuelle Beart (had he lived, she would have taken the muse role occupied by Romy Schneider in his earlier filmography), following 1991's A Heart in Winter, a title many champion as the director's masterpiece, and the one that tends to overshadow their second outing.
Nelly (Beart) is in a loveless marriage and has racked up considerable debt supporting her worthless, unemployed husband (Charles Berling). Meeting an old friend and colleague Jacqueline (Claire Nadeau) for lunch one day to explain her woes, they are interrupted by another friend of Jacqueline's, Pierre Arnaud (Michel Serrault), an older gentleman and very wealthy retired salesman. He remembers Nelly from some social engagement two years prior, and even recalls how she's changed her hair since. Jacqueline excuses herself to take a phone call and Nelly eventually gives a vague confession of her troubles. He offers to help her by simply giving her all the money she needs. Nelly declines. But that night at home, she tells her husband a different story, saying she'd accepted the free, no strings attached money. His reaction isn't satisfactory and it leads to their separation. Nelly goes back to Monsieur Arnaud to accept the money, and also agree to transcribe his memoirs for him. As she begins to work for him, their relationship becomes more complicated. Clearly, he's attracted to her, something she's very much aware of. When his publisher (Jean-Hughes Anglade) is instantly besieged by her beauty and begins to court Nelly, this poses further strain.
At the time this was filmed, Serrault was nearly sixty years of age and Beart was thirty-two, the type of daring discrepancy rarely depicted in dramatic cinema outside of peripheral oddities such as Harold & Maude or Gerontophilia, for instance. It's the type of uneasy age-gap called for in Diane Johnson's novel Le Divorce, something which didn't translate into James Ivory's 2003 adaptation. The two actors make an interesting combination here, eventually reduced to bickering like a sexless couple (despite a noted lack of conjugal union in the first place), something Arnaud is obviously keen on correcting while Beart's Nelly doesn't seem like she'd decline the offer if asked point blank. But then, this is exactly the predicament between these two characters, both playing a similar game with their own fabricated rules. The inclusion of Jean-Hughes Anglade allows Nelly to push Arnaud into admitting his feelings for her, something he refuses to do, eventually driving him back into another uncomfortable situation involving his own estranged wife, currently shacked up with some other guy in Switzerland.
Lensed by Jean-Francois Robin, who has worked with Zulawski, Jean-Jacques Beineix, and most recently worked on the last three features directed by actor Daniel Auteuil, creates a stuffy, claustrophobic sheen in what plays like a flexible chamber piece. The mid-90's period hardly seems to matter, so intently focused are its characters in their limiting obsessions, this could have taken place in any era. As with many of Sautet's relationship oriented films, there's much more information exchanged in what's not being said in these subtle depictions of the heart's desire.
★★★½/☆☆☆☆☆