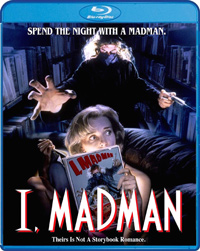 Scream Factory brings late 80's horror thriller I, Madman to Blu-ray, one of two notable cult classics from Hungarian/Canadian director Tibor Tabaks. Beginning in Canadian television, Tabaks reached notoriety with his 1987 sophomore feature, The Gate, a bizarre creature feature which terrorized children with its forced perspective monsters and introduced the world to child actor Stephen Dorff. He'd follow that up with this pulpy adaptation of a screenplay by David Chaskin (A Nightmare on Elm Street 2: Freddy's Revenge). A gothic murder mystery plays out in the eternally uneasy streets of a hazy, 1989 Hollywood in this simple yet strange forgotten oddity.
Bookworm Virginia (Jenny Wright) works in a used bookstore, often finding herself attracted to lurid, violent fiction. After an influx of random materials coming in from an estate sale, she finds a 1950s set thriller, Much of Madness, More of Sin, a visceral novel about a mad scientist who disfigures himself in an attempt to secure the affection of the woman he loves. The experience is so immersive Virginia finds the author's intoxicating world come to life around her in disturbing ways. She begins to look into the mysterious legacy of Malcolm Brand (Randall William Cook), who wrote another novel, I, Madman, something Virginia is curious to find. Coming home from work one day, she finds the novel at her door. Gleefully, she begins to read about a madman stalking an actress he loves, and as she reads, vicious killings begin to happen. Looking into Brand's life, Virginia learns the novels weren't published as works of fiction…
Those familiar with The Gate may recall a certain uneasy awkwardness, a film as potentially fun as it is hopelessly cheesy. Earning Tabaks a bit of notoriety, he would return for a 1990 sequel, though the ill-fated endeavor went undistributed for two years in the US. A host of other creature defined genre titles would litter his later career, including thrillers about rats, spiders, snakes, and mosquitos, plus some television features about natural disasters like earthquakes, tornados, and meteors (not to mention a pair of Kathy Ireland television Christmas films).
I, Madman stands out as the pinnacle of his achievements, a genuinely moody film, and an exercise in imagination enhanced by the paperback nostalgia of a faded era of strange, adult entertainment. The narrative mechanism perhaps feels all too familiar for modern, savvy audiences—we've seen these tales of books come to life countless times before, from George A. Romero's Creepshow (1982) to a "Tales from the Crypt" episode ("Korman's Kalamity," 1990) and, as these tropes age, retrofitted for a rom-com angle in something like Ruby Sparks (2012). And yet there's much of I, Madman still considerably effective, like opening a well-worn copy of a yellowed paperback, its aura wafting over you, drawing you into its kooky world. Much of the ambience here, thanks in part to the delectable creation of madman Malcolm Brand, feels akin to Vincent Price's memorable The Abominable Dr. Phibes (1971).
Actress Jenny Wright, who appeared in a number of popular titles from the period, including Kathryn Bigelow's Near Dark (1987) and The Lawnmower Man (1992), plus a handful of teeny-bopper titles like St. Elmo's Fire (1985) and The Chocolate War (1988), is fittingly cast as a brainy but beautiful type with an obsessive fascination with a lurid, mysterious author. Special effects genius Randall William Cook (who won three Oscars thanks to his work on Peter Jackson's The Lord of the Rings trilogy) makes a rare appearance in front of the camera as the psychotic, preternatural author Malcolm Brand, who leaps from the pages of his novel to stalk Wright, the doppelganger of his murdered lover. A character of his own design, he's effectively unnerving, along with Tabaks' use of another strange creature making a brief appearance. Clayton Rohner, who many will recognize from 80's titles like Just One of the Guys (1985) or more recent peripheral genre flicks like The Human Centipede III (2015) gets little do here besides play a conveniently employed foil.
Disc Review:
Scream Factory presents the title in high definition widescreen, 1.85:1, with DTS-HD Master Audio, capturing the textured grain of the film's original quality. Several shots of Wright ambling down Hollywood Boulevard in front of a demure seeming Grauman's Chinese Theater look fantastic, and the film represents one of DoP Bryan England's most notable projects. Several extra features highlight the film's cult quality.
Ripped From the Pages – The Making of I, Madman:
This half hour feature finds Takacs and several cast members, including Cook, Clayton Rohner, actress Stephanie Hodge, and screenwriter David Chaskin, who discusses the project's initial origins after he finished writing the Wil Sheaton starrer The Curse.
Behind the Scenes Footage:
Randall William Cook narrates this eleven minute feature of his behind the scenes footage from production on the film.
Final Thoughts:
With this new high definition transfer, it's a welcome opportunity to rediscover this late 80s oddity, I, Madman is a fun bit of nostalgia.
Film Review: ★★★/☆☆☆☆☆
Disc Review: ★★★/☆☆☆☆☆