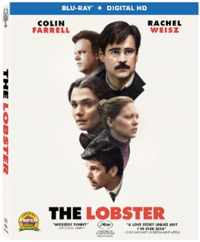 Director Yorgos Lanthimos transplants his celebrated narrative aesthetic from the Greek Weird Wave with his English language debut, The Lobster. The highly anticipated international co-production was met with considerable critical applause following its premiere at the 2015 Cannes Film Festival, where it took home the third place Jury Prize (a year later, it would net nearly nine million at the box office following a US release courtesy of A24 in May, 2016). A melancholy satire of belabored notions of love in a contemporary culture prizing apathetic traditions over actual sentiment, Lanthimos loses none of his particular offbeat sensibilities in English, retaining regular collaborator and co-writer Efthimis Filippou. However, those familiar with his 2009 breakout Dogtooth (a film rather heavily influenced by Arturo Ripstein's The Castle of Purity) and 2011'sALPS may be disappointed to find Lanthimos' latest allegory to be a little less abrasive and compelling this his previous offerings despite another provocative allegory on modern social interactions.
David (Colin Farrell) has just been left by his wife. But he lives in a world where it is against the law to be single, so he is forced to check into a hotel where singles have 45 days to find a mate or be turned into an animal of their choosing. As the title indicates, David would like to be a lobster. He's always like the ocean. The hotel manager (Olivia Coleman) and her husband (Garry Mountaine) seem very soothing, and with the help of the maid (Ariane Labed) and two other new bachelors (Ben Whishaw; John C. Reilly), David begins to acclimate. The guests are allowed to gain more time by regular hunting trips to the forest where they tranquilize and capture people known as the Loners. In an act of desperation, David tries to make himself an appropriate candidate for the Heartless Woman (Aggeliki Papoulia), but this ends disastrously.
Beginning with the surprisingly portly figure of Colin Farrell, a lonely man that's let himself go to seed, The Lobster is filled with a variety of unexpected subtleties, especially considered the high caliber cast amassed here. The film feels as if it's divided into two distinct segments, and once David flees the hotel, it feels like we've entered less predictable territory since The Lobster feels a bit more playful when we reach the equally rigid rebel group, the Loners, with very French leader Lea Seydoux recalling someone like the Huppert character in I Heart Huckabees (2004). But Lanthimos and co-screenwriter Efthymis Filippou tend to revel in repetition, which tends to draw the film on longer than it feels it should be.
An inspired opening sequence involving a random woman driving out into a field to shoot a donkey while another such animal looks on promises something more enigmatic, a metaphor about human relationships we haven't seen before. Instead, the film turns into an extensive, if witty, commentary about the ridiculous sanctions humans place on finding a mate, replete with more strange dance sequences and uncomfortably funny sexual scenarios. Perhaps in critique of our current cultural embrace of finding a significant other via social apps and online dating, both gay and straight, the inmates of this lovelorn hotel desperately seek to make connections based on similar traits, something that can only lead to lies and unhappiness. But the grass is not indeed greener in the forest where the Loners are not allowed to fraternize, dipping into some vaguely defined city randomly as they prepare for an attack on the unwitting hotel managers. Early mention is made of the 'homosexual' option at the hotel, but apparently that section isn't depicted, which surely would have to look a bit more, shall we say, relaxed.
Rachel Weisz, who narrates (sometimes with dialogue just a bit too stylized), is a warm presence at the end of the film, but nearly all the other cast members feel less dynamic, presented as a series of types, as is often indicated by their character's names. An ominous score is over utilized, something that begins as rather comical but becomes tedious as the film wears on. Its final sequence aims to unsettle, but has neither the tension of Dogtooth nor the beauty of ALPS in this closing moment, an action that seems to be trying too hard to make a lasting impression. Lanthimos continues to be a unique purveyor of his own distinct landscapes, but The Lobster doesn't take him out of his comfort zone.
Disc Review:
Lionsgate presents the title in high definition 1.85:1 with English 5.1 DTS-HD Master Audio, which works effectively in the transfer (DP Thimios Bakatakis, who lensed Dogtooth and Kinetta for Lanthimos, gets his most interesting frames in enclosed places, the first half of the film aided by the restrictions of the hotel). A solo bonus feature is included on the disc.
The Fabric of Attraction – Concocting The Lobster:
This twenty-two minute feature finds cast and crew discussing the creation and meaning of the film. Producer Ed Guiney discusses how he came on board the project while Lanthimos recounts the inspiration for writing the script.
Final Thoughts:
Reformulating the concept of arranged marriage for his own demented purposes, Lanthimos' The Lobster should ensure a healthy interest for the innovative director abroad, while hopefully turning audiences on to his prior achievements documenting wayward human behaviors.