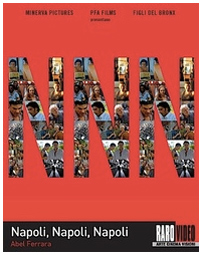 In the late 2000s, fringe auteur Abel Ferrara experimented with a series of documentaries, and in-between 2008's Chelsea on the Rocks and 2010's Mulberry St., he went to Italy for the docu-hybrid Napoli Napoli Napoli in 2009, a portrait of the troubled social spheres in Naples, Italy. But no matter how many times the title repeats the city's name, clarity as regards the troubled metropolis (it is Italy's third largest municipality after Rome and Milan) never transpires in this uneven, awkwardly fragmented dichotomy of talking head subjects and vaguely stereotyped vignettes on typically criminalized behavior. Ferrara himself shows up within frames meant to convey the behind-the-scenes determinations he's crafting, but these distracting moments fail to instill the material with a heightened sense of importance, throwing us into a spackled, lukewarm depiction of a city historically and continually staggered by class strife, population issues, drug distribution, and mafia related violence. The title premiered out of competition at the 2009 Venice Film Festival but was never theatrically distributed in the US.
What's most interesting to note about Napoli Napoli Napoli is how it was made after Matteo Garrone's 2008 Gomorra, a breakthrough title about Italy's modern crime families based on the book by Roberto Saviano (and directly referenced by one of the women prisoners in this doc). In comparison, Ferrara's exercise seems irrelevant and lackluster, despite unveiling some interesting historical tidbits about the city's structural changes in response to an exploding populous. Likewise, an apparent separate class system of residents, referred to as the equivalent of medieval plebs by one of the film's subjects, is remarked upon with nonchalant bigotry deserving of deeper examination. Instead, an endless parade of women prisoners flash across the screen to share how they came to be criminalized (which seems to correlate with the neighborhoods they grew up in and where they continue to live), a random frequency succeeding in lending the film an impenetrable shell of apathy and despair. But these moments at least seem effortless and even half-way poignant, such as an African immigrant woman asked to comment on her thoughts on Italians, but admits she can't comment since out of the five years she's been in the country, four have been spent in prison.
Where Napoli Napoli Napoli gets really clunky is with its reenactments, including a trio of criminals tasked with taking out a traitor (including Gomorra cast member Salvatore Ruocco), some stagey sequences set in a swarthy men's prison, and the tale of a lonely prostitute (played by Ferrara's significant other, Shanyn Leigh) who leaves behind her degrading home life to wander the streets before eventually succumbing to an uncomfortable exchange with a sallow, blubbery client who engulfs her as she shrieks through stages of laughter or anguish.
Disc Review:
Raro Video releases the title in 1.85:1 with 2.0 DTS Audio in a new HD transfer. DP Alessandro Abate's treatment of the reenactments feel more like something from a frugally shot TV styled approximation of 'crime' while nearly all the interviews with the women are comprised of static medium shots with occasional extreme close-ups for maximized intensity. A fully illustrated booklet and a bonus behind-the-scene feature are included.
Backstage:
This half hour feature provides extensive behind-the-scenes conversation between Ferrara and his film crew, including moments which didn't make it into the final film version.
Final Thoughts:
More a collection of fragments than a successful deliberation of cause and effect criminality, Napoli Napoli Napoli is an insignificant portrayal of an infamous city, instead exemplifying the difficulty in combining narrative aesthetics.
Film Review: ★★/☆☆☆☆☆
Disc Review: ★★★/☆☆☆☆☆