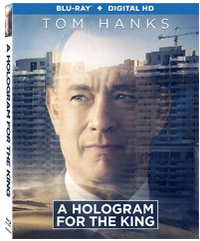 Director Tom Tykwer's international co-production A Hologram for the King unfortunately failed to generate much buzz following its premiere at the 2016 Tribeca Film Festival days before a limited US theatrical release. Reuniting with his Cloud Atlas alum Tom Hanks, this adaptation of the Dave Eggers novel is another in a growing line of underwhelming English language titles with conflicting tonal shifts from Tykwer (included among these, The International and Perfume: The Story of a Murderer), raking in only a little over four million of its thirty million or budget in its total box office take.
Down on his luck businessman Alan Clay (Hanks) is determined to halt his downward spiral by securing an IT contract with a Saudi Arabian King in the midst of developing his new empire, King's Metropolis of Economy and Trade (KMET) by selling him newly developed technology promised "virtual encountering," (meaning the hologram of the title). But Alan, suffering from severe jet lag and a worrisome growth on his back, can never seem to wake up on time to catch the shuttle to the site where his colleagues patiently await a visit from the enigmatic king to present their wares. Depending upon the affable Yousef (Alexander Black), a driver who has significant worries of his own, Alan meanders back and forth, annoyed his team has been relegated to a large, black tent, with faulty Wi-Fi, no food, and sketchy air-conditioning. Eventually, Alan is goaded into more aggressive tactics to secure a meeting with their contact, a man who should be able to confirm their appointment with the King, but never seems to be available when he's scheduled to be in the fully functional office building several yards away.
Increasingly, Hanks seems to have filled the Jimmy Stewart void as the All-American everyman challenged to break free from his milquetoast quintessence and clutch at greater potential. A dependable and warm screen persona, his presence allows for a particularly comfortable familiarity, so it's a pity Tykwer can't quite manage something a bit more invigorating in their second collaboration following the ill-received Cloud Atlas (2012), which was co-directed by the Wachowski Siblings. But for all the inescapable glitches of their earlier off-key sci-fi odyssey, at least it was an ambitious failure. This time around, Tykwer dependably adapts from Dave Eggers' timely 2012 novel, but topicality doesn't engender fascination, and those a bit finicky with the familiar may find this a bit too ho-hum. If Waiting for Godot seems an obvious inspiration, so does Bunuel's The Discreet Charm of the Bourgeoisie. Perhaps these comparable absurdist classics explain why Hologram feels so undercooked since Tykwer renounces farce for solemnity.
Some of the more glaring missteps include the heavy-handed metaphor of the benign growth on Alan's back, a personification of all the unnecessary expectations weighing him down, draining his vigor. Several of the conspicuous supporting cast members seem underutilized, such as a rare appearance from Tom Skerrit as a disapproving father who disdains his son's history of selling American business to foreign entities (a past mishap with Schwinn seems to have informed the businessman's decline), which gets wrapped into oversimplified approximations of economical undercurrents. Several references are made to Alan's daughter, and the consequence of a bitter divorce leading to his inability to pay for his daughter's (Tracey Fairaway) college education (the poor dear has to drop out of university for a semester to waitress while dad gets his act together). Yet the notion of applying for loans never enters the conversation.
And while Hanks is certainly well-preserved, there's just something unlikely about his desirability factor, at least as regards the actions of two beautiful women who utilize him for sex and romance, including Sidse Babett Knudsen (The Duke of Burgundy; Courted) and Sarita Choudhury (Mississippi Masala). But as a man faced with inevitability of his own irrelevance, Hanks gives an astute performance, combating his own body's revolt against the continued neglect of an unlived life.
DP Frank Griebe, working once again with Tykwer, creates some beautiful frames featuring desolate desert palaces, looming out of the sand like sparkly mirages too good to be true. A Hologram for a King can be described in the same way, a handsome production whose possibilities dissipate once it arrives.
Disc Review:
Lionsgate presents the title in 2.40:1 in this Blu-ray package, with 5.1 DTS-HD Master Audio. The HD Picture and sound quality makes this transfer as visually vibrant as any of Tykwer's titles (courtesy of DP Frank Griebe), though these billowing desert landscapes speckled by mankind's technological audacity quickly wears thin. Several extra features about the making of the film are included.
The Making of A Hologram for the King:
This twenty minute features his comprised of behind-the-scenes snippets and interviews with Tykwer and novelist Eggers.
From Novel to Screen – The Adaptation of A Hologram for the King:
This twelve minute segment concerns the adaptation, an extended conversation with Eggers and Tykwer, who previously attempted to adapt his novel What is the What.
Perfecting the Culture:
This ten minute feature discusses Tykwer's adherence to representing Saudi Arabia's culture correctly, including production designer Uli Hanisch's input on crafting the locale.
Final Thoughts:
Tom Hanks, the modernized Jimmy Stewart, wears the eternal American everyman character like a second suit, and this helps make A Hologram for the King another familiar amalgamation of clichéd tropes on second chances.
Film Review: ★★½/☆☆☆☆☆
Disc Review: ★★★/☆☆☆☆☆