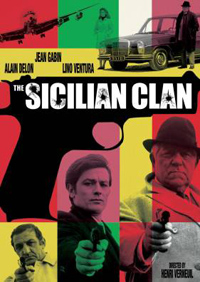 At the height of his tough guy persona, French superstar Alain Delon was in top form through the 1960s and 70s, headlining a number of international action titles, many with varying degrees of success, including a majority which fell into obscurity despite his noted iconicity. He was joined by two other famous stars for 1969's The Sicilian Clan, including Jean Gabin and Lino Ventura, all three men with their own specific intentions in this heist film from director Henri Verneuil, which was a considerable box office hit in France upon release. Generations removed, the title plays like a mobster tinged prototype of the kind of narratives popularized during the following decade, which makes Verneuil's visual techniques seem procedural in retrospect. Doggedly monotonous, the somewhat routine debacle of double-crosses and troubled alliances isn't without its enjoyable moments, perhaps mostly as a time capsule for a period with pronounced production designs.
Master thief Roger Sartet (Delon) catches a lucky break when Sicilian mobster Vittorio Manalese (Gabin) assists his breakout from prison in order to help him pull off a laborious heist, which involves hi-jacking a New York-bound plane containing fifty million dollars in jewels. Hot on Sartet's tail after the breakout, Commissaire Le Goff (Ventura) is a day late and a dollar short as far as deducing how Sartet may be involved with Manalese, but the pressure doesn't help either party when Sartet betrays his partner (on several levels), with each man demanding they a sort of satisfaction.
Delon, as always, is an icy, impenetrable figure, an actor who often estranges the audience despite his captivating looks (which makes his vehicles opposite Catherine Deneuve during this period beautiful to behold but cold to the emotional touch). Here, he's a garden variety hit man dispatched by a self-involved mobster for a complex heist, but nothing about the film feels as well orchestrated as Delon's more famed stints for Jean-Pierre Melville (such as the inimitable Le Samourai or Le Cercle Rouge, which this title falls between in Delon's filmography).
He's routinely enjoyable, but there's not much new for him to accomplish (despite a sinister sequence where he fishes an eel out of the ocean, bashes it to death against the rocks, then fondles it for the phallic symbol it is before collapsing upon Gabin's lusty wife as she sunbathes nearby). Of greater interest is Ennio Morricone's score, which has more attitude with its jittery twangs and indulgent idiosyncrasy than Verneuil's screenplay (adapted from a novel by Auguste Le Breton, who wrote Rififi and Bob le Flambeur, adapted by Jules Dassin and Melville, respectively) manages. Out-sneering Delon is a white-haired Jean Gabin (who would again antagonize Delon in 1973's Two Men in Town) as an aged Sicilian mobster who prefers to spend his free time schooling his grandson in a perverted version of patriarchy. As the third part of this triumvirate, Italian star Lino Ventura has the rather thankless role as the voice of reason pursuing the sparring criminal masterminds. Likewise, women take a notable backseat in the proceedings, only to be used as pawns in the scheming of the men, such as Karen Blanguernon as Delon's sister and Irinia Demick as Gabin's unsatisfied wife.
Disc Review:
Presented in a brand new 4K restoration, The Sicilian Clan is an impressively packaged release from Kino Lorber under their Studio Classics label, a two-disc set featuring the U.S. cut (a running time of 118 minutes) and the slightly longer international release, which has an additional seven minutes of running time. This transfer arrives in 2.35:1, while visual and sound quality are impressive, if only to focus on its lead trio and the noticeably dated but intoxicating vintage production design from Jacques Saulnier (the favored collaborator of Alain Resnais). Film historians Howard S. Berger and Nathaniel Thompson provide audio commentary, while several extra features, including an animated montage of images, are included on the disc.
Legend of the Clan:
This hour long feature discusses Henri Verneuil and the making of The Sicilian Clan, a man assistant director Bernard Stora describes as a showman, a man who "in another era…could have a circus or a midway fair."
The Sicilian Clan by Fred Cavaye:
French director Fred Cavaye (known for his action films Away from Her and Point Blank) appears in this four minute segment, noting how difficult it is to have a film with three major stars who don't upstage one another.
Final Thoughts:
Fans of the cast should enjoy this internationally flavored workman-like heist flick from Henri Verneuil.
Film Rating: ★★★/☆☆☆☆☆
Disc Review: ★★★/☆☆☆☆☆