Disc Reviews
The Tall Blond Man with One Black Shoe | Blu-ray Review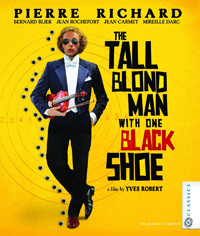 Film Movement continues with its Classic series and delivers their next title in a continuing line-up of new Blu-ray presentations, The Tall Blond Man with One Black Shoe, a seminal French comedy of the period from director Yves Robert. A stylized paean to the comedic tradition of Jerry Lewis, this is straight-faced screwball comedy not quite as daring or inventive as the title's sterling reputation promises (it did win the Silver Bear at the Berlin Film Festival). Notable, especially considering the significant talent in front of and behind the camera, it's a comedy classic of uncomplicated froth, though its ability to amuse now seems dwarfed by expectation.
Traveling violinist Francois (Pierre Richard) is misidentified as a superspy by France's national intelligence. As a host of people desperately attempt to interpret Francois' strange actions, everyone becomes more and more assured of his significant skills. Meanwhile, Francois is embroiled in an extra-marital affair with his best friend Maurice's (Jean Carmet) wife, a matter complicated when Francois becomes involved with the sexy blonde henchwoman (Mireille Darc) who throws herself into his bed in a ploy to discover his secrets.
Written by Francis Veber, responsible for penning the original La Cage au Folles (1978), who would eventually become a notable director in his own right thanks to titles like The Fugitives (he directed his own English language remake with Nick Nolte) and 1998's The Dinner Game (remade in the US as the ill-received Dinner for Schmucks in 2010), "The Tall Man," has an impressive comedic pedigree.
Both Veber and director Yves Robert would utilize comedic actor Pierre Richard in subsequent films, including the 1974 sequel The Return of the Tall Man. And yet, the real problem with their initial celebrated collaboration happens to be the strikingly monotonous Richard, who doesn't really convey the level of physical comedy one would expect from something influenced by the likes of Jerry Lewis. Most of the time, Richard wanders around looking dumbfounded, with most of the comedy meant to be generated from the league of serious professionals hanging onto every word in action as they watch from afar, each in their own separate agony regarding his refreshing actions in their generally predictable environments of espionage and high tension.
The film begins with the same type of illogical scenario predicating many modern American comedies (generally an antecedent of ire), as a police chief gives explicitly vague instructions to his crew, making it nearly impossible to identify their target. They of course choose the wrong one, based solely on his mismatched shoes, which they mistake as a testament of his talents (the reason for the shoes is later explained and isn't really of any importance). We proceed to follow the haphazard violinist, who is mostly consumed with being the rather passive part of an illicit extra-marital affair. Meanwhile, another faction is also observing the violinist, this party led by sexy spy Christine (Mireille Darc of Godard's Weekend, 1967). In a ploy to receive information, she has a tryst with Francois, leading them to have feelings for one another…and you can guess how this complicates matters for everyone further. Then, of course, you have important figures like Bernard Blier (father of famed auteur Bertrand Blier) and Jean Rochefort running around in the periphery.
Disc Review:
Newly restored in high definition, Film Movement's presentation is a splendid package, especially considering this is the first time the title is available in the US (and we hope, eventually, to have other unavailable titles from Veber and Yves Robert make their way here, at long last). As far as high class screwball goes, one can't complain about the beautifully rendered color palette. However, it's a surprise no extra features are available.
Final Thoughts:
Meagerly amusing, if thanks to several scenarios genuinely funny in their brevity, The Tall Blond Man with One Black Shoe is worth a look, but like several of its scenarios, the mere idea of its existence is more entertaining than the actuality.
Film Review: ★★½/☆☆☆☆☆
Disc Review: ★★★/☆☆☆☆☆