Tuesday Blus: Hawn Gets Heard in Harris' Melodrama Deceived (1991)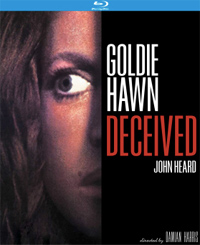 Arriving in the midst of Goldie Hawn's last real prolific period in the early-to-mid 1990s, the Damian Harris (son of actor Richard Harris and brother of Jared) directed thriller Deceived was an attempt to re-package the bubbly blonde's rom-com reputation (which Hawn followed with the equally unsuccessful CrissCross in 1992). At the time, the film (originally titled The Mrs.) was an interesting package, however, considering the involvement of several key players.
While Hawn was hot off Bird on a Wire (1990), this was Brit director Harris' follow-up to the well-received The Rachel Papers (1989), and scribe Mary Agnes Donoghue would unleash her own directorial debut the same year, Paradise starring Melanie Griffith and Don Johnson. And then, Hawn's co-star was John Heard, fresh off the most famous role of his career with Home Alone. And if Oscar winner Beatrice Straight was ultimately edited out of the film as Hawn's mother, it would have the distinction of being the last film of actress Kate Reid (Atlantic City; Death of a Salesman) and one of many to feature character actress Robin Bartlett. Unfortunately, Hawn's attempt at semi-erotic adult thriller territory hasn't aged too well, and was not a critical success upon its release in 1991.
After being stood up on a blind date in a swank Manhattan restaurant, Adrienne (Hawn) runs into debonair bachelor Jack Saunders (Heard). The meet-cute turns into a romantic liaison after they discover they share a common interest—expensive antiques. Fast forward several years into their idyll, which has produced a daughter and a complacent rhythm. But Adrienne begins to suspect Jack is having an affair. After she stumbles upon the body of a colleague who may or may not have hanged himself at work, it seems the dead man may have been involved with an ancient Egyptian necklace, the original of which has disappeared from Jack's warehouse of antiques. Then, Jack suddenly dies in an auto accident…and Adrienne discovers a web of lies concerning the man she thought she knew…
The problem with Deceived, and its rather hobblingly bland title, is not so much Hawn as a premise which doesn't quite know how to utilize its potential. The how and why of Hawn and Heard's initial meeting is a bit of strangeness which seems divorced from its antagonist's insidious and bafflingly convoluted plot. Too much is going on to justify a pair of troubling twists which positions this as a B-grade housewife-in-peril flick predicated solely on deliberating the façade of domestic bliss. While notable for a rare dramatic performance from the mostly absent Goldie Hawn, Deceived doesn't do any of its players any favors—and, coincidentally, only succeeds in duping its audience out of time and/or money without delivering anything of import or entertainment.
Disc Review:
Kino Lorber presents Deceived in 1.85:1 as part of its Studio Classics designation. Picture and sound quality are serviceable in this otherwise underwhelming production. Director Damian Harris (whose 1995 thriller Bad Company will also be simultaneously released by the label) is on hand for an audio commentary track. Besides this and the original theatrical trailer, the disc is sans extra features.
Film Review: ★½/☆☆☆☆☆
Disc Review: ★★★/☆☆☆☆☆