Disc Reviews
Tuesday Blus: The Witches, The Aviator and Bigas Lunas' Jamon, Jamon
This week's edition of Tuesday Blus includes the following titles: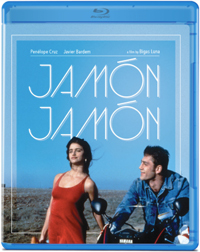 Jamon, Jamon (1992)
Film Review: ★★★½/☆☆☆☆☆
Disc Review: ★★★/☆☆☆☆☆
After rising to acclaim through the late 1970s and 80s, which included the 1987 cult title Anguish, Spanish director Bigas Lunas scored his first bona fide international success with 1992's Jamon, Jamon, which took home the Silver Lion at the Venice Film Festival. While the end the of the 1990s saw Lunas' popularity decline significantly, it would remain his most prolific decade thanks to a handful of titillating endeavors which included The Ages of Lulu (1990) and the subsequent chapters of what would be known as his Iberian trilogy including Golden Balls (1993) and The Tit and the Moon (1994). In retrospect, Jamon, Jamon (which means 'ham ham' and engages with a play on the word 'jamona,' for spinster) is perhaps best remembered as the debut of a sixteen-year-old Penelope Cruz, who would star alongside her future husband Javier Bardem. At the time of its release, the pair of Italian actresses playing mothers, including Stefania Sandrelli (Bertolucci's The Conformist, 1970) and Anna Galiena (Leconte's The Hairdresser's Husband, 1990), were bigger cinematic notables.
Sandrelli stars as Conchita, the wealthy matriarch of a vibrant underwear factory in a small Spanish town, trapped in a loveless marriage (Juan Diego) and retaining a tight grip on her son Jose Luis' (Jordi Molla) love life. When Jose Luis announces his plans to marry Silvia (Cruz), the daughter of local bar-owner (and ex sex-worker) Carmen (Anna Galiena) due to an unplanned pregnancy, Conchita hires local stud Raul (Bardem), who works at the local meat packing plant, to seduce the waifish teen. Complications ensue when Conchita finds herself attracted to Raul, while the brooding factory worker eventually falls for Silvia despite himself. Meanwhile, Carmen complicates matters by embarking on an affair with Jose Luis.
Lunas, directing from a script co-written by Cuca Canals and Quim Monzo, displays his usual surrealistic flourishes in this zany sex romp which ends up being a bit darker than its description would otherwise suggest. A woozy dream sequence of Silvia's cements the carnal juxtapositions between consuming flesh and pleasuring it, both as a site of sustenance and desire. Pearls 'cast before swine' and a sweaty duel utilizing ham shanks and pig legs sets up Jamon, Jamon as a flavorful exercise. Like the outrageousness of Alex de la Iglesia and the sexual provocations of early Almodovar, Jamon, Jamon is a sweaty sex farce where maybe not all's well that ends well, but everyone ends up in the formulation they more or less need to be. A surreal soap opera which remains joyously frivolous with content so potent you can almost smell its musky pheromones, Jamon, Jamon is an excellent blast from the past and features Cruz and Bardem in all their untouched youthfulness.
Olive Films brings this Bigas Lunas classic to Blu-ray for the first time in 1.85:1. If the look and feel of Jamon, Jamon feels overly familiar, chock it up to some formidable lensing from DP Jose Luis Alcaine, who has been frequently utilized by many of Spain's most notable contemporary auteurs (including many titles for Almodovar and Fernando Trueba). Picture and sound quality are fittingly administered in this presentation. No extra features are available.
***

The Witches (1967)
Film Review: ★★★½/☆☆☆☆☆
Disc Review: ★★★★/☆☆☆☆☆
Silvana Mangano remains one of Italy's most alluring screen sirens, albeit one who never received the same international acclaim as peers like Sophia Loren, Gina Lollabrigida, or Claudia Cardinale. After receiving positive notices for her performance in 1949's Bitter Rice, Mangano would famously marry producer Dino De Laurentis, eventually coming into prominence in a number of Italian productions, notably appearing in a number of titles for the likes of Pasolini (perhaps never better than in 1968's Teorema) and Luchino Visconti. In 1967, De Laurentis would assemble five of Italy's most noted contemporary auteurs to contribute to the omnibus film The Witches (Le Streghe), each directing a segment which would star Mangano as a woman dealing with roles and expectations of modern society.
Two of the segments are brief interludes featuring Mangano, such as Mauro Bolognini's wry Civic Duty, in which a harried woman on the way to an appointment agrees to drive an injured man to the hospital merely as a ruse to get traffic moving (Mangano gets to looks like a fab bird in a feathered hat). The other shorter stint is from Franco Rossi, the least accomplished amongst these titans of the Italian film industry (his 1962 title Smog was denounced as anti-American), who directs Mangano as a woman defending herself against the accusations of adultery from her brutish husband in The Sicilian's Wife. Enrobed by a delicious and playful score from Ennio Morricone and Piero Piccione, Mangano's shining moments arrive in the first and last segments. Visconti, who featured the actress in his Death in Venice and Conversation Piece casts Mangano as an emotionally troubled superstar who arrives unexpectedly at a party hosted by her frenemy (Annie Girardot) in The Witch Burned Alive. As she spends the evening fending off amorous men (including the husband of her friend) and the prying eyes of jealous women, we discover she's at a familiar crossroads where she must choose between social expectations and her fabulous career.
The last segment from Vittorio De Sica, An Evening Like the Others, is an homage to Italian comic books and finds Mangano playing a bored housewife to American transplant Clint Eastwood (whose Spaghetti Western archetype is utilized effectively) who over the course of one humdrum evening escapes frequently into her vibrant fantasies. Sandwiched between these is The Earth as Seen from the Moon, a fairy tale from Pasolini, who casts Mangano as a deaf mute who has the ability to come back from the dead. She's upstaged a bit by the famous comic Italian actor Toto, who plays the grieving father of Nenette Davoli, Pasolini's famous muse. As father and son grieve the death of their wife and mother, their search for a replacement yields the mysterious Mangano, a woman willing to go to great lengths to secure their worldly comfort. Charming, goofy, and sometimes poignant, The Witches is a delightful confection featuring the underrated Silvana Mangano.
For years, The Witches remained one of those odd cult items which languished in obscurity, available only in second-hand prints and miserly DVD transfers from taped cable re-runs. Arrow Academy presents this late 1960s oddity for the first time in any format as a brand new 2K restoration in this high definition transfer in 1.85:1. A brand new audio commentary track from film critic and author Tim Lucas is available. As an extra feature, the alternative dubbed (and shortened) version of The Witches, which was prepared for the English language market, is also available.
***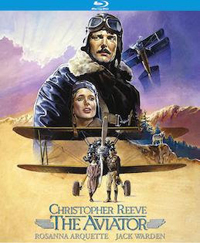 The Aviator (1985)
Film Review: ★/☆☆☆☆☆
Disc Review: ★★★/☆☆☆☆☆
For those who found themselves unable to appreciate the 2017 Kate Winslet/Idris Elba romantic melodrama The Mountain Between Us, perhaps they'd be willing to reconsider its worth after viewing something like 1985's incredibly unpleasant The Aviator. The 1985 production stars Christopher Reeve (who based his performance on Howard Hughes, apparently, and which become the title of the Martin Scorsese biopic on the infamous figure) as a 1920s Nevada based mail pilot who crash lands in the mountains with a seventeen-year-old woman in tow, played by Rosanna Arquette. Romance blossoms as they fend off wolves and survive in the elements.
Directed by George Miller (not the Mad Max auteur), The Aviator is one of many failed offerings starring Reeve from the early 1980s. In an attempt to re-brand himself outside of the Superman franchise, Reeve headlined a number of daring projects, including Frank Perry's Monsignor and Sidney Lumet's Deathtrap (both 1982 and critical/box office failures). When Superman III (1983) didn't help matters, Reeve returned to the period formula which seemed to work for 1980's Somewhere in Time as the scar-faced, emotionally distant pilot forced into romance with Arquette, playing the rebellious daughter of wealthy Sam Wanamaker (meanwhile, Jack Ward stars as Reeve's boss and fount of exposition). Strangely, The Aviator is devoid of any kind of emotional texture, despite its director's general attraction to rugged men dealing with the elements (including 1982's The Man from Snowy River, a 1997 adaptation of Robinson Crusoe starring Pierce Brosnan, 1987's Bushfire Moon). Astoundingly dull, The Aviator should be revisited purely by enthusiasts of its two leads or those looking for a visual sleep aid.
Kino Lorber presents The Aviator in 1.85:1, though its presentation is about as unenthusiastic as every other aspect of the title itself. The package arrives without any additional extra features.