Disc Reviews
Two Newly Restored Films by Philippe de Broca | Blu-ray Review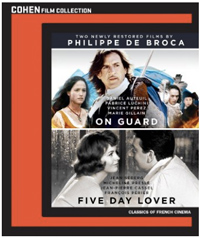 After restoring and releasing director Philippe de Broca's classic Jean-Paul Belmondo capers That Man from Rio (1964) and its first sequel Up To His Ears (1965), Cohen Media Group revitalizes two more titles from the director's back catalogue for another disc set, Five Day Lover (1961) and On Guard (1997). Straddling the beginning and end of a filmography spanning five decades, it's a delectable double feature of effervescent offerings, each notable in their own regard. The first headlines American expat Jean Seberg, who alongside Jean-Pierre Cassel becomes involved in complicated love affair, and the second is a vibrant adaptation (the most high profile to date) of Paul Feval's classic 1858 swashbuckler On Guard (Le Bossu), starring Daniel Auteuil in one of his most dashing performances.
The earlier title in the set, Five Day Lover (which premiered at the 1961 Berlin International Film Festival), jumps immediately into a flirtation between the aggressive Georges (Jean-Pierre Cassel) and Claire (Jean Seberg) after sitting next to one another at one of fashion designer Madeleine's (Micheline Presle) shows, who just so happens to be Claire's boss and Georges' wealthy lover. In a matter of moments, Claire, who reveals she is also married to older but affable (Francois Perier) and is the mother of his children, begins an extensive love affair, which takes place Monday through Friday, every afternoon from five to seven. Claire's husband eventually becomes suspicious, especially as her excuses for staying out later become more and more elaborate with her boss as the scapegoat. Until Madeleine gets hip to the game as well.
The film is contemporary amour fou, surveying the ramification of adult love affairs more bluntly than American counterparts of the 1960s, when something like The Apartment or The Graduate dealt with sexual congress out of wedlock in less explicit, generally more consequential terms. Five Day Lover is also surprisingly flippant and generously light hearted for a scenario calibrated for seeming emotional devastation. Seberg was still enjoying the glow of Breathless (1960), and often seems a bit too cute and vapid, a bit fresh faced for a mother of two married to the likes of a middle aged Perier. The most interesting character is the self-made designer played by Micheline Presle (who also co-starred with Seberg in Time Out for Love the same year), who is something of a novelty in a gender role reversal scenario and the only one willing to expose the fantasy romance between the young lovers as the charade it really is. Cassel is energetic and entertaining as a roguish cad, and the film makes for peculiar commentary when stacked up next to something like 2015's My King, which stars the actor's son Vincent Cassel in a very different portrait of modern heterosexual coupling.
In 1700 Nevers, France, swordsman Lagardere (Daniel Auteuil) challenges Duke Philippe de Nevers (Vincent Perez) to a friendly duel in order to learn a secret maneuver piercing the lone weak spot in a person's skull. The two men become fast friends, and soon Lagardere is accompanying the Duke's envoy to Caylus, where he has just discovered he fathered a son with Blanche de Caylus (Claire Nebout), a fact kept secret by his jealous, conniving cousin Comte de Gonzague (Fabrice Luchini). Initially surviving an assassination attempt, the Duke manages in marry Blanche, thus securing his daughter as an heir, but Gonzague's men soon after kill him, leaving Lagardere to abscond with the child, which he raises as Aurora (Marie Gillain), and who deigns to claim her heritage twenty years after the murder of her father.
Following the release of On Guard, which scored de Broca his only Cesar nod for directing (it did take home an award for Best Costume), he would make four television projects and only two more cinematic features, the light-hearted comedy Amazon, reuniting him with Belmondo, and the rather dark familial drama Viper in the Fist (2004), adapting from a Herve Bazin novel. But On Guard hits all the right notes of Feval's source text, a swarthy adventure film stuffed with the requisite elements of excitement, grandeur, and intrigue, made all the more fulfilling thanks to flourishes which would have been scrubbed out of an American version, such as Vincent Perez attempting to seduce Auteuil (he swings both ways), and then the simmering sexual tension between Auteuil and the young woman he's raised in the capacity of a daughter (an ethical conundrum making up one of the chapters of Kieslowski's Dekalog, 1989).
By far the most entertaining cast member is a devious Fabrice Luchini (the only main cast member not nominated for a Cesar), perfectly calibrated as the sniveling backstabber Gonzague. Auteuil, disguised later on as a hunchback to win the evil lord's trust, is granted a number of statements with hidden meaning for the benefit of the audience, always misconstrued by Gonzague, who demands he divulge all lusty secrets. "I enjoy tales of grotesque love," he trills. In the grand tradition of the once beloved swashbuckler, de Broca's On Guard is a topnotch example, especially considering it was material produced several times before, including in a 1959 version starring Jean Marais. The iconic Philippe Noiret appears in a notable supporting role, one of his last in a handful of films prior to his death in 2006.
Disc Review:
Both titles are newly restored and remastered from Cohen Media Group in these fantastic transfers. Five Day Lover is the lesser title, but DP Jean Penzer (who would be best known in the late 1970s and 80s for items like Blier's Get Out Your Handkerchiefs and winning a Cesar for Jacques Deray's He Died With His Eyes Open, an adaptation of a Robin Cook novel) manages to capture a sense of carefree abandon in early 60's Paris. For On Guard, de Broca gets meticulous period detail from production designer Bernard Vezat, while cinematographer Jean-Francois Robin scored his only Cesar nod for his impressive frames, which range from sprawling swordfights to various visually poetic metaphors (notably, Auteuil would use both of them in his future remakes of several Pagnol titles).
Cast Interviews:
Eight separate interviews are included as extra features on the On Guard disc, including with de Broca and the cast, and separate interviews with Auteuil, Marie Gillain, Fabrice Luchini, Patrick Godeau, de Broca, Philippe Noiret, and Vincent Perez. The segments range from about two (Noiret) to seven minutes (de Broca).
Final Thoughts:
Although Philippe de Broca remains best known for his influential adventure comedy That Man from Rio, his most energetic and vibrant title happens to be his adaptation of the classic swashbuckling novel On Guard.
On Guard (1997)
Film Review: ★★★★/☆☆☆☆☆
Disc Review: ★★★★/☆☆☆☆☆
Five Day Lover (1966)
Film Review: ★★★/☆☆☆☆☆
Disc Review: ★★★★/☆☆☆☆☆