Disc Reviews
Who Is Harry Kellerman and Why Is He Saying All These Terrible Things About Me? | Blu-ray Review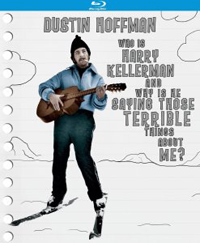 Though he's still best known for his considerable resume as a director of the stage, Ulu Grosbard formulated a sporadic yet significant filmography in cinema, releasing one or two titles per decade, beginning with 1968's The Subject Was Roses and ending with 1999's The Deep End of the Ocean. Leading four actors to Oscar nominations (including one win for Jack Albertson), his works are intriguing and sometimes deliriously offbeat examples of American cinema, ranging across several genres. But he worked best with downbeat, melancholic narratives, usually centering on protagonists battling or embracing an extreme sense of denial, and caught up in an emotionally taxing vortex beyond their control. One of his best vintage works is sophomore effort Who Is Harry Kellerman and Why Is He Saying All These Terrible Things About Me?, a film with a psychological structuring as elegant yet ungainly as its title is poetically verbose. Dustin Hoffman stars as a successful songwriter who specializes in ditties about love but realizes he isn't able to have this emotion for anyone else because he doesn't feel any for himself. Written for the screen by Herb Gardner, the film feels like the dysthymic cousin of a Cat Stevens biopic, eluding the hopeful elements which marked similar titles of the era (i.e., Hal Ashby) posturing to celebrate the suicidal fantasies of its disillusioned lead character.
Rock music composer Georgie Soloway (Hoffman) is at the peak of his career but couldn't seem to be unhappier, unable to love himself or any number of women he's involved himself with. His therapist (Jack Warden) is more of a hindrance than a help, popping up randomly in Georgie's life, even in his eccentric fantasies. When he meets a struggling actress (Barbara Harris) at an audition, he glimpses a rare chance at love.
Hoffman's Georgie Soloway remains a difficult character to empathize with, a man who has conquered the entertainment industry and is at the zenith of popularity (as a shot of a TIME cover would indicate), one of many examples of the disinterested rich and famous who lose their enthusiasm for life after achieving success. Appearing mostly as the aged version of the songwriter, Hoffman seems trapped in pool of nostalgia, overdosing in a Dickensian ghost of his past, constantly remembering or fantasizing on particular moments with women in his life, notably with Rose Gregorio as his increasingly unhappy wife.
Flying around the cityscape in his plane, he buzzes around evening horizons with a melancholy flavor akin to Michel Gondry's Eternal Sunshine of the Spotless Mind (2004), wherein lovelorn humans seem conditioned to obsess about failings or missed opportunities for connection. Jack Warden pops up often as Soloway's heavily accented therapist, twisted into fantastical scenarios from the singer's imagination. Dom DeLuise also appears in one sequence as Soloway's weary accountant.
The banality of Soloway culminates in the film's ultimate saving grace in the form of a superb Barbara Harris, who was nominated for a Best Supporting Actress Academy Award on the strength of two particularly moving sequences. Auditioning in vain for a role in one of Soloway's productions, the cynical songwriter sees something fascinating in her neurotic characterizations, allowing for an incredibly delicate and moving monologue about aging, the passage of time, and how the ebb of hope, either from a lack of success or the achievement of it, turns the joy of life into a desire for death. At the end of their interaction, she switches off the light and they sit in darkness. "Funny, that's how I first saw you," she remarks.
Of course, the eponymous man slandering George Soloway is eventually revealed, adding a final touch of irony to Grosbard's defeatist film. In many ways, the fractured narrative consisting of one man's navigation of memory and fantasy recalls Adrian Lyne's later (and much darker) film, Jacob's Ladder (1990). But what goes up must come down, and we leave George Soloway the same way we were introduced to him, preparing for his descent.
Disc Review:
The film is sterling work from underrated DP Victor J. Kemper (Dog Day Afternoon; The Friends of Eddie Coyle), who would lens a number of important titles in the 1970s. Blending the banal with the fantastical, there are a number of curiously framed moments (such as Hoffman's hair nearly blocking Harris completely out of frame during an emotional exchange) which, along with Shel Silverstein's score, enhance the film's unique flavor, a narrative of memories strung together to cause as much joy as they do pain. Released as part of Kino Lorber's Studio Classics, the film arrives without any special features in customary 1.85:1.
Final Thoughts:
Fans of Dustin Hoffman should appreciate this neglected vintage offering from Ulu Grosbard, which ends with a graceful dual slalom set to the fitting soundtrack from Dr. Hook & the Medicine Show.
Film Review: ★★★½/☆☆☆☆☆
Disc Review: ★★★/☆☆☆☆☆
Nicholas Bell
Los Angeles based Nicholas Bell is IONCINEMA.com's Chief Film Critic and covers film festivals such as Sundance, Berlin, Cannes and TIFF. He is part of the critic groups on Rotten Tomatoes, The Los Angeles Film Critics Association (LAFCA), the Online Film Critics Society (OFCS) and GALECA. His top 3 for 2021: France (Bruno Dumont), Passing (Rebecca Hall) and Nightmare Alley (Guillermo Del Toro). He was a jury member at the 2019 Cleveland International Film Festival.