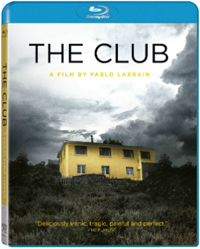 Pablo Larrain's first post-Pinochet narrative, The Club, is a distinctly subversive dark comedy, a surprise feature following his profound trilogy (Tony Manero; Post Mortem; No). Premiering at the 2015 Berlin International Film Festival, the title was awarded the Silver Berlin Bear and was Chile's submission for Best Foreign Language film, a campaign which eventually resulted in a Golden Globe nomination. Distributed in the US by Music Box Films, a limited theatrical release across fourteen venues in February brought in fifty thousand plus at the box office, a paltry sum compared to the two million take for Gael Garcia Bernal headlined No back in 2013.
Starring his usual collaborator, Alfredo Castro, Larrain, along with screenwriters Daniel Villalobos and Guillermo Calderon (2011's Violeta Went to Heaven) concoct a bizarre tale concerning a cloister of ex-Catholic priests holed up within the confines of an isolated seaside monastery. Relocated out of circulation as punishment by the church, the disparate men languish in all the comforts of an unassuming retirement home community on the church's dime.
On the coastal extremity of Chile, four men (Alfredo Castro; Jaime Vadell; Alejandro Goic; Alejandro Sieveking) reside together in a home under the watch of the friendly Sister Monica (Antonia Zegers). We learn these men were once priests thanks to the addition of a new member of their clan, Father Lazcano (Jose Soza). But before Lazcano can even check into his room, introductions are interrupted by a stranger shouting obscenities about being molested by the Father. The new member of the club promptly commits suicide, instigating an investigation from Father Garcia (Marcelo Alonso), indicating the church may be looking for a reason to close down the convalescent home.
Filmed with the quiet magnitude of a chamber piece, Larrain's regular DoP Sergio Armstrong cloaks this coastal set locale in a cloak of ever present fogginess, these men drifting idly through it, like shadows. Initially, all of these men appear quite normal, seen playing with the communal dog on the beach before gambling at the local racetrack. What a surprise to learn they're a motley crew of varied criminals, ranging from baby snatchers to garden variety pedophiles, siphoned off by the church to a group home rather than relocated to another parish. If the men eventually seem a bit out of touch, a delightful Antonia Zegers (also a regular Larrain player) as the nun meant to watch over them is deliciously nutty, doing her best to distract the interrogations of Father Garcia, the church representative threatening to annihilate their cozy idyll. As usual in Larrain's remonstrations, despicable bouts of violence are never far from reach, and The Club descends into a surprising bout of madness, where, as per usual, innocent creatures take the brunt of punishment thanks to social transgressions.
Castro, who portrayed the terrifying titular character in Tony Manero (and more sympathetic turns in the other Pinochet films) stands out as a bemused ex-pedophile, who matter-of-factly asserts homosexuality helped broaden his sexual horizons to the grown victim of Father Lazcano's, a man who keeps hovering around the priests' sanctuary. Paired with the church's handling of its own lost boys, we get Larrain's point that despite imploring the opposite, the religious entity is rather pragmatic in its understanding of mankind's base tendencies and that allowances are secretly and insidiously made for privileged insiders.
Disc Review:
Music Box presents The Club in widescreen 2.35:1, and Sergio Armstrong's fog enveloped frames of the sleepy coastal community are intact in the transfer. Music Box includes a great collector's inset booklet, which features an essay by Jessica Kiang. Additionally, some worthwhile interviews are included from Larrain and crew in the extra features, as well as commentary from stars Alfredo Castro and Antonia Zegers.
Pablo Larrain Interview:
A 40 minute interview with Pablo Larrain finds the director discussing issues of organized religion and how the Catholic church behaves like an organization.
Cinema Chile Interview with Antonia Zegers:
This brief ten minute interview with Zegers finds the actress speaking about how they prepared for the film and speaks of how a performer cannot inhabit judgment when portraying a character.
Berlinale Press Conference Excerpt:
A ten minute segment from the film's press conference following the Berlinale premiere finds Larrain and crew reflecting on the film and responding to press questions.
Final Thoughts:
Arguably one of Larrain's most seditious narratives, a feat considering his stellar body of work, The Club is a stunning critique of organized religion, and will hopefully maintain the prolific shelf-life it deserves.
Film Review: ★★★★/☆☆☆☆☆
Disc Review: ★★★½/☆☆☆☆☆