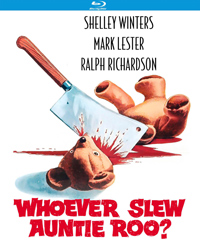 Beyond some brief moments of hysterical camp fervor courtesy of a frumpy lead performance from Shelley Winters, in prime matronly hyper drive, it's difficult to make a case for reconsideration of Curtis Harrington's 1972 title Whoever Slew Auntie Roo? Cashing in on the horror hag subgenre birthed by the success of Robert Aldrich's Whatever Happened to Baby Jane? (1962) only a decade prior, a whole slew of successive misleading titles would ask similar questions about ripe harridans lost in some perverse scenario, including items like Whatever Happened to Aunt Alice? (1969) and two other titles from Harrington, including the superior What's the Matter with Helen? (1971), and even a gender role reversal on author Henry Farrell's formula (he wrote Baby Jane's saga) with the 1970 television film How Awful About Allan starring Anthony Perkins. But Shelley Winters' poor Auntie Roo is a rather misleading entry on an already familiar trajectory, concerning a lonely widow desperately trying to reclaim normalcy by contacting the spirit of her dead daughter who died in a tragic in a freak stair banister sliding accident until she spies a doppelganger in a gang of kids visiting for a Christmas dinner from the nearby orphanage.
Mrs. Forrest (Winters), a troubled widow residing on a wealthy English estate, is known to the local community as Auntie Roo, a lonely woman whose young daughter mysteriously disappeared years ago. Little does anyone know the girl died in a freak accident, her dried out corpse kept in a secret chamber by Roo while she attempts to contact her spirit with the help of a charlatan posing as a medium (Ralph Richardson). Since the local orphanage sends their most behaved children to her estate for a Christmas extravaganza every year, a pair of sibling ruffians, Christopher (Mark Lester) and Katy Coombs (Chloe Franks) wheedle their way into the event. It just so happens, Katy is a dead ringer for Roo's missing tot, leaving the spinster to keep her there, no matter what…and Katy's older brother isn't exactly a necessary part of the equation.
This would serve as Harrington's fifth cinematic feature, the film critic turned genre filmmaker reuniting with Winters, one of his two leads from the exceptional 1930s period piece What's the Matter with Helen?, released only a year prior (Vincent Canby described the actress in demeaning terms by comparing her semblance to that of a reproachful pudding). However, this collaboration suffers greatly from awkward tonal shifts and a curious inability to establish empathy for its child protagonists. Mark Lester, famous for his title turn in the musical Oliver! (1968), and child actress Chloe Franks give, perhaps, the worst performances across Harrington's seedy filmography, which includes some exceptional work in items needing to be resuscitated from obscurity (such as 1967's Games).
Harrington proves unable to effectively direct child performers or curb his lead star's worst tendencies, paving the way for Winters to clean house in a performance ranging from supremely shrill to surprisingly sympathetic. By the time its Hansel & Gretel role reversal becomes complete, which is weakly established through wan attempts in the script asserting kids at the orphanage believe she eats children, Aunt Roo's demise becomes the real tragedy as the film leaves us with two smug sociopaths who just committed murder. While there's a case for arguing Harrington was intelligent enough of a filmmaker to purposefully deliver subversive context with his finale, the imperiled children are consistently presented as entitled victims, with the audience's allegiance persuaded to accept their struggle. Meanwhile, Ralph Richardson as a doddering old medium somehow gets the short shrift when clearly his subplot would have greatly established a greater sense of menace.
Disc Review:
Kino Lorber releases the Harrington title under the Studio Classics label in 1.85:1, the first time it will see a Blu-ray release (previously, it was available on a double feature disc with Harrington's What's the Matter With Helen? from MGM). One of the last films lensed by DP Desmond Dickinson (Olivier's Hamlet, 1948) is set mostly within the confines of a moldy English estate, but never manages to feel cramped or claustrophobic (despite several sequences utilizing a dumbwaiter). Audio commentary from film historian David Del Valle and film scholar Nathaniel Bell is also available on the disc.
Final Thoughts:
Fans of Shelley Winters should appreciate her performance as Auntie Roo, a batty, rich dame who spoils children, hosts elaborate Christmas parties, and desperately wishes to believe in the supernatural. But anyone expecting thrills, either campy or creepy, will be disappointed in this Curtis Harrington title, a director who usually excels in weird, offbeat genre efforts.
Film Review: ★★/☆☆☆☆☆
Disc Review: ★★★/☆☆☆☆☆