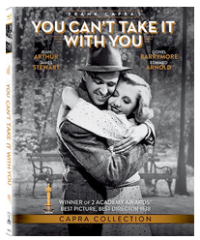 Frank Capra's 1938 film You Can't Take it with You utilizes its titular expression as eloquently as Thomas Wolfe would wield his two years later with the posthumously published novel You Can't Go Home Again. Both are texts dealing with a specific period of American history, in-between the ravages of the Great Depression and the onset of WWII, each conveying its author's specific outlook, reflecting a sort of bittersweet melancholia between the two. Capra, as usual, presents his universe from the glass half full perspective, and the title arrives at the zenith of his popularity during his most lucrative decade. All told, he would be nominated for Best Director six times during his career (five of those were in the seven year time span of 1934 and 1940), winning three of those (including for this particular title). And following the impending cynicism bleeding into American cinema post WWII, Capra's filmography would fall into a nostalgic vacuum, resuscitated now and again for his wonderful ability to project audiences into romantic escapism. But even if his body of work can be described as sappy or potentially cornball by today's standards, Capra's films are never mawkish or simplistic. His characters, however naive they may seem to be, are always presented with a loveable authenticity. While many of his titles tend to lean toward screwball comedy or endearing sorrow, this 1938 Best Picture winner aims for sobering hopefulness.
In the uptight but decadent office spaces of Kirby & Co., a banking company which flourished during the economic onslaught of the Great Depression, owner Anthony P. Kirby (Edward Arnold) is upset his scheme to buy up a whole New York City block has been thwarted by one man, Martin Vanderhof (Lionel Barrymore). Refusing to sell even despite being offered four times the amount the house is worth, we meet the kindly old Vanderhof as he explains the property means more to the memory of his family than money. Since he's refused to sell, he's managed to save the rest of the block from being uprooted as well. Vanderhof also houses a bunch of creative eccentrics, individuals who prize their individuality over working as office drones, which creates a rather chaotic environment. But his granddaughter Alice (Jean Arthur) is socially stable, and just so happens to work as a secretary for Kirby's son, Tony (James Stewart), the Vice President. Tony's become quite smitten with Alice, and when the two fall in love, the families are forced to meet.
You Can't Take it with You may not best Capra's best or most beloved picture, especially compared to other collaborations with James Stewart (who was nominated for two other Capra pictures) or the more enduring Best Picture Winner, It Happened One Night (1934). But it has its memorable bits, including an enjoyable courtroom sequence featuring Jean Arthur in one of her best on-screen moments ever. Lionel Barrymore gets to play the opposite of the Dickensian villain we know him so well as in It's a Wonderful Life, the last bastion of hope in a neighborhood about to be bulldozed by Edward Arnold's corporate posturing. Barrymore's eccentric Martin Vanderhof has all the off-putting vibes of a strange cult leader, housing a band of misfits including a band of unusual, merry-making men plus his own goofy daughter and her adolescent minded husband, whose two daughters (including a young Ann Miller) are somehow the most socially appropriate beings in the house.
The achingly quirky hodge podge of characters is nothing new to today's cinematic flavors, and we can see modern filmmakers like Jean-Pierre Jeunet in Micmacs (2009) or even David O. Russell's Joy (2015) presenting weirdo makeshift families in the same manner. Likewise, it's gentrification themes have been recycled too many numerous times to count, perhaps only as emotionally comparable in something like Matthew Robbins' *batteries not included (1987).
Jean Arthur and James Stewart make a handsome, star-crossed pair, attempting to overcome his classist one percenter family's resentment for poor people. Their romance is never quite believable, though this is more the fault of the script than the performers since we spend the first half of the film in the clutches of Vanderhof's bizarre household. But Capra never manages to divorce the film from its origins as a stage play, written by George S. Kaufman and Moss Hart, which descends into a malaise of convenience as a comedy of errors (and the class clash here seems the same template used for the queer social issues of La Cage Aux Folles, 1978).
But even with its 'all's well that ends well' predictability, You Can't Take it with You displays one of Capra's favorite themes, the power obtained when a community unites against the odds. Good things should happen to good people, and even at the darkest moments of Capra's visions (as in It's a Wonderful Life), his filmography always obtains those beautiful moments of humanity's possibility to build rather than destroy.
Disc Review:
Sony releases this classic as part of the Capra Collection, including a handsome attached booklet containing cast and crew information. The title is presented in 1.37:1 high definition with DTS-HD audio. Picture and sound quality are superb on this fully restored 4K release. Frank Capra Jr. and author Cathrine Kellison provide optional commentary and (beyond an original theatrical trailer) the disc includes a sole extra feature.
Frank Capra Jr. Remembers You Can't Take It With You:
This twenty-five minute feature finds Frank Capra Jr. sharing his recollections of his father's contract struggles with Columbia and his adaptation of the popular play, which Capra Jr. claims is more focused on the dueling ideologies of Barrymore and Arnold rather than the romance.
Final Thoughts:
A lovely piece of escapist fare, You Can't Take it with You is an amusing screwball comedy with a bit of serious subtext which seems simplistic by today's standards and informed specifically by the period in which it transpires.
Film Review: ★★★½/☆☆☆☆☆
Disc Review: ★★★★/☆☆☆☆☆