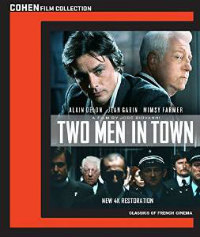 Director Jose Giovanni was best known as a screenwriter for a number of important French auteurs throughout the 1960's, having written items like Jacques Becker's Le Trou (1960), Claude Sautet's Classe Tous Risques (1960) and the novel upon which Melville's Le Deuxieme Souffle (1966) was based. Many of his own directorial efforts have faded into obscurity, but his 1973 title Two Men in Town, a political drama documenting the social ills associated with the death penalty, has recently received resurrected interest thanks to Rachid Bouchareb's 2014 remake, retooled for the American Southwest and predicated on issues of immigration. Starring Alain Delon and Jean Gabin in their last of three on-screen collaborations, it's an interesting item, though Giovani's overly protracted first half doesn't sit well with the finale's obvious sermonizing.
Social worker Germain Cazeneuve (Gabin) tirelessly works as a bridge between prisoners and authorities, doing the best he can to allow good men a second chance. He's managed to convince the parole board of bank robber Gino Strabliggi's (Delon) sincerity in leading an upstanding life. On the outside, Gino stays true to his word, avoiding contact with his past friends, maintaining employment at a small rural printing company (since those with criminal histories weren't allowed legitimate positions in Paris and other urban centers), and attempting to enjoy life with his girlfriend (Ilaria Occhini). But tragedy strikes, and Strabliggi loses sight of his new goals. He flees to the south of France and meets Lucie (Mimsy Farmer), a comely bank teller, and despite her occupation, attempts a romance. But the nosy Inspector Goitreau (Michel Bouquet) begins to take a lurid interest in Strabliggi and begins blatantly harassing him, certain the ex-criminal is bound to resort to his previous ways of living.
Giovanni uneasily balance the tropes of a crime caper with sharply contrasting undertones of France's flawed legal system. We've seen countless examples of films depicting corrupt justice officials and wayward political agendas, but even within this particular period, Giovanni's concepts seem too obvious to have much emotional impact. Only two years prior, Claude Sautet would manufacture a provocative yet similar scenario with Max and the Junkmen (1971), starring Michel Piccoli as a cop utilizing self-fulfilling Nightcrawler tactics. But Giovanni's point seems to be all the grueling work by saintly figures such as Gabin's social worker are ultimately of no use when an entire social justice system supports a fleet of unchecked law enforcement operating on their own personal agendas.
Since the film is primarily scenario based, characterization often seems wan, with Delon playing an uncustomarily neutered victim desperately trying to maintain his dignity. But the first half of the film, documenting Strabliggi's bid to 'go straight' despite the allure of past criminal associates makes for some empathetic screen time shared with a ruddy Gabin. The late staged presence of Michel Bouquet's malignant inspector seems an odd transition, and also doesn't allow time for his peculiar, obsessive motives to develop. Bouchareb's remake enhances the figure of the badgering law enforcement (played by a haughty Harvey Keitel), and injects a bit of sensational touches to the finale, while the social worker is replaced with a no nonsense probation officer (an entertaining Brenda Blethyn) who has the interests of the law in mind when defending her cases.
Women don't factor into this except as the gaudy catalysts allowing for Strabliggi to unravel. His first love interest, expectantly waiting for him to be released from prison, is curiously snuffed out several sequences later, played rather absently by Ilaria Occhini. More screen time is allowed for the new love interest, Mimsy Farmer (whose entertaining performance in Lucio Fulci's The Black Cat was also recently treated to a remastered Blu-ray release), of course playing a banker for a bit of extra dramatic tension.
Disc Review:
Cohen Media Group grants the title a new 4K restoration, and Jean-Jacques Tarbes' (who would photograph Delon several times, including in La Piscine, Borsalino, Farewell Friend, and again in Giovanni's The Gypsy) focuses on the faces and eyes of the tortured performers, though this new restoration allows for the films more detailed frames to stand out. Philippe Sarde's score also sounds quite clear in this remastered audio track. Audio commentary from Gabin biographer Charles Zigman is also available, but besides a re-release and original trailer, the blu-ray is sans extra features.
Final Thoughts:
Fans of Gabin and Delon should certainly appreciate Giovanni's most notable title, a classically conceived cautionary tale of individuals hopelessly caught up in a system designed to keep them trapped.
Film Review: ★★★/☆☆☆☆☆
Disc Review: ★★★½/☆☆☆☆☆