Men at Work: Duplass Bros. Deliver Painfully Funny Olympiads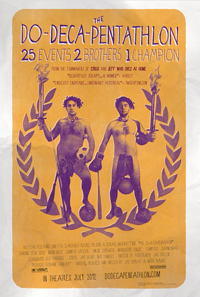 Over the past seven years, the Duplass Brothers have made five feature-length films with each exploring new ground, telling different stories across different genres but all with a singular vision: two brothers speaking with one voice. In their new low-budget effort The Do-Deca-Pentathlon, made before Cyrus and the upcoming Jeff, Who Lives At Home, Mark and Jay tell the story of Mark and Jeremy, adult brothers who come together for a weekend at their mother's house and can't help but fall back into old traps. Carefully observed, painfully funny, and heartbreakingly true, Do-Deca is about our many selves, who we become around our family, and how hard it is to shed all the layers we wear, to break down the walls and figure out who it is we're trying to be.
But Do-Deca is also a comedy about two hyper-competitive brothers, battling fiercely to crown only one "Best Brother Ever." In 1990, a teenage Mark and Jeremy created an event with 25 physical challenges. Tied at 12, the final event of holding your breath under water ended in controversy when Mark was pulled out by his father. (That fact alone is teeming with family baggage, why pull out one brother and not the other?) Now, twenty years later, Mark, his wife Stephanie, and son Hunter go to visit Mark's mother for Mark's birthday weekend. Mark and Jeremy are now estranged, their competitiveness—their symbiotic closeness—having driven them apart, so much so that Mark and his family had to be assured that Jeremy would be nowhere near them for this special weekend. Mark sees both a doctor and a therapist to help control his anxiety, and any undue stress could potentially be dangerous.
Jeremy, knowing full well he is not welcome, inserts himself into their weekend starting with crashing a friendly light run, turning it into an all-out fight to the finish. While families share a light jog, Jeremy and Mark tear through the park; at one point Mark pushes Jeremy so hard he tumbles to the ground and cuts himself badly, then, moments later Mark is so exhausted he vomits, but quickly keeps running, refusing to lose. The brothers sprint to the finish line, and, as if their lives depended on it, leap at the last second. Jeremy wins by a nose and so is granted permission to stay for the weekend.
All too quickly, the brothers fall into old habits and Jeremy goads Mark into competing in a "Do-Deca Redux." Shoving a note beneath the door after a night of pool and ping-pong, Jeremy challenges Mark to finish what they started twenty years before and Mark is powerless to refuse, this is all so ingrained, so hard-wired into his DNA. Stephanie is concerned about Mark's stress levels, his health, his happiness and so is constantly on patrol trying to stop their games, ruining a round of laser tag, trying to catch the brothers in a lie. Mark, played by Steve Zissis with frenzy and nuance, is one person around Stephanie and another around Jeremy, though as the story wears on, we see him moving away from Stephanie and becoming more entangled in his battles with his brother. More than anything, it seems he's beginning to enjoy them, to thrive on the rush.
After Mark and Jeremy totally sabotage the birthday party thrown in Mark's honor, Stephanie gives Mark an ultimatum, one that moves them even further apart. Late that night, Mark and Jeremy find themselves both sitting alone outside, avoiding their problems, taking no responsibility for the mess they've made. Jeremy, for maybe the first time ever, speaks candidly to Mark, explaining their culpability in this, the childishness they need to abandon. Mark doesn't recognize this person and pushes Jeremy to admit he's lying; Jeremy folds under the pressure and concedes. This moment shows the depth to their problems, how the rules by which they communicate cannot be rewritten with a few sage words and a couple of beers.
Both characters are complex, rich, and fully realized; while Mark is a totally different person with every member of his family, Jeremy (played by Mark Kelly, in every way Zissis' match) is a lonely wanderer, without family or future, visibly beaten down by the life he's chosen (he's a professional poker player). An adolescent sporting event with his estranged brother is the closest thing to intimacy he can get.
Finally trying to take the high road, Jeremy ducks out the next morning but Mark catches him and refuses to let him leave. A fight breaks out, bringing Hunter, Stephanie and their mother onto the front lawn, looking on in muted horror. Stephanie gets in the middle and breaks up the fight, pushing Mark away to stand alone in the driveway. He looks at his family, eyes ablaze. He walks over to the basketball net, and picks up the ball. He dribbles, head fakes, then charges in for a reverse slam-dunk on a net designed for a fourteen year-old. He picks up the ball and does it again. After his second dunk, his game against himself played out in front of his family, Mark looks at them and they back at him. Everyone knows there is nothing to say. After all of this, all the battles, the lies, the losses, they see that all they have left is each other—which is everything. Family is worth fighting for, these people know that.
Reviewed at the 2012 SXSW Film Festival. March 28th, 2012.