POV Shot: Baker and Hemingway Craft Intricate Tale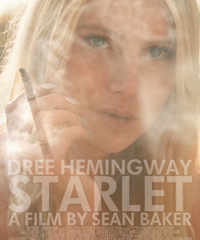 Pornography, prostitution, and pimping, worlds that are often portrayed as a dark underbelly, away from the center, populated by people we've never met and would never want to meet. In Sean Baker's third film Starlet, this world is sun soaked, and out in the open for everyone to see. Through his protagonist Jane (newcomer Dree Hemingway), Baker portrays the LA porn world as a vapid place, populated by people who live from paycheck to paycheck, with little self-knowledge or even discerning opinions of what they are doing. Jane stands alone and must look to others outside this sphere to find a sense of meaning. Baker's creation of this world, and the person who stands apart from it, provides a subtle but rich premise to explore the darkness, the grime, beneath the fake, eager smiles.
The meet-cute in Starlet involves a 21 year-old porn star (Hemingway) and an 85 year-old widow, Sadie (amazingly, first time actress Besedka Johnson). In an attempt to spruce up her lifeless house, Jane ventures out from yard sale to yard sale and eventually arrives at Sadie's. After perusing the various relics, Jane settles on a thermos she hopes to put flowers in and inquires as to its price. This inexplicably makes Sadie indignant, she cannot be bothered to answer questions; really any human contact seems like a strain on her. Jane purchases the thermos, and with titular pup Starlet under her arm, retreats back home.
Jane opens the thermos to clean it and discovers ten thousand dollars in wads of twenties. Though at first she spends lavishly on herself, Jane soon begins to feel guilty about the inadvertent robbery and so goes back to Sadie to return the money. Thing is, Sadie truly is insufferable, and every attempt Jane makes to do the good deed is thwarted by Sadie's rudeness. Starlet is a buddy movie (of a kind). Jane slowly wins Sadie over and the two begin a courtship where each finds a companion attuned to their needs. Jane's roommates Melissa and Mikey (Stella Maeve and James Ransone) muck up their works with their neediness and penchant for histrionics. Maeve and Ransone are both hilarious and heartbreaking in their supporting roles; you can't fault someone who is doing their best, but, at times, you can laugh at them.
Baker makes it clear that Jane has another side to her personality that her friends lack; it is clear that Melissa and Mikey cannot do much more than turn tricks and stay afloat. To her credit, Hemingway more than holds her own; she brings an understated charm to the role, never too much, but always enough to keep the viewer there alongside her.
Much of the film glosses over the work these women do though late in the film, Baker gives us a much more intimate look. In one scene, a porn shoot is captured sparing no detail, giving the viewer the experience of what it would be like to be in the room, with the others, looking on with indifference as if it's just another day at the office. It's a risky touch that pays off. Though it will likely earn the film an NC-17 rating (if the theatrical cut is the same as the festival one), it exposes both sides of the world, the superficiality and the harsh truths in one fell swoop.
The film's look mirrors its content. The bright palette, the locked off shots describe a stable, happy place—but the flares, the power lines looming overhead anchor it in something dirtier and darker, more complex and muddled. Baker and Hemingway have together crafted an intricate tale that at first glance appears simple, but over time reveals a textured, multifaceted story that merits a more serious look.
Reviewed at the 2012 SXSW Film Festival – Narrative Competition
103 Mins.