Film Festivals
2019 PYIFF / Day 7: Melina León's Song Without a Name & Sun Aoqian's Over the Sea
Pingyao is beautiful in the rain. Slick cobblestones reflect the warmth of red lanterns. Storefront lights give the night a neon glow. Pedestrians scurry, clutching umbrellas and steaming street food: a perfect mix of past and present. Like two pieces of a puzzle, today's films fit neatly into this world—both are timeless curiosities, at once foreign and familiar.

First came Melina León's Song Without a Name: a solemn, heart-rending tale of child trafficking in Peru. Originally a Cannes premiere in the Directors' Fortnight section, this film invites comparisons to Cuaron's Roma: a mix of vérité and stylization, it's an achievement in ambience, a black-and-white time capsule both haunting and meditative. Artful compositions denote the protagonists' isolation; settings feel alien, yet transformative. Performances lend authenticity and palpable pain. The story itself is less focused, unspooling in spirals without a satisfying conclusion—but that, perhaps, is the point: for all those involved, the struggle is grim and justice elusive.

Next was Sun Aoqian's Over The Sea, a film that premiered in Busan the month before, now a single-screening hot ticket at PYIFF. Waiting in a cluster of theater staff and press hopefuls, I manage to score the last ticket and curl up on the theater steps just as the film begins. In the dark, others join me, backs propped against walls, stairs, backpacks. Elsewhere, this would be a fire hazard, but here it's de rigueur … and for this film, it turns out to be worth it.

Over the Sea is a delight, and child star Yu Kunjie a gleeful revelation. Bounding through his gritty provincial playground, Yu shines as Xiaojie, an avatar for childlike exuberance—laughing, goofing, troublemaking. Director Sun Aoqian and cinematographer Zhou Cong follow him with affectionate precision: their roving camera floats, weaves and hovers, gliding over slate roofs, through crowded kitchens and deep into the hulls of rusted ships. We share Xiaojie's thrill as he descends a dark passageway, protecting himself with a make-believe sword.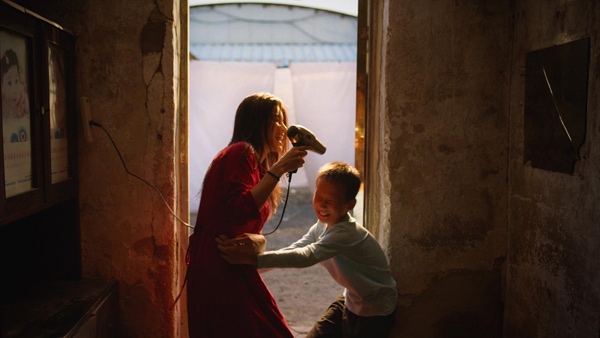 A truly impressive first feature, Over The Sea is imbued with a visual confidence that honors youthful abandon—and more. Through Xiaojie's loss of innocence, Sun Aoqian and co-writer An Jier deliver a subtle political commentary on modern China. Less subtle are the film's symbolic choices: the recurring motif of Mother Sea; forbidden fruit à la The Godfather; plus Antoine Doinel-style fourth-wall-breaking stares. But these flourishes are forgivable, almost necessary—they help us inhabit the perspective of an 11-year-old protagonist.
At its best, Over The Sea is both joyous and funny, recalling Truffaut's The 400 Blows, and the gleeful defiance of childhood in the face of adult disillusion. It also recalls Truffaut's bittersweet ending: how a child who has learned to mask pain finally reaches the cusp of adulthood. Xiaojie and Doinel have a lot in common.