2023 Hubert Bals Fund+Europe: Payal Kapadia, Abinash Bikram Shah & Kim Torres Among Recipients of New Fund
Hubert Bals Fund now have the HBF+Europe fund which supports post-production support backing of the Creative Europe – MEDIA programme, allowing for four projects to get coin for the final stages. The 12 projects across the two schemes each receive an award of €60,000. A handful fo these projects have been on our radar for the upcoming 2024 year of film fests. Here are the lucky films/film teams.
All We Imagine as Light, Payal Kapadia, France, India, Netherlands, Luxembourg
Lead producer: Chalk & Cheese (India)
Applicant producer: BALDR (Netherlands)
Nurse Prabha receives an unexpected gift from her estranged husband that throws her life into disarray. Her younger roommate, Anu, tries in vain to find a spot in the city to be intimate with her boyfriend. One day the two nurses go on a road trip to a beachtown where the mystical forest becomes a space for their dreams to manifest.
Cotton Queen, Suzannah Mirghani, France, Germany, Palestine
Lead producer: Philistine Films (Palestine)
Applicant producer: Maneki Films (France)
Teenage Nafisa was raised on her grandmother's stories of saving Sudan's cotton fields from British colonisers. Inspired by the Cotton Queen fairytale, Nafisa sets out to save the fields from a modern threat.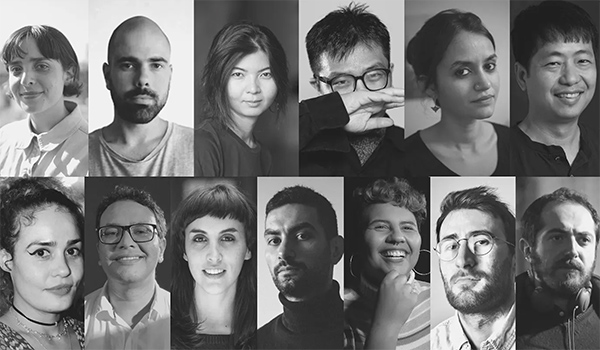 Elephants in the Fog, Abinash Bikram Shah, Nepal, France
Lead producer: Underground Talkies (Nepal)
Applicant producer: Les Valseurs (France)
Matriarch to a group of trans-women, Pirati's (40) plan to embark on an independent life is suddenly derailed when one of her daughters goes missing while patrolling to keep the wild elephants away.
Quatro meninas, Karen Suzane, Brazil, Netherlands
Lead producer: Républica Pureza (Brazil)
Applicant producer: PRPL (Netherlands)
Brazil, 1885. In a female boarding school in the country's hinterlands, four enslaved black girls plan to run away. Their white mistresses uncover the plot and demand to go along. Forced together, the group finds shelter at an old farmhouse, where the black girls will challenge power structures and explore their desires and individualities, developing new relationships and ways of living.
Si no ardemos, cómo iluminar la noche, Kim Torres, Costa Rica, Mexico, France
Lead producer: Noche Negra (Costa Rica)
Applicant producer: Les films du clan (France)
Laura, a 13-year-old soccer fan, reluctantly joins the family of her mother's new boyfriend in a remote mountain town. She foresees a deep companionship with the independent Daniela, 15, but her new friend disappears. People say a wild beast kills women at night.
Tear Gas, Uta Beria, France, Georgia, Belgium
Lead producer: 1991 Productions (Georgia)
Applicant producer: Tripod Productions (France)
For 16-year-old Elene, a peaceful demonstration that escalates into a clash between citizens and law enforcement authorities becomes a process of self-discovery. While trying to find the possibility of love, the violent environment leads Elene to a personal rebellion.
A Useful Ghost, Ratchapoom Boonbunchachoke, Thailand, Singapore, France
Lead producer: 185 Films (Thailand)
Applicant producer: Haut les Mains (France)
Worrying about her son being allergic to dust, a dead woman returns as a ghost possessing a vacuum cleaner to clean the house and protect her family.
A Winner Is Seen At The Start, Zhannat Alshanova, France, Netherlands, Bulgaria, Norway, Kazakhstan
Lead producer: Accidental Films (Kazakhstan)
Applicant producer: Volya Films (Netherlands)
Swimming in open water has nothing to do with technique, and everything to do with inner potential. That's what Mila, 17, learns when joining an unconventional swimming team with an experimental method, managed by mysterious and charismatic Vlad. How far will she be ready to go?
HBF+Europe: Post-production Support selection 2023
Athlete, Semih Gulen & Mustafa Emin Büyükcoskun, Turkey, Romania, Germany
Lead producer: Amok Films (Turkey)
Applicant producer: Tangaj Production (Romania)
Hatice, a young and ambitious Turkish weightlifter, decides to dope in a very unorthodox way at the World Championship in pursuit of success at any cost.
Holy Electricity, Vakhtang (Tato) Kotetishvili, Georgia, Netherlands
Lead producer: Zango Studio (Georgia)
Applicant producer: The Film Kitchen (Netherlands)
When Gonga and his indebted cousin Bart find a suitcase full of rusty metal crosses in a scrap yard, Bart gets the brilliant business idea to sell the revamped LED crosses door-to-door to the gullible inhabitants of Tbilisi. Holy Electricity tells their unbiased story with humour and universal appeal; a black comedy set in the absurd reality of contemporary Georgia.
Una sombra oscilante, Celeste Rojas Mugica, Argentina, Chile, France
Lead producer: Bomba Cine (Argentina)
Applicant producer: Eaux Vives Productions (France)
A filmmaker and photographer engages with the photo archive of her father, a man who was also a photographer during his years of activism against the dictatorship in Chile. In the act of exploring these images, they create a game where a variety of fictions emerges as a way to reflect on the resistance of the past, the consequences of the horror and the possibilities that images contain for conceiving other futures.
The Women, The Maw Naing, Myanmar, France, Singapore, Norway, South Korea
Lead producer: One Point Zero (Myanmar)
Applicant producer: Massala (France)
​A young Burmese woman, Mi-Thet, moves to the big city to work in a garment factory to support her family. She is forced to confront traumas in her past as the desperate city life collapses around her during a labour strike.