Sound Off: Hughto's Film Explores Artificiality of Performance and Interaction to Varying Effect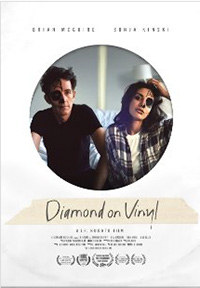 It's unfortunate that director J.R. Hughto's sophomore effort, Diamond on Vinyl never quite keeps up the eerie tone it subtly cues for us. A metaphor that uses voyeurism to explore the artificiality of our interactions with those around us and the performances we play on a daily basis has the slight narrative asking questions too large to grapple with for its own purposes. An intricate sound design clues us in to the chronological time line, and we have to piece together the puzzle of events. If only some kind of discernible pay off by the final frame could have been created, then perhaps the ends would justify the means. Instead, we're left wondering if maybe this shouldn't have been a short film.
Celebrating their engagement by checking into a romantic hotel, Henry (Brian McGuire) and Beth (Nina Millin) are in the midst of enjoying their post coital afterglow when Beth discovers a recording device in the hotel room. While Henry showers, she discovers that he recorded their intercourse. But playing the tape a bit longer, she hears audio of Henry rehearsing his proposal and maybe says some things he shouldn't on tape. Unable to control herself, Beth storms out of the hotel, demanding that Henry decide if he really loves her or not. Sobbing in her car, she comes in contact with a waifish girl, Charlie (Sonja Kinski). As they commiserate, Beth asks Charlie to return the hotel key, which Charlie seems more than willing to do. When Charlie returns the key, she overhears Henry listening to and interacting with a Sight & Sound record, a series of vintage records that were used to scare burglars. Charlie is instantly enamored with Charlie declaring that she's into that, too, "make believe and fantasy." The two agree to record their own Sight & Sound-like conversation, and before you know it, Charlie has scalped a copy of Henry's audio sex tapes, and then they interact with each other in a series of reenacted conversations and scenarios. Meanwhile, Henry discovers the real voice of Safe & Sound, George (Jeff Doucette), who slowly sells his vintage records as needed. In the midst of deciding how he will approach Beth, Henry must navigate this strangely changing relationship with Charlie and satisfy his urge to interact with George.
There's a palpable discomfort during the establishing sequences of Diamond on Vinyl. An eerie, ominous humming quickens the tension, and is maintained throughout several other sequences, but here, before we know what we're in for, the sky's the limit. A newly minted fiancée discovering her significant other has been recording their coitus in a hotel? Followed by the recording of his painful rehearsing of the proposal from earlier in the day, which includes him pondering whether or not he really loves her in a random aside? And then one of the Kinksi clan shows up as convenient emotional crutch for our distressed heroine?! We've been primed for some severe psycho-sexual dynamics at this point, so it's a tad disappointing that this exercise on voyeurism (which wastes its Kinski factor) as both empowering edifice and weakening metaphor, which manages to screw with its own chronology, still ends up feeling humdrum.
Reviewed on January 18 at the 2013 Slamdance Film Festival – BEYOND Programme.
94 Min.