Barbarian Invasion: Arcady Hits the Headlines for Procedural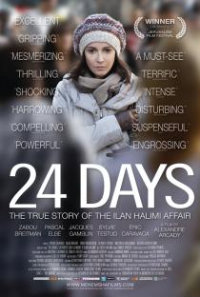 Recounting a bizarre kidnapping case from 2006 that reflects the continuing cultural mutation of anti-Semitism and the modernized hate crime, Alexandre Arcady's 24 Days reenacts a cruel and digesting instance eventually projected by the media, where it was titled The Affair of the Gang of Barbarians, as a national outcry to end hate crimes. With authorities initially reluctant to admit the underlying bigotry that spurred the kidnapping, torture, and eventual murder of Ilan Halimi that took place over nearly a month, it appears increasing political pressures only served to limit necessary discussions pertaining to the abductor's motivations for kidnapping Halimi, namely his Jewishness.
On January 31, 2006, Ilan Halimi (Syrus Shahidi), a cell phone vendor in a Parisian suburb, has a secret rendezvous with a beautiful young woman he's made a date with. The date is secret because Ilan already has a girlfriend, a young woman who calls his parents in terror the next day when he hasn't returned and she's received an email demanding ransom. Ilan's parents are separated, forcing Ruth (Zabou Breitman) and Didier (Pascal Elbe) to reunite in an effort to obtain their son, kidnapped because the ring leader Youssouf Fofana (Tony Harrisson) assumes that Jews have money and protect their own. As Didier works closely with the police, the amateurish nature of the kidnappers stretches the scenario to last several long weeks until Ilan's badly beaten body is thrown into a ditch. He would die shortly after being found and rushed to the hospital.
Arcady scores his most prolific endeavor with 24 Days, which gamely ratchets up the tension in a scenario we've seen several times before. Events feel less streamlined, however, whenever we're dealing with Halimi's extended family members with lots of emotional thrashing and a musical score doing its best to mop up any tears we happened to miss. More involving is the depiction of Halimi's parents, particularly Pascal Elbe as the father caught between investing all his trust in the sometimes illogical actions of the police, while Zabou Breitman as Ruth holds the opposing stance concerning the police investment. It's Ruth's insistence that eventually gets law enforcement to eventually classify the incident as a hate crime, something painfully obvious from the get go when Fofana makes it known that he targets Jews because he assumed their families have money. Direct reference is made of 'the girl on the train,' another headline of a young woman who lied about an act of anti-Semitism, which became a major media scandal, also documented in Andre Techine's 2009 feature film.
A trio of well-known actors portray several members of the police force, including Jacques Gamblin, Eric Caravaca and Sylvie Testud as a negotiator-psychologist (as always, in top form). At times, Tony Harrison's vindictive criminal seems a bit cartoonishly vicious, yet actions do speak for themselves, and Arcady, adapting from the account co-written by Ruth Halimi with screenwriters Emilie Freche and Antoine Lacomblez, apparently sticks quite close to the documented accounts. 24 Days feels very much in line with the sort of awareness cinema we often see in documentaries, as it recalls Olivier Meyrou's 2005 doc about a young French gay men murdered in a park by skinheads in 2002. Though the film feels sometimes melodramatic, it's generally tense, frustrating, and compelling (Alexandre Aja appears as 2nd unit director, since he's the son of Arcady).
★★★/☆☆☆☆☆