Drop in the Bucket: Cox's Uneven Directorial Debut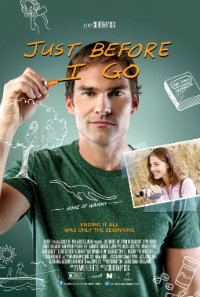 Actress Courtney Cox makes her directorial debut with Just Before I Go, based on the first feature screenplay from television alum David Flebotte. Attempting to navigate a trajectory of meaningful emotional pathos through a gutter of adult humor many write off as mere vulgarity, Cox's film ultimately feels like the R rated version of some made-for-TV film as it attempts to extend the horizon of outsider ennui to all origins of suicidal tendency. The film isn't without a laugh or two, but a severe tonal swerve from black comedy to sentimental PSA seems more silly than sincere, and the narrative just simply isn't strong enough to correctly reconcile the supposed melancholy of its likeable protagonist with such a pedestrian resolution.
After his wife Penny (Elisha Cuthbert) leaves him, pet store worker Ted (Sean William Scott) decides that he wants to kill himself. But before he does, he decides he needs to right a few wrongs from his childhood. "At least I can get my death right," he muses, leaving Los Angeles to crash at his brother Lucky's (Garrett Dillahunt) suburban home. The cheery and inappropriate Lucky is happy to see his little bro, but apparently oblivious to his own family's severe issues. Wife Kathleen (Kate Walsh) has a tendency to 'sleep masturbate,' particularly in front of other men that stay the night in the guest room. Ted realizes she's well aware of what she's doing. Meanwhile, Lucky's son (Kyle Gallner) is struggling with the realization that he's gay and confides in his uncle. Unsure of what to do for his family, including mom (Connie Stevens), who lives with a female Elvis impersonator (Diane Ladd), Ted dives into his bucket list of retribution, first visiting the nursing home to terrorize a bitchy teacher. But during his litany of offensive language, he's accosted by the woman's granddaughter (Olivia Thirlby), who becomes enamored with Ted's sad world.
Imagine if the Farrelly Brothers decided to revamp any number of schmaltzy American familial indie dramas and you get a good sense of what Just Before I Go feels like. Inspired to journey back home to engage in a grotesque bucket list of unseemly vengeance against those that wronged him in his youth after watching an animal get picked apart by wolves on television is his flaccid impetus. It's no surprise that the rest of the journey feels incredibly weak-kneed. While we should feel more invested in Ted's desperate motivations, we are instead distracted by the absurd madness of the supporting characters. While Garrett Dillahunt and Missi Pyle are weirdly amusing (and Diane Ladd as the Elvis impersonator is a strangely bizarre character deserving of more attention in a better film) as the comic relief characters, nearly all the rest fall into bland archetypes of schmaltz, particularly Olivia Thirlby as yet another quirky gal with depressing secrets lurking beneath the façade.
A subplot involving Ted's gay nephew (played by Kyle Gallner, now at least a decade too old to be playing these roles) and his severe self-loathing feels broadly handled and tacked on, even if initially Flebotte does outline a convincing predicament for queer individuals enmeshed in the heteronormative. The desire for those that have the ability to 'pass' in the mainstream rather than embrace who they really are and court disdain is potent material, so its disappointing to see it used so lazily. And as his secret and unfailingly patient boyfriend, Evan Ross gives an impressive supporting turn. But ultimately, Just Before I Go doesn't know how to unite its scatological roots with broad sincerity. It doesn't help that at every possible moment Cox decided to overlay some kind of emotive, meaningful track, a constant reminder that the material isn't selling us that on its own.
And as the suicidal Ted, Sean William Scott is likeable, but we never really get much sense of who the man is. He had a kinda unhappy childhood. He found out, as many do, that marriages don't last forever, no matter how much one member of the union may not be able to handle or understand that. That's basically all we learn of Ted while we watch him discover that, hey, people do love him. And, he is a person that does deserve good things. He is entitled to his share of happiness. He should refuse to beat himself up. He is an attractive person. And he is fun to be with.
★★/☆☆☆☆☆