Tuesday's Child: Hyde's Attentive Examination of Transition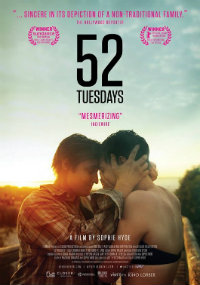 Belonging to a growing number of films taking place over real time, Australian director Sophie Hyde's directorial debut, 52 Tuesdays, was filmed over the course of one year on every eponymous day of the week. Like Richard Linklater's Boyhood, filmed over twelve years with its actors receiving new scenarios before each filming session, Hyde attempts to create an organic portrait of the passage of time as juxtaposed during two very different transitional periods for a mother and daughter. Timely and topical in its peripheral attenuation of a female-to-male transsexual's gender reassignment process, Hyde focuses on the perspective of the teenage daughter and the effects this has on her during a critical juncture in her own development. As such, the film often seems fascinated by the very familiar process of teenage angst, albeit with an extra helping of confusion.
Set within a mostly well-adjusted and healthy familial unit with a liberally progressive outlook, its challenges are allowed to bloom within the confines of the quiet, internalized arena of one teenager as she grapples with the emotional upheaval of adolescence, sometimes giving the film a muted dramatic tone.
Upon learning that her lesbian mother Jane (Del Herbert-Jane) has chosen to begin transitioning into a transgender man, Billie (Tilda Cobham-Hervey) is mostly dismayed that she's the last to know and the change will force her to live full-time with her laid back dad, Tom (Beau Travis Williams). It's an attempt for Billie's mother to achieve a smoother transition as she becomes James, though Billie can't help but feel a bit betrayed and isolated by the move—even her uncle Harry (Mario Spate), who also lives with Jane, knows more than Billie does. Around this time, Billie catches two older classmates, Josh (Sam Althuizen) and Jasmine (Imogen Archer) making out in a cloakroom, and eventually asserts herself as a willing third wheel to their unabashed sexual rendezvous. Since she's opted to start a video diary for herself inspired by her mom's own documentation of her transition, Billie begins to film these sessions with Josh and Jasmine, eventually exploring her own sexual curiosity with her attraction to both of them. Due to missing out on a weekly meeting with James due to this new friendship, they vow never to miss another session and stake out every Tuesday evening as their time to meet and catch up for the week.
Littered throughout 52 Tuesdays in-between its weekly sessions is Billie's video diary, which features her speaking directly to us, connecting the film, and Hyde includes footage of other children's' experiences with transgender parents, providing a backdrop for a sort of safe realm for Billie's own frustrations. It takes quite a while for us to get a sense of Jane/James, finally allowed to open up about an hour into the film, seen carrying on a secret affair with a co-worker (Danica Moors), also kept secret from Billie. But it's when the growing frustration between parent and child finally begins to be addressed that 52 Tuesdays really becomes poignant.
James' transition is fraught with extra hurdles, his body rejecting the testosterone, forcing him to undergo top surgery (breast removal) without the use of hormones, lengthening an already complicated process. If only we could have focused more on James, whose emotional capacity in a compelling performance from Del Herbert-Jane seems hinted it in bits and pieces. Tilda Cobham-Hervey is the real discovery here, and her naturalistic performance generally makes up for the tendency for the scenario to get tied up in a region of generalized angst. She's frustrated and frustrating, acting out immaturely. Still, Hyde deftly embraces the ability to show us Billie's own sexual explorations, signaled by name and an androgynous haircut barely commented upon.
As good as these two actors are, some of the nonprofessional supporting players tend to distract, particularly the male performers, perhaps because they're mere preoccupied entities, only there to serve a purpose. Billie is shown to be more sexual with Josh, but it's her relationship with Jasmine this is more complicated and rewarding, revealing Billie's inadvertent exploitation of others in her journey to establish her own identity (a slight nod, perhaps to how James' family members may have felt in his own process of self-discovery).
While its constant chapters outlined by the innocuous Tuesday dates quickly wane, merely markers of the passage of time, the constant inclusion of Billie's video diary lends the film a docudrama feel, and like that hybrid format sometimes does, repels easy emotional manipulation with the distancing effect of the aesthetic. Hyde took home a Best Director Award following the premiere at the 2014 Sundance Film Festival, and she's succeeded with a delicate achievement with a notably important film.
★★★/☆☆☆☆☆