The Weight of Water: Guadagnino Trawls the Deep End in Euro Potboiler Overhaul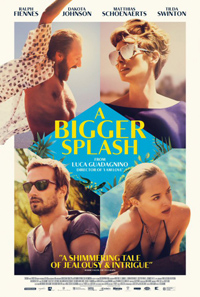 It's been seven years since Luca Guadagnino's 2009 international breakout I Am Love, an elegant character portrait styled on Visconti and starring Tilda Swinton. After several failed or abandoned projects, he's reunited once more with his lead star for A Bigger Splash, property based on a short story by Alain Page which was previously adapted by Jean-Claude Carriere for the 1969 Jacques Deray production, La Piscine, which headlined Alain Delon, Romy Schneider, and Jane Birkin. Much like the preceding film, this latest is a sun dappled idyll, wherein the superficial comforts of a vacationing/recuperating glamour couple are interrupted by the presence of an ex-lover with a nymphet daughter in tow, creating a ripple effect which drags the otherwise disenchanted trio to deep sea, baby. Curiously, this updated version paints itself into a similar emotionally dissociative state as the original, an erotic power play evaporating into turgid mystery thriller territory. But until it gets there, this is more often than not a fascinating and lusty battle of wills between present and past, love and lust.
Rock legend Marianne Lane (Tilda Swinton) is recuperating on Italy's isolated, volcanic island Pantelleria following an operation on her vocal cords which could alter the trajectory of her career. Quietly healing with her documentary filmmaker partner Paul (Matthias Schoenaerts), they are interrupted by famed record producer Harry (Ralph Fiennes), who used to be Marianne's lover and was responsible for introducing them. Arriving in an aggressive, overwhelming flurry, his university aged daughter Penelope (Dakota Johnson) is reluctantly in tow. Their reunion is initially marked by a celebratory tone, although Marianne and Paul seem to have their reservations about the bombastic, out-of-control Harry, who coerces the ailing Marianne to engage in all sorts of activities she shouldn't be. As the old lovers navigate unresolved emotional baggage, the secretive and seductive Penelope subtly exerts her interest in Paul.
Whereas Deray's film, despite its strikingly handsome cast, never coalesces its troubling erotic undercurrents with any real confidence (distracted instead by Delon and Schneider's real life relationship woes at the time), Guadagnino and screenwriter Kajganich instill a much greater complexity between its trio of adult characters.
Robbing Swinton of her voice is a particularly inspired touch, relegating her as a sort of voiceless trophy, drawn to both men vying for her. In turn, this creates a much more aggressive rivalry between Paul and Harry. And where A Bigger Splash really trumps its predecessor is with a sleazy, rambunctious performance from Ralph Fiennes in a role previously inhabited by a rather hoary Maurice Ronet. Fiennes' Harry is self-aggrandizing and insufferable, but at the same time, we're led to understand the connection he has with Swinton's Marianne (whose character name and raspy voice recalls the demise of Marianne Faithfull).
Less alluring is Dakota Johnson, and those familiar with Deray's original treatment will realize she doesn't hold a candle to the captivating, coltish beauty of a nubile Jane Birkin. DP Yorick Le Saux attempts some interesting pans and zooms, particularly in the frequent sequences at dinner tables, where pregnant stares mean much more than what anyone's actually saying. But, at least in comparison to his work on Guadagnino's I Am Love (as well as Jarmusch's Only Lovers Left Alive and Assayas' Clouds of Sils Maria) this is not the visually sumptuous,
Mediterranean retreat one may be expecting. Instead, this visual palette is much like the roiling lava far beneath the crust of Pantelleria, where off screen rumbles from the bowels of the earth create transformative seismic blasts within the emotional states of its principal characters.
★★★½/☆☆☆☆☆