Reviews
A Fantastic Woman | 2017 Berlin International Film Festival Review
A Time to Love and a Time to Die: Lelio's Fantastic Portrait of Pain and Perseverance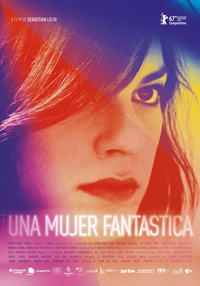 "What doesn't kill us makes us stronger," murmurs the eponymous figure of Chilean director Sebastian Lelio's latest significant achievement, A Fantastic Woman. The familiar statement alludes to the daily battles which prepare each of us for the personal wars in which we are each engaged to command respect, equality, and consideration from our peers in our environment. It's an arguably cliched mantra but entirely relevant to members of the LGBT community the world over, a distinction which still makes us targets in specifically local but also global ways as we continue to face the prejudices of a heteronormative, patriarchal worldview unconcerned with complex classifications. At the forefront of this struggle is the transgender community, the flagging T in an acronym of people who are sometimes as cruel, ignorant and inconsiderate as society at large, and cinematic cultural markers concerning them are plagued with controversy, specifically in the English language arena where there are few trans celebrities, leading to a glut of cis actors characterizing them, often for troubling awards courting vehicles. Lelio makes one of the most significant contributions to the contrary by featuring trans actress Daniela Vega in a beautiful, formidable performance as a woman whose significantly older boyfriend suddenly dies, leaving her vulnerable to the victimization of his family and the authorities who support their callous views.
Marina (Daniela Vega) is happily in love with 57-year-old Orlando (Francisco Reyes). A waitress pursuing her dreams as a singer, she has only just moved into Orlando's apartment when he suffers an aneurysm on her birthday and dies. Suddenly, Marina finds herself in a precarious situation. A transgender woman, she is automatically a target for hatred and ignorance at the hands of Orlando's family, including his son and ex-wife.
To many queer audiences, the core of A Fantastic Woman is nothing new, and we've seen plenty of homosexual lovers and spouses treated despicably by the nuclear familial units of their suffering or deceased partners. And the specific situation Marina finds herself involved with is sadly nothing new, either. Authority figures whose job it is to protect the public are automatic enemies, insisting on referring to her as her legal gender specifies, something which leads to the cruel over usage of pronouns, which instilled the kind of public embarrassment the ignorant and the bigoted tend to seem most amused by. Even those more supposedly sympathetic figures, like Amparo Noguera's crusty figure from the sexual victims unit, is more obsessed with protocol than actually understanding the psychological ramifications of what her procedures do to Marina, who is threatened into stripping off her clothes and forced to be photographed to prove the lack of physicality regarding her dead partner.
Lelio allows for some sympathetic supporting characters, including Marina's sister (Alina Kuppenheim), or a loveable Sergio Hernandez as her music instructor, and a kindly Antonia Zegers as her boss. But they are infrequent particles in Lelio's universe, which focuses almost exclusively on Vega, given room to unveil a layered, commanding lead performance as Marina. DP Benjamin Echazarreta's frames eat her up, with quality and production design recalling the kind of mixing of obsessive feminine beauty and unabashed queerness we saw in Pedro Almodovar's earlier filmography. But Lelio's tragic narrative as equally recalls, by obvious extension, the interests of Rainer Werner Fassbinder, and the German auteur's inspiration, Douglas Sirk, all male auteurs fascinated by the ripe melodrama of a life forcing women to adhere to the wishes of masculine designed cultures demanding their subservience, repression, and unflagging obedience. Daniela Vega is a rebellious figure for several reasons, perhaps best summed up by Lelio's title.
If A Fantastic Woman ultimately doesn't allow for the same scope granted Paulina Garcia in Lelio's 2013 breakout Gloria, we must remember the character of Marina is a tenuously established identity, a woman in transition who still isn't allowed to be the new personality she's forged through her own will and agency. It's a different type of cinematic narrative parameter as regards characterization, something Lelio handles with aplomb, avoiding trivializing or exploiting the scenario for grandly melodramatic moments. No, there's plenty of palpable pain to be had in observing Marina deal with a tragic scenario of losing a love one compounded by the cruelty of others who blatantly disrespect and disregard her.
Like Gloria, Lelio finds significant visual power on glittery discotheque floors, including a brief but meaningful choreographed fantasy sequence. And her voice, much like Garcia's Gloria, is also channeled poetically through a finale whose beauty is owed to the power of song. An early sequence finds Orlando gifting Marina a trip to Iguazu Falls in Argentina. Lelio's film, once titled for the largest waterfall system in the world, is a significant motif, as the myth of Iguazu concerns doomed lovers who are cursed by a deity to remain in an eternal fall.
Reviewed on February 12 at the 2017 Berlin International Film Festival – Competition. 104 Mins.
★★★½/☆☆☆☆☆