Enemy Mine: Zandvliet Explores the Casualties of War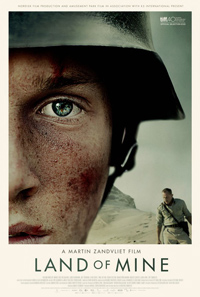 Martin Zandvliet leaves behind the world of theater for his third feature, Land of Mine, a based on fact account of German POWs in post-WWII Denmark. No stranger to the darker sides of conflicted human nature, the Danish director transplants his simmering tensions to even more dramatically potential plateaus, beginning with his purposeful title, a play on words concerning liberated countries, blurred borders, tyrannical tactics, and the explosive devices of war. Continuing to elicit grand central performances from his well-cast actors, Zandvliet's handsome production of a continually examined historical period manages the difficulty of overcoming considerable expectations while revisiting the less defined period of initial reconstruction.
In May of 1945, German POWs in Denmark were put to work extracting the 1.5 million of their own land mines from the Danish west coast. Many of these soldiers were mere boys, and most of these had little or no experience defusing explosive devices. Army sergeant Rasmussen (Roland Moller) is assigned a group of such shell shocked teens, and he greets his troupe with bitterness and anger, resentful of the Germans. Sent out on grueling routines without sustenance, the boys sneak into a nearby farmhouse barn (a single mother portrayed by Laura Bro of Zandvliet's A Funny Man, a slight feminine accent in an otherwise male dominated film) and get sick ingesting rat feces, resulting in one of the film's several visceral tragedies. Eventually, Rasmussen begins to question the cruel treatment he and colleagues express towards these cruel youths, angering supervisor Lt. Ebbe (Mikkel Boe Folsgaard of A Royal Affair, 2012). Bonding with the group's loner, Sebastian (Louis Hofman), Rasmussen begins to feel empathetic towards his wards.
Hungry for vengeance following the horrific onslaught and extensive occupation of countries by the invading Nazi forces, the end of WWII was hardly the end of violence against humanity as has been depicted in various cinematic examples in the decades following. But there's often been an unstated reluctance to acknowledge the suffering of those caught in the crosshairs, specifically Germany's youth, brainwashed, naive, and otherwise.
Zandvliet captures the phenomena of human bonding quite elegantly, the inevitability of empathy when one grows to regard other people as actual beings. His subject matter, a plea for a kind of understanding during a period where none was to be had, recalls Bernhard Wicki's groundbreaking 1959 film The Bridge, about the hordes of German teenagers forced into the battlefield during the last gasps of the war. Like the 'footnote' Wicki is documenting, Zandvliet has the same aim, discussing an uncomfortable example of human behavior many would rather leave undiscussed.
Director and screenwriter, Zandvliet gained notable attention for his excellent 2009 debut Applause starring the impeccable Paprika Steen as an out-of-control actress. He followed that with his 2011 biopic of Danish comedian Dirch Passer starring Nikolaj Lee Kaas (still without US distribution) and penned the 2012 film Teddy Bear. This time around he casts Roland Moller, an actor who was first utilized in films by Tobias Lindholm, appearing in both R and A Hijacking. Much of the emotional success of Land of Mine rides on his shoulders, while the boys and Folsgaard tend to be painted more broadly.
As a character study set during unique yet harrowing times, Land of Mine continues in the vein of difficult yet important cinematic subject matter, reflecting the cruel effects war has on human behavior, no matter the side.
Reviewed on September 10th at the 2015 Toronto International Film Festival – Platform Program. 100 Mins.
★★★½/☆☆☆☆☆