Reviews
A Royal Affair | AFI Fest 2012 Review
An Affair We'll Remember: Arcel's Elegant History Lesson a Compelling Period Piece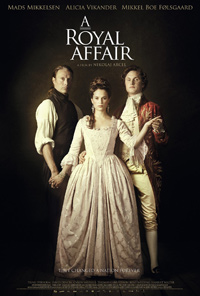 Danish director Nikolaj Arcel brings us a sumptuous costume drama relating a remarkably engrossing piece of Denmark's history for his fourth feature, A Royal Affair. Having assembled a talented cast, and nabbing international star Mads Mikkelsen as his lead, Arcel, whose biggest credit is screenwriter of the original 2009 version of The Girl with the Dragon Tattoo, casts his name as a notable up and comer with this latest, an impeccable piece in its own right. It doesn't hurt that it was also selected as Denmark's Foreign Language Oscar Entry, a distinguished honor, considering it beat out works from more prestigious auteurs.
Set in the late 1700's, a British princess, Caroline Mathilde (Alicia Vikander) has been married off to the Danish King Christian VII (Mikkel Boe Folsgaard), who seems nuttier than Hamlet, obsessed with theatrical play productions, often bursting into verse during dinner, or, hell, even when he's an audience member watching the play he's reciting. His court assumes that he is rather unhinged, which works just fine for his conservative ruling council, currently keeping Denmark far away from the progress of the Enlightment, a progressive modernization of thought processes across Europe. Queen Caroline quickly becomes disenchanted with the rude, bizarre, and immature nature of her husband, removing herself to isolation after becoming pregnant and fulfilling her duties as a queen. But when Christian decides to take a year long tour of Europe, he becomes grievously ill. Two ex-court members propose to their friend Dr. Johann Struensee (Mads Mikkelsen), a German stationed in a Danish Colony in his homeland, the possibility of becoming the King's personal physician. If he gets the job, he can restore their places in court. Lucky for them, Dr. Struensee recognizes that Christian is not mad, and more akin to a bored, spoiled child. But just as the good doctor becomes the new best friend of the King, he also begins a passionate love affair with the Queen. The two lovers discover that they have the possibility of influencing the King to exert his power over Council and bring Denmark out of the Dark Ages. What follows is a reenactment of a significant piece of history that involves progression and regression for the country, and a passionate, melodramatic tale of adultery, love, friendship, and conspiracy.
There seems to be a never-ending fascination with historical political intrigue and forbidden relationships, not to mention a timeless fascination with royalty. Earlier this year we saw Benoit Magimel's excellent Farewell My Queen, which gave us a look at the final days of Marie Antoinette's court, told from the viewpoint of one of her readers. Arcel's A Royal Affair, while rather blandly titled, does at least have an edge by introducing us to historical material that hasn't been revisited time and time again. Employing his regular cinematographer Rasmus Videbaek, there's a sumptuous vibrancy to the film, especially in many of the film's outdoor sequences. But it's the three leads of A Royal Affair that solidify this as a delightful endeavor.
Swedish up and comer Alicia Vikander is an extremely warm and likeable presence, and her quickly established passion for the good doctor, related during a slow motion dance sequence a la Anna Karenina (of which Vikander stars in the latest version, directed by Joe Wright, as Kitty, who loses her love interest in a similar sequence in that classic tale), has a genuine believability to it. Mikkelsen, as always, is a superb, engaging performer, here, the voice of reason amidst the manufactured rule of paranoia and fear through the ruse of religion. Chillingly, the ignorant fools he must battle for progress here mirror the insidious, regressive powers we still battle in the free world today, and this doesn't just mean the Tea Party, the fundamentalists, or other extremists.
Middle Class America thought processes have much in common with the fearful ignorance of the Dark Ages. Enlightenment is still an uphill and ungrateful battle. But of all this, the strongest element of A Royal Affair has to be Mikkel Boe Folsgaard as the batty King, certainly taking a cue from Hamlet and confusing everyone on the likelihood of his madness. Folsgaard won Best Actor at the Berlin Film Festival for his funny, touching, and scene stealing performance here. A stage actor in Denmark, one can only hope he'll get further recognition with the continued success of this film.
Reviewed on November 05 at the 2012 AFI Film Festival –WORLD CINEMA Programme.
132 Min.