A Dirty Shame: Woodruff's Erotic Fiction Adaptation Flatlines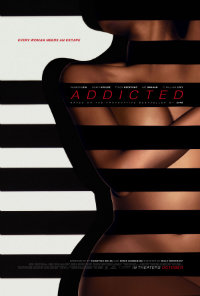 Demurely arriving before the anticipated film version of E.L. James' erotic fiction nonsense Fifty Shades of Grey comes the first adaptation of Zane's 2001 novel, Addicted. Having had well over a decade to build her fan base, it's surprising that it has taken so long for such a reality to transpire, though marketing for the title has been curiously slim considering Bille Woodruff is at the helm. Distributed by Lionsgate boutique division Codeblack, the film wasn't screened for critics, which isn't generally a vote of confidence. While those who know and appreciate Zane's work, including a fan base that would appear to be mostly made up of heterosexual black women, will be curious to experience Woodruff's film version, the only point it proves is that silliness knows no racial bounds.
Zoe Reynard (Sharon Leal) is a woman in trouble, even though she has the perfect life with a loving husband (Boris Kodjoe), two children, and her own successful business. But still, something is missing. After approaching an elusive artist, Quinton Canosa (William Levy), for representation, a passion for something else is awakened within her, and she's soon in the middle of a consuming sexual affair. But when Canosa starts to get too possessive, Zoe begins to discover that her sense of nonfulfillment is really a dangerous addiction to sexual pleasure, which leads to another affair with a man (Tyson Beckford) she meets at a nightclub. With her business falling apart and basically held together by the will of her assistant Brini (Emayatzy Corinealdi), Zoe seeks the guidance of a therapist (Tasha Smith) and attempts to regain control of her life before it's too late.
The absence of the religious proclamations that marked Tyler Perry's Temptation: Confessions of a Marriage Counselor (2013) may be the only real positive aspect of Addicted, which still very problematically grapples with sexuality in the rigid realm of the heterosexual, and, more importantly, is yet another demeaning portrayal of female sexuality.
The film showers us with all the dread that one would expect to see in a psychosexual thriller, the kind of soft-core sensations that cropped up all over the place in the 1990s, which speaks to how dated this film's presentation feels. Stepping out of her car while the wind blows around her and the eerie score takes us away, men lasciviously eye the beautiful Leal as she walks, of all places, to visit a therapist. It's as if she's radiating pheromones, an off kilter, fallen woman, announced with an abnormal entrance to titillate us in the way films starring white ladies like Rebecca De Mornay or Theresa Russell used to attempt. But the film isn't a thriller, but a heavy-handed character study that ducks into PSA mode instead of honestly attempting to handle the very adult issue it exploits. But Addicted is too half assed to get us there, with Woodruff's eye for detail focused on revealing as much skin as he can on the bodies of Kodjoe, Levy, and Beckford while no one bothered to assume that a savvy woman who runs her own advertising firm would, at the very least, have a computer at her work desk instead of a fanned out array of family photos fashioned into an omnipresent totem of guilt.
Comparison to the films of Tyler Perry is not inevitable due to most of the cast members being black but rather that quite a few of them have appeared in his filmography. For once getting center stage in a bigger project, Sharon Leal still manages to be a rather passive, though alluring screen presence. Generally playing the pinch hitter (Dreamgirls, 2006) or the thankless, underwhelming member of an ensemble (Why Did I Get Married?, 2008), here Leal has moments of believability, but she's generally only as strong as her co-star (but as far as Leal's genre work goes, this beats the hell out of The Last Letter in which she also stars as a troubled woman with severe childhood trauma). Scenes shared with Kodjoe are pure, overblown sap, while her torrid affair with Levy plays like a queasy, terribly written soap opera. In fact, Kodjoe seems all wrong for the sweet husband and would have been better served as the paramour (but, in that case, imagine the kind of vibrancy supporting player Tasha Smith could have served as Zoe, or an under-utilized Emayatzy Corinealdi, who gave a great performance in Middle of Nowhere).
The set-up of Zoe's fall from grace is eerily similar to that of Jurnee Smollett-Bell in Confessions—-a woman married to her high school sweetheart who seeks erotic fulfillment outside of her marriage. Perry's viciously ridiculous scenario gives his heroine AIDs for daring to share a bed with only one other man, while Zane's Zoe is granted the veil of disease as an excuse for her behavior, and, of course, it's related to a childhood trauma that warped her brain. Because, let's face it, films seeking mainstream affirmation, whatever the market it is aimed at, are not comfortable portraying women seeking sexual fulfillment without proving how sick, twisted, or downright whorish they are for attempting to explore sexual inclinations (meanwhile, take your pick of any inane light comedy starring a man of any color as a scallywag player and find that disease, mental illness, and generally not even unwanted pregnancy get thrown into the mix).
While sexual addiction is a very real, problematic issue for many people, it is not realistically depicted here, but rather an idea toyed with to titillate, reprimand, and condition. It could have been alluringly tawdry, but Addicted doesn't know how to competently address its issues of shame and guilt without simply reifying that sexual fulfillment is something that ravages unless tightly contained.
★/☆☆☆☆☆