Murky Contract Part Deux: Hallam & Horvath Continue to Stir a Slushy Cauldron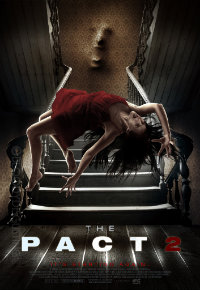 A vaguely administered narrative continues to plague the concept of what comprises The Pact 2, the sequel to Nicholas McCarthy's 2012 first film, which had been based on his original short. Directing duo Dallas Richard Hallam and Patrick Horvath take over the directorial and screenwriting reigns for this revolution. However, despite sharing the title and star of the predecessor, there's little to significantly link this to the skimpy entrails of the first chapter, itself a film criticized for ambience but faltering in nearly every other department. This latest installment suffers from the same derivative issues, though correctly straddles a menacing tone, while at the same time offering up a committed cast this time around.
June Abbott (Camilla Luddington) is a young woman plagued by nightmares. This should come as no surprise considering her grisly occupation as someone who cleans up crime scenes. Also, she's dating a cop (Scott Michael Foster), who sees his fair share of carnage. When a murder victim turns up matching the m.o. of the deceased Judas Killer, FBI Agent Ballard (Patrick Fischler) shows up to investigate. He discovers that June's mother (Amy Pietz) is in fact, her aunt, which might explain June's rather complicated relationship with the woman, who is a recovering addict. June's real mother was a victim of the Judas Killer, and though he might be dead, she still might be in danger.
With returning cast member Caity Lotz (an actress who gets a much better chance to shine in Caradog James' The Machine) has little do this time around, other than coming across as a familiar face to bait us into distraction, the film falls squarely on Camilla Luddington's shoulders, who is more than serviceable here as a vaguely disturbed young woman with a strained family background. Likewise, Patrick Fischler (the man with the creepy hairy man nightmare in Mulholland Drive) is eerily unnerving as a weirdo FBI agent, even if the pained third act twists uses him predictability. Still, these are performances that outshine the soap opera flourishes of Agnes Bruckner and Casper Van Dien, both of whom succeeded in severely butchering McCarthy's first film.
Still, too much seems underdeveloped or tacked on. A token motif starts us out, with June picking out a dead man's teeth from a blood stained wall while the landlord asks if he can keep it (she cleans up crime scenes for some undiscernible reason, the less glamorous side of what we saw in Sunshine Cleaning, apparently) and, out of the blue, her cop boyfriend gets her a weird little ring, which is then rather awkwardly referenced by her mother in a later scene. Guess what comes up again later on in the film? Likewise the the returning Judas Killer (Mark Steger), seems to have the same familial murder motives as Michael Myers, but in spirit form, now terrorizing the children of his dead victims. Why this is so is not quite succinctly explained, and neither are June's abundant nightmares that are actually premonitions.
Somewhere wrapped up in its inconsistencies is a strange little movie that might have had some potential, but a dependence on clichés and seemingly purposeful vagueness to cover up the lack of formulation make The Pact 2 as equally compromised as its predecessor. The blood stained epithet of the Judas Killer, "He Showed Me The Way" marks all the murder scenes. Too bad he can't show someone the way to make an effective film about him.
★★/☆☆☆☆☆