All About Actresses: Takal's Flavorful Psychodrama Treads Familiar Territory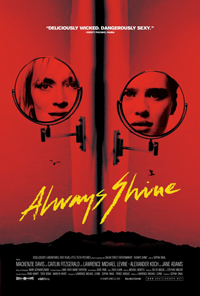 As she conveyed in her 2011 debut feature Green, Sophia Takal has a particular interest in recalibrating the notion of the feminist psychodrama from a female perspective. Taking inspirations from Polanski, Bergman, Altman, and even Lynch, she returns with sophomore effort Always Shine, a much more tonally evocative shriek show of unspooling melodrama about two Los Angeles frenemies pursuing the same dream of stardom but on opposing ends of the behavioral spectrum. Although less galvanizing than the auteurs whose works she may earn comparison to, Takal dips her troubled femmes with the type of transcendental touches we've come to expect from cabalistic expressions of madness at the art-house. Dancing around a clear elucidation of its juxtapositions and metaphors, Takal's inexplicable finale eludes concise summarization beyond a distilled refrain which moralizes to be careful what you wish for.
Beth (Caitlin FitzGerald) is finally experiencing success as an actress in Hollywood, although starring in B-grade horror films requiring gratuitous nudity isn't exactly her end goal. However, her best friend Anna (Mackenzie Davis), who also desires to be a notable actress, hasn't experienced the same success, which has caused a bit of a strain between the two friends. In an effort to reconnect, they plan a vacation together in Big Sur. Unfortunately, neither seems to know how to talk to the other honestly anymore, and tensions quickly mount.
As in Green, Takal envisions two friends at odds over a perceived desire, but instead of women stuck in a dilemma over the attentions of a man, here it's a much more complex situation regarding jealousy over career opportunities. Holed up in an immaculate cabin in Big Sur, Takal's Always Shine feels somewhere in the psychogenic mid-ground between a genre effort like Starry Eyes (2014) and Alex Ross Perry's similarly prefaced Queen of Earth (2015), where two vacationing girlfriends discover they've grown to despise one another. Takal introduces both characters similarly, each centered in close-up in an environment which succinctly addresses their personality.
FitzGerald's Beth is in the midst of an audition, her impressive emoting interrupted by men in the room concerned with whether she has already agreed to the substantial nudity required for the role. Soft spoken, passive, and easily objectified, Beth is representative of appropriate female behavior, which explains her success. Moments later, Davis' abrasive Anna takes a mechanic to town concerning service on her car, and unlike the vulnerable performance of Beth, this persona is Anna, a myriad of aggressive tendencies which tend to turn men away from her. Takal grinds this down impressively when a man at a bar buys them drinks, immediately dissuaded by Anna's questioning, which only allows him to hone an interest (and assumed projected fantasy) on the silent Beth, an object to be acted upon.
FitzGerald, who is reminiscent of a Maria de Medeiros, has the less sensational role here, while Mackenzie Davis is a simmering, unpredictable knot of fury. An interaction about Beth's agent attempting to generate her interest in a horror movie about trolls in Iceland has the potential to sound clunky, but the performers bring a queasy discomfort to simpering, superficial dialogue, because they make us believe they are also highly aware at the awkwardness left unsaid—until Anna insists on practicing a rather vehement scene with Beth in an effort to show her how to "play sassy," a sequence which is uncomfortable as it is satirical.
Of course, there's a pivotal moment where a Bergman/Persona switch seems to happen, which allows one of the women to realize the inherent difficulty in allowing herself to be acted upon (which is where Takal's spouse and usual collaborator Lawrence Michael Levine comes in as an overly attentive paramour who professes attraction only moments after explaining he's had sex with one of the other local women because it's a small town). Although the second half of the film is narratively less appeasing, it allows for editor Zach Clark (the indie director known for items like White Reindeer and this year's Little Sister) to make good on the screeching, nearly subliminal edits peppered throughout the film, including a tumbledown, night-time in the woods cat fight which has delirious meta textual references, including the fantastically brilliant use of a clapperboard, and the chilling erasure of the moon in the sky.
★★★/☆☆☆☆☆