Reviews
American Milkshake | Review
It's Better Than Yours: Andalman & Munro's Vanilla Debut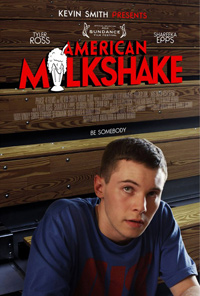 While attempting to earnestly engage us with a depiction of mid-90s urban envy from the privileged point of view, whilst subtlety (at least as much as it probably can be) conveying an ignorant and racist streak lurking behind the naive intentions of its protagonist, American Milkshake, the directorial debut of David Andalman and Mariko Munro, fails to consistently engage us with its anemic narrative. While on paper, the directors, expanding from a short film, potentially have a daringly unique project on their hands, the end product reveals itself to be merely another depiction of the white heterosexual male reinventing himself by mimicking prized attributes of his black male peers and exploiting women for his own sexual needs and/or social status.
It's 1995 in the suburbs outside of Washington, D.C., and high school senior Jolie Jolson (Tyler Ross) idolizes Tupac and wishes for nothing more than to make the varsity basketball team and thus become associated with the coolest kids in school, the black guys that live in the projects. A magnet student, his own existence as the descendent of silent film star Al Jolson, famed for his minstrel act and his current comfortable home life and has thus exacerbated his current life dream. Jolie is secretly carrying on a highly charged sexual relationship with Henrietta (Shareeka Epps), who is pregnant with someone else's child (which he admiringly refers to as thugged out) and is flunking her math courses as an act of rebellion. Jolie isn't the father, but he is paid by her adopted white parents to tutor her.
Henrietta's participation in a sex tape in order to secure funds for an abortion quickly sees her becoming the school pariah, forcing Jolie to keep their relationship secret. The arrest of one of the varsity team players soon sees a spot open for Jolie on the team, though the angry coach (Danny Burstein) keeps him on the bench. As his status as team member elevates his social standing amongst his peers, he begins to date a pretty white cheerleader, whose other boyfriend starts to beat up Jolie's best friend, Haroon (Eshan Bay) in response. Suddenly, Jolie finds himself in a sticky situation, trying to balance his two girlfriends and find a way to actually get on the court. Good thing luck usually seems to be in his favor.
While it comes as no surprise that Phase 4 Films and Kevin Smith's acquisition of American Milkshake (previously titled Milkshake upon its premiere at the 2013 Sundance Film Festival) inspired Smith to cite the film as similar to his own adolescent experiences yearning to be accepted as a member of urban sensibility, Jolie Jolson, though earnestly portrayed by actor Tyler Ross, isn't a well-developed character. His insistent omniscient narration demands that we realize him as such, and is a convenient way to let us inside his monotonous head, but he remains a vaguely despicable figure. The flourish of making him the great grandson of silent film star Al Jolson, a performer infamous for his minstrel act in blackface, is a gimmicky hook, and half baked, to say the least. How ironic that the descendent of the first film star famed for his exploitation of blacks should want for nothing but to be as cool as the black kids at school. My, wouldn't Paul Mooney have a field day.
Paired with Jolie's misogynistic treatment of his dueling girlfriends, at least American Milkshake nails its awkward treatment of social norms as bluntly as the period it depicts, replete with mid-90's texture as it utilizes snippets of the O.J. Simpson trial, posters of Todd Solondz's Welcome to the Dollhouse and the inclusion of Leo Fitzpatrick in the cast, whose notorious turn in Kids was hitting theaters about the time this was set. Its multiple references aside, the film's saving grace is a melancholy performance from Shareeka Epps, a vivacious ball of fury whose character is as desperately mistreated as Rochester's crazy first wife in Jane Eyre, the foreign other locked in the walls.
While operating with lukewarm conviction throughout, one gets the sense that Andalman and Munro wished to tantalize but not overwhelm with controversial subject matter. The result is a rather mediocre endeavor that's own self-awareness detracts from the blasé finale. Both girlfriends point out the inherent racism of Jolie's comments, who simply shrugs off their criticism. The only lesson to be learned is that blissful ignorance is the overriding factor involved in appropriating useful characteristics of others for our gain and either being judgmental or dismissive of everything else.
Perhaps Andalman & Munro weren't intending to make a film about the inherent and unbreachable naiveté associated with a white worldview, but we leave Jolie Jolson at the end credits about as hopelessly clueless as when we found him, his life not quite like the Tupac song he wishes it would be. And all that jazz.