Reviews
Attila Marcel | 2013 TIFF Review
Keaton-esque Amelie (or Whimsical Pianist)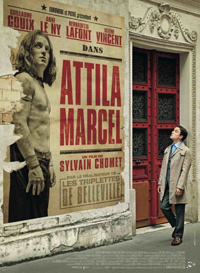 French director Sylvain Chomet has delighted audiences with his droll animated films The Triplets of Belleville and The Illusionist, earning repeated comparisons to the distinctive masterful works of Jacques Tati. His first foray in directing a live action feature, Attila Marcel, will undoubtedly divide filmgoers with its hallucinogenic induced musical numbers and blankly mute lead character Paul (Guillaume Gouix, who in both looks and demeanor apes Buster Keaton expertly), but will certainly leave them rapturously yearning for more from Chomet.
The film jars its audience and prepares them for its whimsical absurdities by opening with a melodious romp by the titular Attila Marcel (also played by Guillaume Gouix) whose bell bottomed loose attire recalls the costumes of Saturday Night Fever and who passes characters blatantly mimicking those from musicals Grease and Jesus Christ Superstar. The sequence, as it turns out, is a nightmare of silent pianist Paul, a 33 year old man-child whose dreams taunt him with fleeting images of his parents who died when he was merely two years old, and who left him in the care of his cloying and controlling identically dressed Aunts. He seeks guidance and disambiguation from his eccentric neighbour Madame Proust (Anne Le Ny), whose psychedelic herbal teas and choice accompanying music induce hidden recollections that are played out in hazy dance filled musical episodes (the most memorable of which is a tempestuous fiery ode to the El Tango de Roxanne number in Moulin Rouge).
Its musical numbers, disappointingly, are the film's weakest link. Apart from the aforementioned tango scene, they are unintentionally comical and often inexplicably shot from above. Also inadvertently farcical are the film's inordinately quirky Jeunetian secondary characters, including a blind piano tuner and an elfin white dog who acts as a drug sniffer in one scene. Thankfully Attila Marcel's audaciously comical tone is radically altered during its final third and the delicately winsome purity one expects from a Chomet picture shines through.
Reviewed on September 6 at the Toronto International Film Festival-Special Presentation programme.
106 minutes.