One for the Road | 2021 Sundance Film Festival Review
Road to Redemption: Poonpiriya Paves the Way for Heartfelt Crowd-Pleaser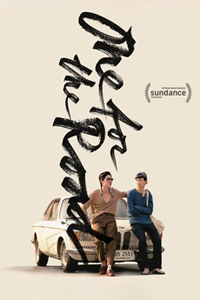 Teetering between cornball and poignant, Baz Poonpiriya's One for the Road is a big-hearted melodrama that hits all the right notes, almost too neatly, then makes up for its sins with welcome surprises. We've all seen our share of weepy dying-buddy films (The Bucket List, 50/50, The Fault in Our Stars), and while it doesn't reinvent the wheel—there's enough fresh fun here in the filmmaker's third outing.
Poonpiriya showed a knack for mainstream appeal with his 2017 breakout, Bad Genius; here, he combines broad strokes with personal touches—a feat in and of itself, even when the results are mixed. Produced by Wong Kar-Wai, the Isan ambitious hybrid is a lovesick odyssey with both personal and commercial appeal, musical flair and plenty of heartbreaking twists.

We begin in Bangkok, where the resolute Aood (Ice Natara) is dying of leukaemia and determined to make amends; his quest turns into a road trip when he enlists his friend Boss (Tor Thanapob)—a womanizing, ex-pat bartender in NYC—to help him make peace with ex-girlfriends in Thailand. The mismatched pair embarks on a hyper-stylized journey, both physical and emotional, fueled by endless cocktails and unspoken tensions … thereby proving that buddy movies are indeed love stories. However— Despite the film's mainstream swagger, Poonpiriya isn't afraid to hit the low notes: his characters have made some grave mistakes, and regret is hard to admit. It feels good when the duo's silly dynamics are redeemed by the film's surprisingly mature second half.
More than once, One for the Road nearly veers into traffic. Especially in its early scenes, the film carries us through prerequisite clichés; fortunately, its Thai setting and characters add freshness to the formula. Another near-miss: Poonpiriya shares Wong Kar-Wai's affinity for non-chronological, multi-arc structure; the resulting flashbacks feel like two films in one … until the dots finally connect. At times, Poonpiriya is manipulative, or sincere to a fault—but one of his strengths is playing with genre. Sanctimonious moments are splashed with dark humor, obvious scene-enders are saved by an unexpected reveal. There are hints of true poignancy, too: one late-game flashback holds a Barry Jenkins sensibility, evoking heartache when characters stare directly into the camera.
Whether or not One for the Road strikes a balance between personal taste and mainstream appeal, it's hard to fault a film's message when it's so clearly heartfelt. Poonpiriya wants us to live intentionally, to dare to be vulnerable, to express unresolved feelings and make amends while there's still time. Perhaps a tighter cut of this film would help mainstream audiences make bolder life-choices—but those who stick around will find a touching, compelling, well-crafted film. Never underestimate the subjective power of thematic resonance: a cocktail too sweet for some may be an ideal antidote for others.
Reviewed on January 31st at the 2021 (virtual) Sundance Film Festival – World Cinema Drama Competition. 137 Mins
★★★/☆☆☆☆☆