Congrats Grads: Fessenden Terrorizes Teens with Latest Environmental Horror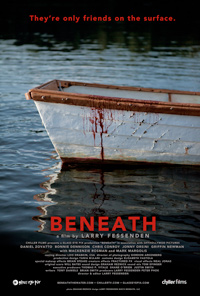 According to the films of Larry Fessenden, Mother Nature poses the greatest threat of all to mankind, and his latest film, Beneath, upholds his recent trend of compromising environmental horror motifs as evidenced in both Wendigo (2001) and The Last Winter (2006). While initially seeming a derivative exercise 'beneath' the considerable talents of Fessenden's delightfully weird aesthetics, it quickly reveals itself to be a wicked hearted exercise that slides effortlessly from man vs. nature to man vs. man enterprise all in one shrill, drawn out note.
Having just graduated from high school, six friends have banded together for one last hurrah before they each disburse for college after the summer. Johnny (Daniel Zovatto) has been a sweetheart and offered his family's private cabin on the isolated body of water they own called Black Lake. The opening credits gloss over ominous newspaper headlines about a "hoax or a hex" that haunts the lake, so right away we know the drill. Jock brothers Matt (Chris Conroy) and Simon (Jonny Orsini) both share an uncomfortable amount of sexual tension with Matt's girlfriend, Kitty (Bonnie Dennison).
It turns out that Kitty is also the object of Johnny's aggressive affection, who attempts to give her a creepy tooth necklace for her "protection" before they get into the row boat to traverse the lake. The group is rounded out by aspiring filmmaker Zeke (Griffin Newman) and first victim Deb Voorhees (Mackenzie Rosman). Right as they're about to depart, a friend of Johnny's grandfather, the foreboding Mr. Parks (Mark Margolis) shows up for a Crazy Ralph from Friday the 13th type moment to properly set the spring. Within minutes, a group dynamic unspools to reveal that most of these young things don't make a very believable group of friends, but that's alright, because it's not long before a prehistoric looking fish of gigantic proportions with a vicious mandible fatally snips poor Deb's arm. Quickly, the fish absconds with the oars, leaving the teens stranded, while they hysterically demand of the marine mutant an explanation as what it wants. Unable to row with their hands due to the fish's predilection to lunge at anything hanging over the rowboat, Deb's body is used for bait as distraction. And soon, the remaining five are deciding who gets to be the next distraction by debating each other over their individual merits.
While Beneath is certain to bring Jaws (1975) to mind, it's more like the B-grade cult classic Piranha (1978) instead (or, actually, maybe even "The Raft" segment from 1987's Creepshow 2). As ridiculous and hokey as the whole scenario tends to be, there is a perverse satisfaction to be had listening to these moronic bozos deliberate each other about respective worth, leading to, of course, many secrets to be revealed and a certain level of barely concealed misogyny surrounding Kitty, who's more slutty than one at first assumes (or you did assume, but either way, it's a hot topic). The only trouble is, this half-assed moralizing never feels completely developed, as lazily constructed as its 'no cell phone reception' game. More annoying is budding filmmaker character Zeke, whose wrist-band water safe camera provides distracting POV moments that feel utterly useless.
Of course, Beneath could be just one big prehistoric metaphor about things that lie below the surface, bubbling up when civilization is removed, but if that's all that's going on here, it's a tad disappointing when compared to the strange vibrations of Wendigo or the more complicated eco-terrors of The Last Winter. Yet despite all this, Fessenden, who many should recognize for memorable bit parts in a slew of indie horror films, including the upcoming Jug Face, has concocted an entertaining B grade creature feature that's potentially better made than those forgotten films of yore it may bring to mind—our prehistoric monster fish does at least get dilating pupils.