Blood Simple: Canet's English Language Debut an Enjoyably Prostrate Epic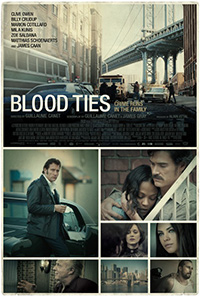 For his English language debut, actor/director Guillaume Canet arrives with Blood Ties, a remake of Rivals, a 2008 French film of which he was the star, from director Jacques Maillot. While it's original running time has been cut by about half an hour after a premiere at Cannes (aligning it with its predecessor's running time), the film is undeniably a slow burn. Set in 1974 vintage heavy Brooklyn, Canet's film has drawn mostly unfavorable comparison to the works of Sidney Lumet and Martin Scorsese that were actually made in the era. While it's not on par with similar masterworks it evokes (maybe more of a Harold Robbins version of Lumet), it does manage to be an engrossing faux saga, nonetheless, despite a handful of foibles that work against its success.
After serving a 12 year prison sentence for killing the guy that raped his girlfriend, Chris (Clive Owen) is released to his remaining family, including his exuberant sister Marie (Lili Taylor), ailing father (James Caan), and dubious baby brother, Frank (Billy Crudup), a self righteous cop. Tension between the estranged brothers is immediately apparent, though Frank invites Chris to stay with him until he gets on his feet. We get snippets concerning an abusive mother that left the picture soon after Frank was born, hinting at the possible reason how the brothers grew up so differently. While Chris tries hard to leave behind a life of crime, he takes a job working at an auto shop just long enough to meet a new flame, a secretary named Nathalie (Mila Kunis). But Chris' ex-wife Monica (Marion Cotillard), a prostitute and drug addict pursuing legal action to obtain child support from all the years Chris served in prison, is one bigger detail amidst many that lead him back into Brooklyn's underbelly. Meanwhile, Frank's involvement in busting lowlife criminal Scarfo (Matthias Schoenaerts) gives him the opportunity to reconnect with ex-girlfriend Vanessa (Zoe Saldana), who now has a kid with Scarfo. Of course, these bad choices lead to compromising situations for Frank and Chris, further complicated by the angry Scarfo, biding his time.
Now with a trio of films under his belt, Canet has established himself as an impressive director in his own right, and, despite a few questionable casting choices this time around, is highly adept at handling expansive casts and characters. While his wife, Marion Cotillard, is again along for the ride, her presence doesn't enhance the material as much as it did in their previous venture, Little White Lies. Instead, Cotillard, along with Kunis and Saldana, are saddled with characters that aren't fleshed out enough to amount to more than mere distractions. Similar characterization problems exist with Caan and Lili Taylor, though they seep more effortlessly into the time period.
And while Clive Owen's accent slips through enough to make his brotherly relations with Crudup (styled in both looks and ethics to remind you of Serpico) seem dubious at best, a more impressive Matthias Schoenaerts commands the screen in an underutilized performance. It's too bad because pains went into evoking the period, which looks great with returning Canet DP Christophe Offenstein, creating a compelling look and feel, though one that never seems to convey the grittiness it should.
An overabundance of period tracks are popping, including the likes of Eric Clapton, Janis Ian, a Crystals cover and Crimson and Clover, but sometimes their intentions seems too obvious. Canet starred in the role reprised by Crudup here, and James Gray pops up as a co-writer on the screenplay for a successful English language adaptation, and, altogether, it's a likeable crime saga exploring age old motifs concerning familial ties vs. moral obligations. But throughout all its painstaking sheen and enticing cast, it falls short of establishing a certain level of necessary investment.
★★½/☆☆☆☆☆