Boom for Real: The Late Teenage Years of Jean-Michel Basquiat | Review
No Longer The Same Old SAMO: Driver Delivers Daring Docu On Basquiat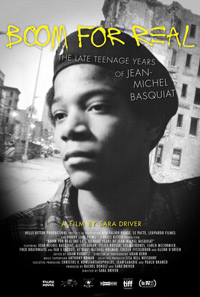 Jean-Michel Basquiat is arguably one of the most enigmatic and influential artists of late 20th Century America. Originally going by the moniker SAMO (which was originally the duo of Basquiat and Al Diaz), he rose to fame in the Lower East Side art scene through culturally critical graffiti epigrams all possessing a sharp sardonic wit and humor. Though most are currently aware of the maverick that set the art world alight, few were privy to the actual rebellious teenager as he was making his bones, tagging art school walls and scribbling on refrigerators. Sara Driver takes us through the early days of hip hop, punk and street art, as seen through the fellow artists and friends of the budding renegade. Boom for Real: The Late Teenage Years of Jean-Michel Basquiat is an intriguing and vibrant document, coursing with ardent memories of a creator emblematic of his era.
Though the timeline is (more or less) built chronologically through Basquiat's late teens and early twenties, the primary focus is on anecdotes from former friends and colleagues from scattershot moments throughout these years. Numerous cultural icons, such as Jim Jarmusch, Fab 5 Freddy, and Patricia Field, all testify to the personal and widespread effects Basquiat had on their lives and contemporary art, all the while exploring numerous surviving pieces from this early period. The film also continually impresses like a snapshot of New York City during its sociocultural shift from the '70s into the '80s, due to its abundance of stock footage, original films, and troves of posters, pictures and audio recordings.
This is a Blank Generation film. When the floodgates were opened in 2010 by Celine Danhier's seminal Blank City, evidently reinvigorating interest in this generation of subversive artists, Driver is seemingly following in that avenue. Fortuitously, she is more directly connected to this movement, since she was one of those New Yorker punks (a major contributor to Jarmusch's Permanent Vacation and Stranger Than Paradise, and a director of her own narrative films); thusly providing vital niche perspectives that were absent from Danhier's chronicle.
The wealth of information is so vast (though there are a few resources constantly being reused at different speeds and color grades) that the intertwining stories can feel a touch scatterbrained, even desultory. However, this impression is actually indicative of its subject era, where uncertainty, aimlessness, and chaos seemed to reign each and every day. Adam Kurnitz's (Gimme Danger) final cut is rife with collage and turntablist editing, fluxing the intense creativity of the art scene with the dark drug-fueled underbellies of Club 57 and the Mudd Club. The top-notch score and musical arrangement also brings new life to the burnt-out streets, extensively graffitied subways, and nightclubs where these individuals met and created cultural waves.
Though some moments heavily retread Danhier's docu, Driver manages to successfully capture much of the vibrancy and personality of Neo-expressionism's most fabled mind. Exploring such a illusive subject as Basquiat is only possible through deep personal connections, and Driver has managed to utilize hers to create an equally personal and investigative work. This docu should be symptomatic of a mounting wave of filmmakers profiling each of the No Wave artists before we lose the first-hand experiences forever; forever losing an integral part of American cultural evolution. Boom for Real is fun scrapbook of a dangerous time in American history, and the artist that helped earn his generation their artistic identity.
★★★★/☆☆☆☆☆