Home of the Brave: Duran's Debut a Neutered Examination of Grief During Wartime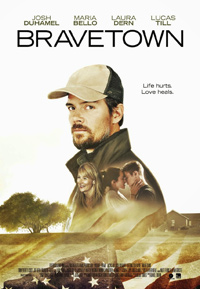 There's a war going on, though not one specifically referenced, mentioned or discussed. But then Daniel Duran's directorial debut, Bravetown, seems happy examining exactly that, the ways in which people are unable to communicate clearly their emotions relating to the traumas that war has inflicted on them. Perhaps in an effort to elevate the material to a timeless realm, screenwriter Oscar Orlando Torres (Instructions Not Included) remains curiously vague on details, the only definitive reference pertaining to the Gulf War.
Josh Harvest (Josh Till) is a moderately troubled teen living with his single mother (Maria Bello) in New York. A rising DJ, a mistaken overdose lands him in court with a mandated sentence of twelve months rehabilitation. His overworked mother is done worrying about him and sends him off to live with his estranged father (Tom Everett Scott) for his last year as a minor in some rural armpit of the American Midwest. The sullen teen is forced into nonchalant therapy with the easygoing Alex (Josh Duhamel) and his talents as a DJ soon find him roped into whipping the school's laughable dance team into shape, led by Mary (Kherington Payne). It's obvious that Alex, and Mary, and Mary's delusional mother (Laura Dern) have all suffered recent losses, each losing a loved one as a casualty of war. But no one wants to talk about it.
An obnoxious mix of teen angst and repressed rural adults paints a familiar portrait in the confines of Bravetown. Duran and Torres so obliquely reference the ways in which war has clearly and very directly affected nearly every citizen living within the town's radius that it almost seems like our protagonist has wandered into a community not unlike the isolated denizens of M. Night Shyamalan's The Village, wherein a removed populace has retreated from the world's violent ways. Oliver Stone's Platoon manages to be the conduit of solace for its two younger characters that struggle to come together despite their traumatic baggage. The only trouble is the noble-mindedness of this project is laughable considering it's folded into a narrative that feels like a sober version of Bring It On.
Though Bravetown features a variety of delectable mixed beats, many including a warm assembly of vintage hooks, the succession of vibrant dance numbers the heretofore flagging team magically concocts under Josh's tutelage feel bogus. The same can be said for the enchanted ending, featuring a provocative dance number that could have been moving if it hadn't been served up as the film's ultimate act of catharsis. Laura Dern's crazed mother returns to the realm of reality and Josh Duhamel's ultra-earnest best bro can what? Lay his guilt to rest?
Speaking of the film's impressive supporting members, Laura Dern, coming off a recent Oscar nod, feels utterly wasted here in a role as a grieving mother literally losing her wits while marinating in grief, which is relayed solely through her inability to wake up on time and make the remaining kids breakfast. A couple of times. The rest of her character arc is related via exposition. Likewise, Maria Bello as Till's ex-addict mother could have been used a bit more forcefully, while Tom Everett Scott as his estranged father may as well be a phantom, showing up to announce who he is exactly to a character or two before disappearing into the background.
Duhamel is more problematic, playing another soapy do-gooder, patiently going through the motions with pained brow and wholesome visage. Till's Josh isn't drawn clearly enough, a troubled urban youth that follows the predictable path of falling in love with the first rural beauty he stumbles into, following her down the path of dramatic redemption. Visually polished and certainly well-meaning, Bravetown somehow still reeks of propaganda exactly because of its unwillingness to loudly and forcefully call out the great institution that's sucked all of these characters into a particular vortex of emotional affliction in the time honored allegiance of war time semantics – the military.
★½/☆☆☆☆☆