Castabout: Roeg's Neglected Island Adventure Collapses Marriage and Misogyny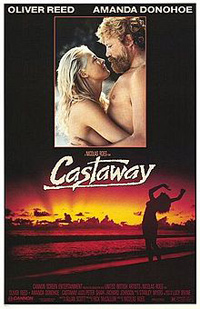 The Quad celebrates the career of renowned British auteur Nicolas Roeg in a week-long retrospective in honor of his birthday. The famed cinematographer turned director was responsible for several iconic cinematic gems in the 1970s, all of which are included in this series, including his 1970 debut Performance (which starred Mick Jagger and was co-directed by close friend and collaborator Donald Cammell), the wondrous Walkabout (1971), the unforgettable Don't Look Now (1973), and the influential David Bowie starrer The Man Who Fell to Earth (1976).
The program includes some of Roeg's more noted stints as cinematographer, including John Schlesinger's adaptation of Thomas Hardy's Far From the Madding Crowd (1967), and the bonkers Richard Lester drama Petulia (1968)—as a side note, audiences have the chance to experience a Julie Christie triple threat, as she headlines three of these items.
Beyond the 1990 cult item The Witches, a Roald Dahl adaptation which allowed Anjelica Huston to terrify a whole generation, Roeg's later period is not included, which ended with the ill-received 2007 film Puffball: The Devil's Eyeball (in late 2008, Roeg had declared plans to adapt the Martin Amis novel Night Train starring Sigourney Weaver, the rights of which eventually went to Carol Morley, who cast Patricia Clarkson in the re-titled Out of Blue due in 2018).
When Roeg's 1970s work isn't being discussed, his 1980s and 1990s periods are usually discussed in conjunction with his wife, actress Theresa Russell, who starred in six projects (including Roeg's segment in the 1987 omnibus Aria), which began famously with 1980's Bad Timing.
Several of their other collaborations have recently been recuperated for Blu-ray in the US, such as 1983's Eureka (courtesy of Twilight Time), and 1985's Insignificance (thanks to the Criterion Collection, which also has sterling restorations of several Roeg titles, including their now out-of-print release of The Man Who Fell to Earth). While this recent retro bypasses some of the more obscure Roeg/Russell titles (the delirious 1988 film Track 29, which co-stars Gary Oldman, would have been a welcome addition, while 1991's Cold Heaven also gets the cold shoulder), the lineup does include one of Roeg's glaring anomalies—1986's Castaway, which stars Oliver Reed and Amanda Donohoe (perhaps best beloved by cineastes for her role in another Brit provocateur's filmography, Ken Russell's 1988 flick The Lair of the White Worm). While the absence of Russell was most likely due to the birth of their second child, Maximilian Roeg, it is perhaps another reason why this oddity is neglected in the auteur's overall oeuvre.
Adapted by Alan Scott (who worked with Roeg on several features after Don't Look Now) from a 1980 memoir by Lucy Irvine, Castaway recounts the author's experience of a year-long self-imposed exile alongside writer/journalist Gerald Kingsland on the island of Tuin, which lies between New Guinea and Australia. Donohoe stars as Irvine, (although Roeg's presentation doesn't favor either perspective), while Reed, already an infamous alcoholic (he purportedly claimed to use a 'vodka diet' to drop the requisite weight required) stars as Kingsland. An archaic immigration policy dictated Irvine and Kingsland could only embark on their escapade as husband and wife, which forced the two of them into marriage.
Roeg sets up the periphery of the film with a barrage of lurid news articles (a tabloid about 'sex swaps' looms large) and media coverage of horrific or tragic world events (later, something about a 'sheep dip massacre' gets a moment of screen time), suggesting the two central figures are hungering to escape from their desensitized existence of privilege. Their households are juxtaposed during their first telephone conversation, both watching the 1964 film The Pumpkin Eater starring Anne Bancroft and Peter Finch, a marriage melodrama on infidelity, which eventually serves as the pseudo-model for their own relationship. Immediately upon meeting, Reed's swarthy journalist reveals a vibrant streak of misogyny, feigning relief that Lucy was not the older woman who had been standing in front of her, and correcting himself by first calling her a woman, "I mean, girl."
As they struggle to 'survive' on the island, each falling into some vague notion of their designated gendered expectations, bickering and sexual manipulation ensues, both of which fall to the wayside as their health declines over time. Meanwhile, their attempts to communicate play out like Heterosexuality 101. "What goes on in your head?" she asks. His response: "My brain—like my prick it goes up and down." Limited interactions with the outside world, including some work as a mechanic for Kingsland with the nearby indigenous population, also spark jealousy between the two of them and their eventual blossoming into actual lovers. Roeg shows both actors in the buff, with an obvious focus on Donohoe, although this is perhaps no surprise for Reed considering 1971's Women in Love.
The few sequences where Irvine gets to engage with other women are usually interrupted by men. An early sequence where Reed is in Donohoe's apartment when her roommate arrives home finds him bellowing obnoxiously from another room. Later, when Donohoe questions a nun about her 'qualifications,' one of whom is played by Ken Russell regular Georgina Hale, their commiseration is similarly discontinued.
While not of the same potency of Roeg's earlier, famed decade, Castaway has its merits, and DP Harvey Harrison's island landscapes are deserving of a restoration. Like the more rigid cousin to Lina Wertmuller's classic Swept Away (1974), these complicated lovers in paradise are worth a look.
★★★½/☆☆☆☆☆