Heebyjeeby: Miller Fails To Reclaim Glory Days of Punk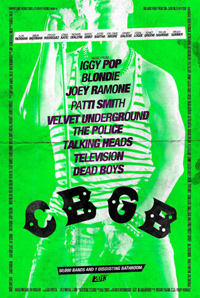 Perhaps it goes without saying that the more invested one is in the gloriously exciting New York City punk scene from the 1970s, the stronger disdain they'll have towards Randall Miller's latest film, CBGB, so titled for the famed dive bar in the Bowery neighborhood which birthed the careers of numerous notable musical talents. While this is the director's third effort in a row headlining Alan Rickman (following Nobel Son and Bottle Shock), their pairing has yet to yield a wholly satisfactory endeavor, even with the enjoyable thesp featured in juicy leading form. Miller's latest is sure to suffer the greatest ire since it attempts to recreate a beloved golden age of musical genius with middling success. Moments of nostalgic emotion are ever so briefly reached, and evaporate so quickly that your only desire will be to listen to the actual music of the cavalcade of artists paraded across the screen.
Hilly Kristal (Alan Rickman) is a down and out manager and club owner who decides to give operating a nightclub another shot, buying a dive bar in the Bowery, a veritable skid row, and naming it CBGB, which stands for Country Blue Grass Blues. At odds with his estranged daughter Lisa (Ashley Greene), Hilly's wallowing idea seems a disaster from the start, though he's supported by a motley crew, including bartender Merv Ferguson (Donal Logue), and a junkie named Idaho (Freddy Rodriguez). In need of a musical act, Hilly agrees to let a band called Television perform, even though their stylings are at odds with the musical motif for which the bar has been named. Television is an underground sensation, and within minutes of screen time, we witness renditions of Talking Heads, Patti Smith, Iggy Pop, The Ramones, The Dead Boys, and Blondie, as well as the emergence of a magazine documenting this underground scene, Punk, of which one of the contributors was Mary Harron (who would go on to direct films like American Psycho). But Hilly's atrocious managerial skills brink CBGB to the brink of bankruptcy, along with his insistence to personally manage The Dead Boys with producer Genya Ravan (Stana Katic).
As enjoyable as Alan Rickman is as the frizzy haired and frazzled Kristal, he's the only dependable presence in a sea of mediocrity. A distracting visual scheme which boxes the proceedings into various cartoonish windows a la the illustrations of Punk magazine, becomes a cornball crutch as the film progresses. But Miller cripples CBGB from the get-go, outlining a horridly formulaic and fatiguing adolescent dynamic between Hilly and his help, the worst culprits being Freddy Rodriguez, an addict standing in for the multitude that Hilly helped out with work and shelter, here used as flat comic relief, and Ashley Greene as his heavily accented progeny, an actress whose last name is still humorously ironic. And from there, we get a host of fancy imitations, some of which are quick flashes in the pan, and others which are drawn out for distraction, such as Malin Akerman as Debbie Harry, who's got the posturing right but is nowhere near the knockout of the woman she portrays. Akerman's turn is every bit as soulless as a similar turn from Scarlett Johansson in 2012's Hitchcock as Janet Leigh—even characters based on real life people need to be allowed characterization. The worst offender is perhaps Ahna O'Reilly as a plucky Mary Harron, whose posturing grates even in her limited screen time. More focus is placed on The Dead Boys, two of which are played by Rupert Grint (of the Harry Potter series), looking sallow and unhealthy, and Justin Bartha, who simply seems too old for the role of Stiv Bators.
As unprecedented as Hilly Kristal's influence is, suggested to be simply because he provided a place for bands to perform, it's hardly captured in Randall Miller's film treatment which dares us to Oh and Ah by flashing familiar names and personalities at us in fatuous fashion.